It's been a while since I've shown off some of my latest projects – and I can't believe I never posted about the other chemo hats I made for my sister-in-law! Way back in April, I mentioned how I made one hat just to see how the smaller size would work for someone that had lost their hair. My SIL loved it so much she ordered three more in pale yellow, pale purple and bright blue.
I had to laugh because she told me not to go buy any yarn to make them. That's because she had already seen my stash closet. Trouble was, I really didn't have any pale purple yarn and the light yellow I had was a really scratching acrylic that I didn't think would work well for a chemo hat. So … I did buy more yarn. Not that buying yarn ever bothers me 🙂 but it certainly didn't in this case. She deserved to have nice soft yarn in just the right colors – I've never gotten a request to make something for her before!
I believe this was the second hat I made for her. Not on her specific request for colors, but a soft white would go with everything!
I got really smart with this hat. When I was finished, I made a separate tab attached on the outside of the hat – approximately 1/2″ x 3″.
That way I could make not just a couple of flowers to attach to the side of the hat, but I could make lots of different colors, stick bobby pins in the back of the flowers and then her flowers would be interchangeable – and yet not rub against her soft head. Brilliant!
Pattern: Spring Blossom Cloche
Designer: Lorene Haythorn Eppolite- Cre8tion Crochet
Yarn: Red Heart Anne Geddes Baby
Colorway: Lily
My Ravelry page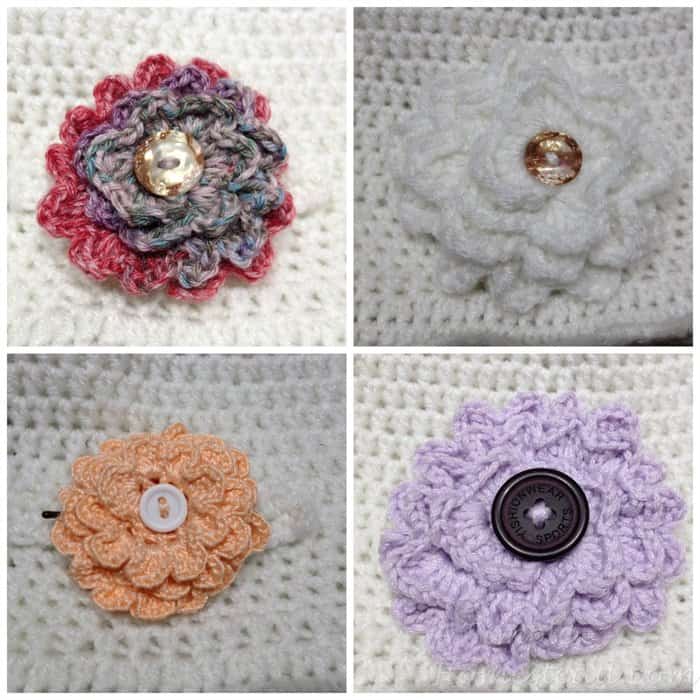 I made lots of the same flower pattern but using different weights in yarn and thread so they didn't all look identical. It's a quick and simple pattern that was a lot of fun to make!
Pattern: Gratitude Flower
Designer: Bonita Patterns
Yarns and Colorways, clock-wise starting lower left, along with the Ravelry links
When my SIL asked for the hats, she pointed me towards some cloche pictures she had seen on Facebook. The patterns were in Russian and originally designed for little girls, but someone figured out how the pattern worked and reprinted in English so I didn't have to do it myself.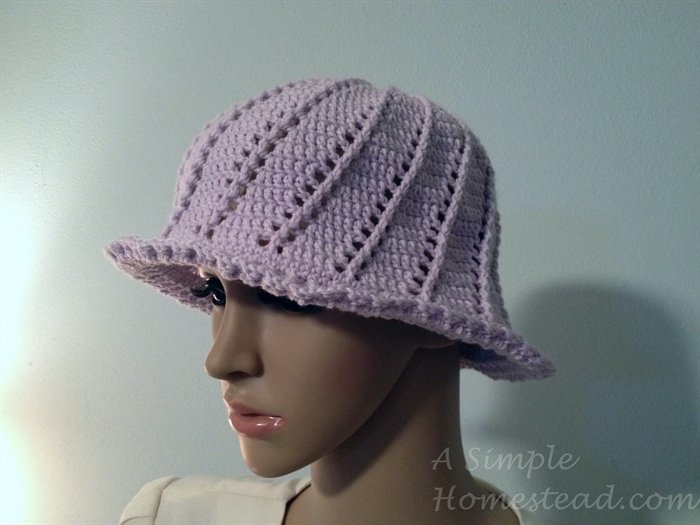 I learned rather quickly that making these fancier crochet hats takes me a lot longer than simple knit hats. Most knit hats I've completed in one to two nights. This pattern took closer to a full week to complete. But it turned out so lovely.
Pattern: Russian Spiral Cloche Hat
Designer: original unknown, but I downloaded my copy from redhairedamazona.blogspot.com.au
Yarn: Berroco Comfort DK
Colorway: 2708 (lilac)
My Ravelry page
For the Russian hat, I decided to make the flowers permanently attached instead of the interchangeable ones, but I love how delicate the thread versions look!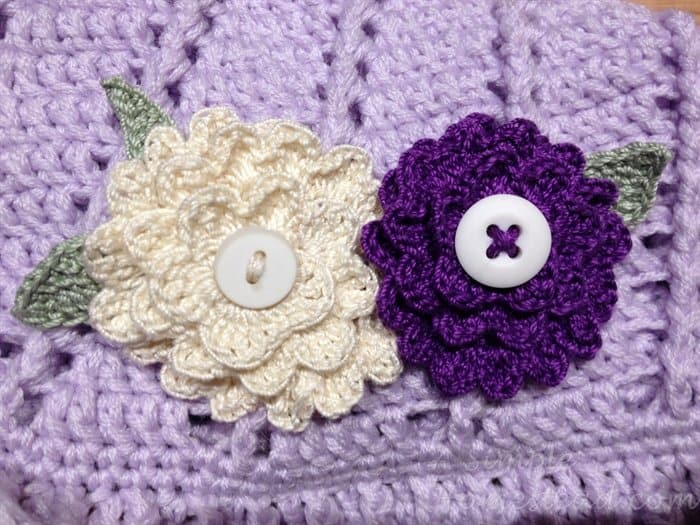 Pattern: Gratitude Flower
Designer: Bonita Patterns
Yarn: Aunt Lydia's Classic Crochet (size 10)
Colorways: 0420 Cream and 0458 Purple
My Ravelry pages: cream and purple
Next, I decided to take a break from the lighter colored hats and concentrate on one in the bright blue yarn she picked out. I wasn't quite sure I was going to like how the stitch pattern was developing, but in the end it turned out to be a cute hat. It also re-affirmed how much I like working with Hobby Lobby's brand yarn. That's good, because I still have several skeins!
Pattern: 1920's Snowflake Cloche
Designer: Olivia Kent
Yarn: Hobby Lobby I Love This Yarn! Sport Weight
Colorway: 75 Bright Blue
My Ravelry page
Are you in image and project over-load yet?!? Too bad.
Little Chick wanted to pose with the hat, but only stood still briefly; it was a cold day!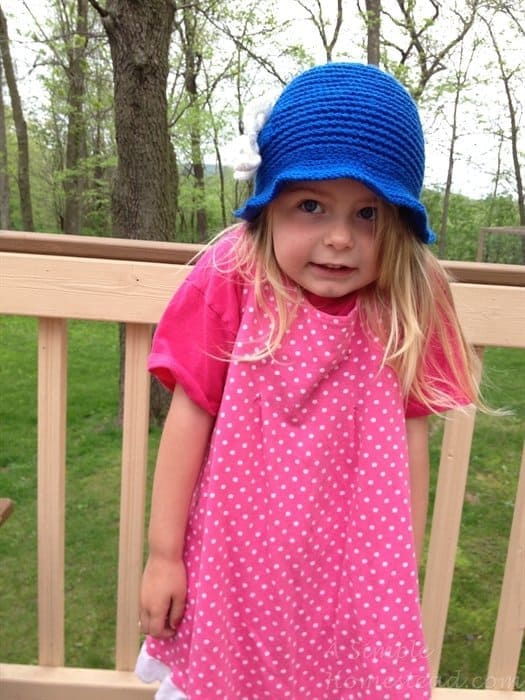 The 1920's Snowflake cloche hat comes with it's own flower pattern and I made one of those in the same color as the hat (which went back to the interchangeable flowers) – as shown on the right below.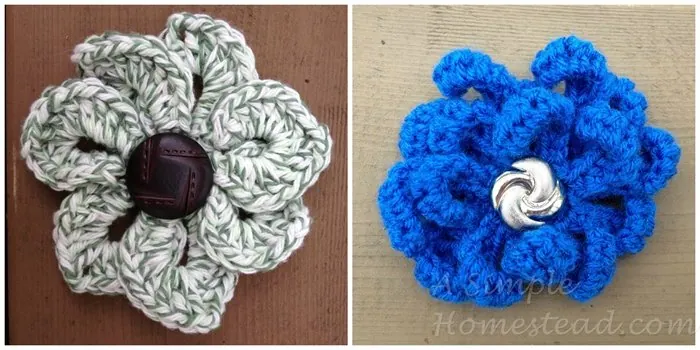 The flower I liked best with the hat was a crocodile-stitch flower pattern I found. I made one in white and one in a green twist cotton.
Pattern: Crocodile Stitch Flower
Designer: Bonita Patterns
Yarns and colorways, with Ravelry pages
Red Heart Anne Geddes Baby – Lily
Lily Sugar'n Cream Twists – 20244 Green twists
The final requested hat was in a pale yellow in yet another, different pattern. This hat also was made to allow for interchangeable flowers. Alas, it was a Saturday morning when I finished and decided to get it into the mail quickly … and then realized I had forgotten to take a picture first! Ack! However, that meant I had to request that my SIL take one for me and she offered to even send a selfie. Doesn't she look great!?
Pattern: SUMMMER cloche
Designer: Crochet- atelier
Yarn: Berroco Comfort DK
Colorway: 2706
My Ravelry page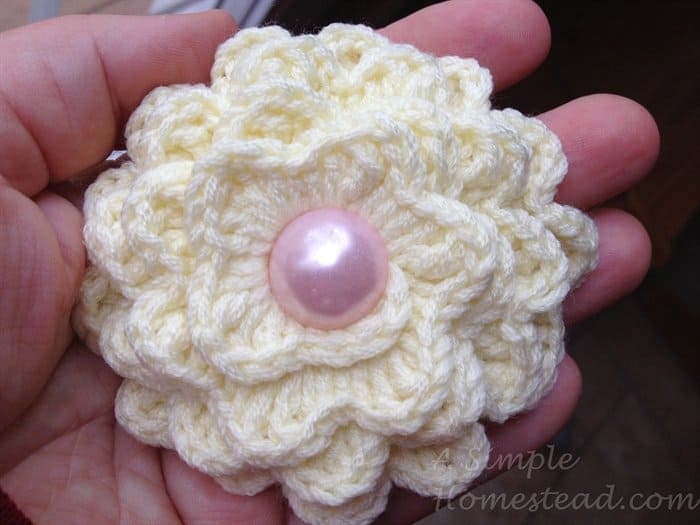 I went back and made another Gratitude flower in the same yarn as the yellow hat, but I need to still send it off to her. I better make it soon. Only 5 more chemo treatments (we hope!)
I have to say I really enjoyed making all those different cloches, but I'm ready for some new and different projects….