Remember when I made homemade yogurt a few months ago? At the time, I mentioned that the homemade version is not as thick as store-bought. For the most part, it was ok although sometimes when adding fresh fruit, the mixture ended up rather thin, especially with juicier fruit.
The last time I decided to make yogurt, I decided to try an experiment and make Greek-style yogurt by draining the remaining whey from the finished product. I pulled the cast iron pot out of the oven in the morning, lined a strainer with coffee filters, placed it over a bowl and dumped the yogurt in the strainer. It sat in the refrigerator until that night – approximately 10 hours.
The result? A super-thick yogurt!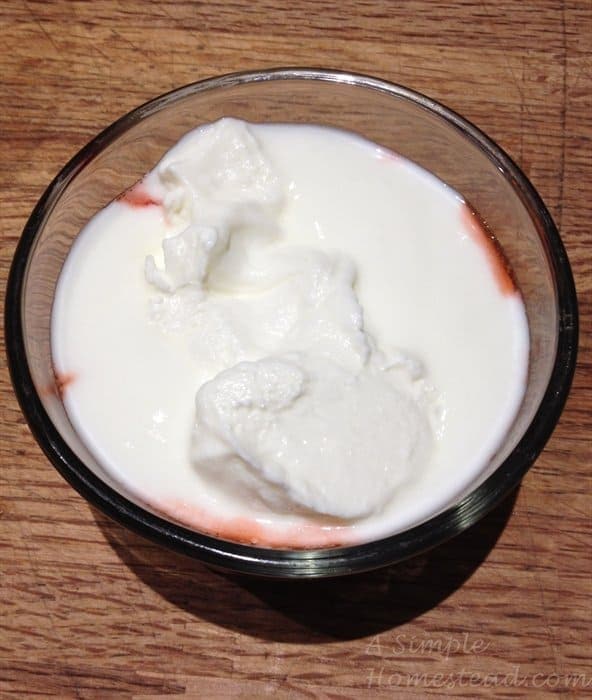 It was really hard to get a picture of just how thick it was, so this is a picture of a dollop of the Greek-style on top of my standard yogurt. Hopefully you get a little insight into the difference. This stuff is so thick you could easily substitute it for sour cream!
I never understood the claims that Greek yogurt contained twice (or is it more?) as much protein as regular yogurt. Now I know why. When I made standard yogurt, I start with 2 quarts of milk and end up with 2 quarts of yogurt. Makes sense, right? After straining this yogurt, I was able to only fill 2 PINTS! That's half the amount that I started with.
So … would I make this again? Maybe, if I wanted a healthier version of sour cream or something to use for baking. But for eating-yogurt, I found it just too thick for my tastes. I'd like to find a texture somewhere in-between … which means maybe I need to make on a weekend so I can drain the way for only a couple of hours instead of all day.