My craft supplies stash is out of control. I realize others will find this statement to be blatantly obvious given what they've seen, but it wasn't apparent to me until now. Trying to move all my craft stash (once again) into the basement room has been a challenge. Rather than just move and dump/put away, I've tried to be more aware of what I have and reflect if I would want to keep it if we ever sell the house.
I'm still not completely settled in the new room, as you can see. There are still some boxes to unpack. I've set up the one desk to be my sewing area. Not perfect because it's a bit crowded with the computer screen on there (a have a solution for that) and it's also a bit dark in the corner.
The sewing machine is set up however, and I've actually used it recently. For not considering myself a sewer, I sure have a lot of fabric!
The other desk/table section is set up to be more for paper crafts. I have a lot stored on top of the desk right now; I just need to organize better as the bottom drawer of that desk it completely empty still.
We also moved the cubicles Papa built into this room. I had used it for yarn storage a few years ago, then it became a closet organizer for Little Chick but we changed that recently. So now my yarn needs to be re-homed downstairs too. I hope it all fits!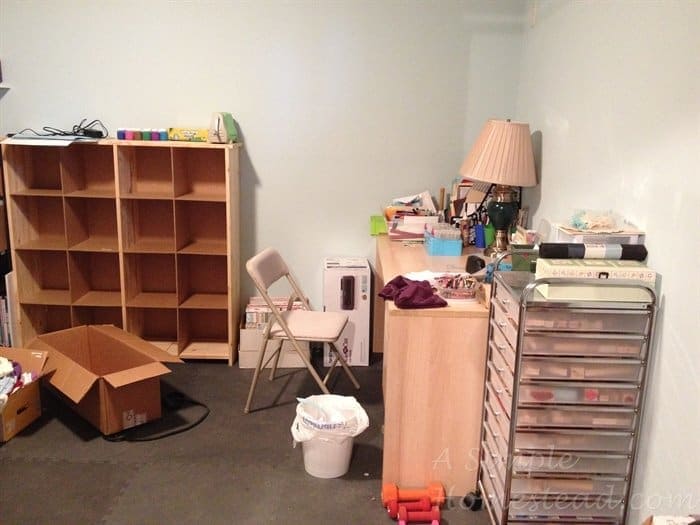 In the meantime, I've been working to try and reduce my stash in larger quantities. I have three boxes sitting in my car right now waiting to go to the post office. I found someone that would take my smaller amounts of Caron Simply Soft (she makes charity hats); someone else wanted some skin-tone "unloved" yarn along with scrap sock yarn. I also signed up for a stash swap with someone that wanted fabric; she's getting a lot of oranges and odd colors I didn't like. The stash swap isn't all that effective though, because a box will be coming to me – but hopefully it will contain items I can better find uses for.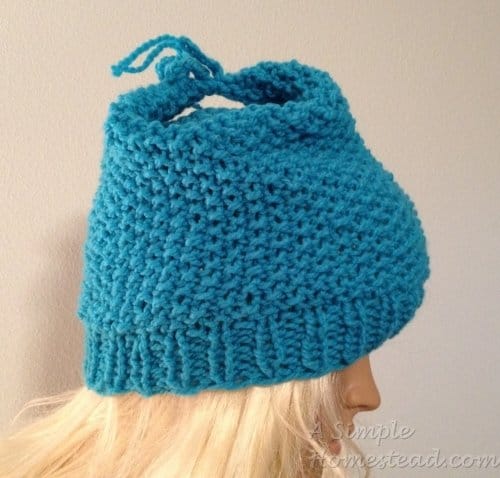 Earlier this year I traded someone for some fiber she wanted; I expected to receive just a single skein of yarn in return since I only sent one small bag of roving … she sent a whole box! Some went to my mother, some yarns are still trying to find a use, but there was this lovely bulky weight turquoise yarn that I wanted to try and use. There was no label, but it looked like it was almost a full skein – the perfect amount to make a hat.
This was a quick and simple pattern and the hat will most likely go to charity. If you want to see something freaky though, go to the designer's page on Ravelry and check out her mannequin head 🙂
Pattern: Below Zero Burly Hat
Designer: Lila Agnew
Yarn: unknown bulky-weight yarn
Colorway: ??
Modeled by: Dena, our lovely mannequin
My Ravelry page
This has to be my favorite project of late. The company, Yarnspirations was having a charity drive / contest to make the World's Biggest Stocking. They were requesting 3'x'3′ square afghans, mostly made in Christmas colors. They plan to put them all together to build the giant stocking and then it would be taken apart again and the individual blankets would be sent to military charities, as the whole idea was to support Children of Fallen Patriots Foundation.
I've never really made a granny blanket before; I've made a few individual squares but never a full blanket. I liked the idea of one giant granny square – just a continuous granny pattern around until it was big enough. Now that I've made one? I'm even more in love! This worked up so quick and was a fun, somewhat mindless project to work on. I never wanted to put it down!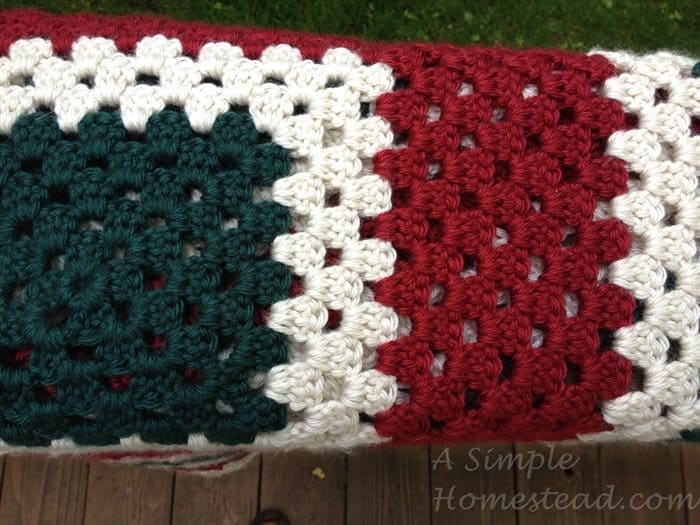 My blanket was sent off to Yarnspirations, but I'd really like to make another. No particular reason other than they are fun and it does use up a good amount of stash!
Pattern: standard granny square
Yarn: Caron Simply Soft Eco
Colorways: 0002 Natural, 0021 Pine, and 0012 Wine Country
My Ravelry page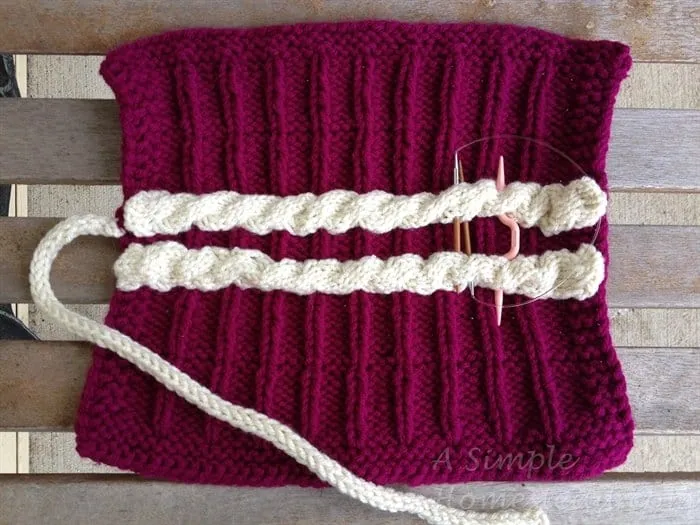 I joined another Red Heart Lovers KAL/CAL for June. The monthly theme was for a needle roll or hook holder. There were two knit and two crochet patterns to chose from. I really liked Berroco's Kable pattern. It wasn't until after the patterns were chosen that the organizer realized it was a felted pattern. Red Heart doesn't really have much for wool/felting yarns, so that requirement was waived this month. Still, I thought I'd like to try and make it as a non-felted version. What I came up with was inspired on the Kable pattern, but I didn't follow their instructions at all.
Since felting would shrink the fabric to 15″x20″, I just tried to make it close to those measurements to start with. Mine ended up to be 13.5″ x 11.5″ … and it's plenty big! I can't image how large the original must seem. I did stick with a double-strand of yarn to make it firmer. The original was also done in stockinette, which makes sense because stitch patterns would be lost when felting. I went with a garter stitch border to prevent curling and a [k3,p] pattern across with a garter row thrown in every 10th row.
I also make up my own cable pattern, although it's similar to what they made. The needle roll was finished off with an icord tie.
Using double-strands of yarn is also another great way to use up stash!
Pattern: my own; loosely based on Berroco's Kable pattern
Designer: me
Yarn: Red Heart with Love
Colorways: Boysenberry and Aran
My Ravelry page
Anyone else want to confess as to the size of their stash?