Warning: If you are my sister, stop reading this NOW! I mean it!! 🙂
This project was previously referred to as The Bath Mat From Hell. After I made my mother a cotton bath mat – way back in 2008, my sister requested one just like it. She wanted hers in burgundy and black to coordinate with the bathroom she had at the time. Well, I tried to make it. Despite thinking I had the whole clock-wise vs counter-clockwise loopy thing figured out on the bath mat, I really struggled to make this one work. I wasn't sure if it was the difference in the yarns, but I just couldn't make the loops stay.
Fast forward five years … my sister is now remarried and living in a different location but thankfully she still wanted the same colors I had purchased. Then, this summer I learned that my mother's bath mat didn't stay as nice as when I presented it. Half of the loops on hers pulled to the back side of the mat, despite all my efforts to make them "stick" on the topside. *sigh* I decided then and there if I was ever going to get this project finished I really needed to find a different pattern.
That was a struggle in itself. I found one bath mat pattern that used two strands of yarn at a time but I thought it was going to turn out too thick to dry properly. I tried using some stitch patterns I found but wasn't really liking the result. I resorted to looking through my stash of magazines and books to find something. I ran across the Pinebark Scarf pattern from Interweave Crochet, Winter 2013. It had this great criss-cross array of stitches that looked like it would help add some bulk but there was plenty of open space to help the mat dry. I didn't really follow the pattern exactly because truthfully I kept getting lost in the directions. It gave me the general idea I needed though.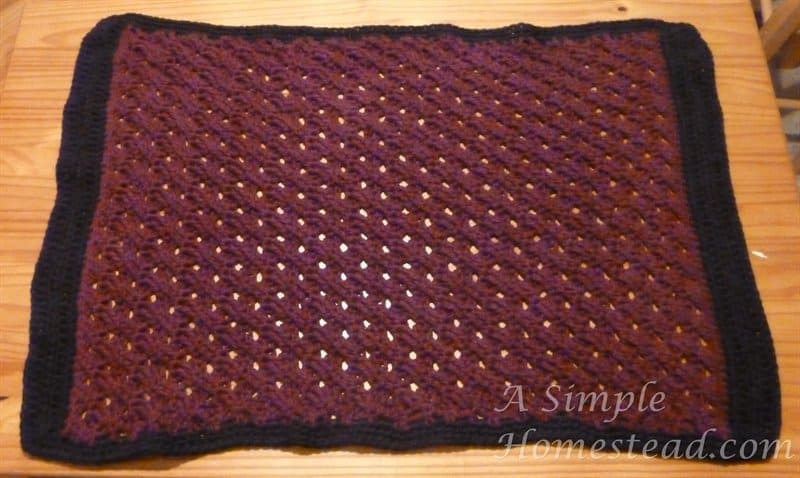 It could use some blocking before I gift it. And a washing … cotton yarn seems to be a magnet for dog hair! You can see the criss-crossed stitches clearly up close.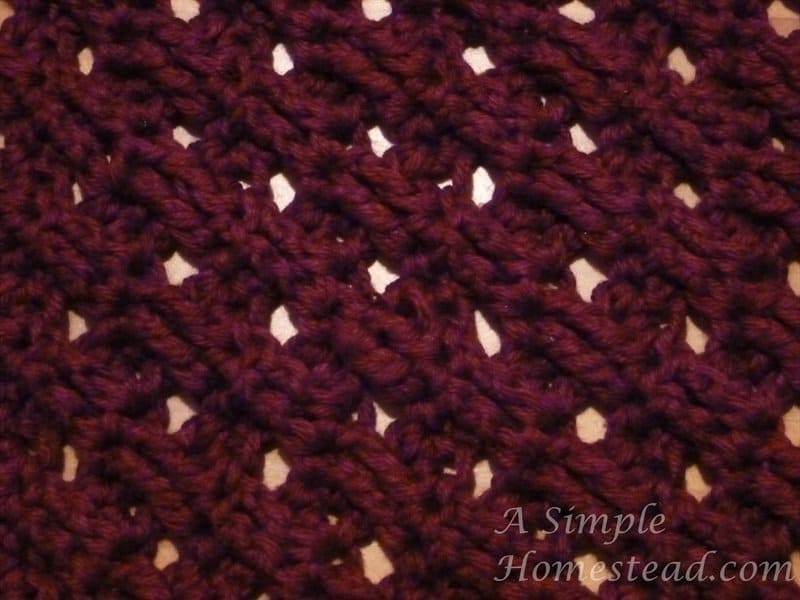 I'm really pleased how it turned out – the pictures don't do it justice. Here's another view of the stitches with the border.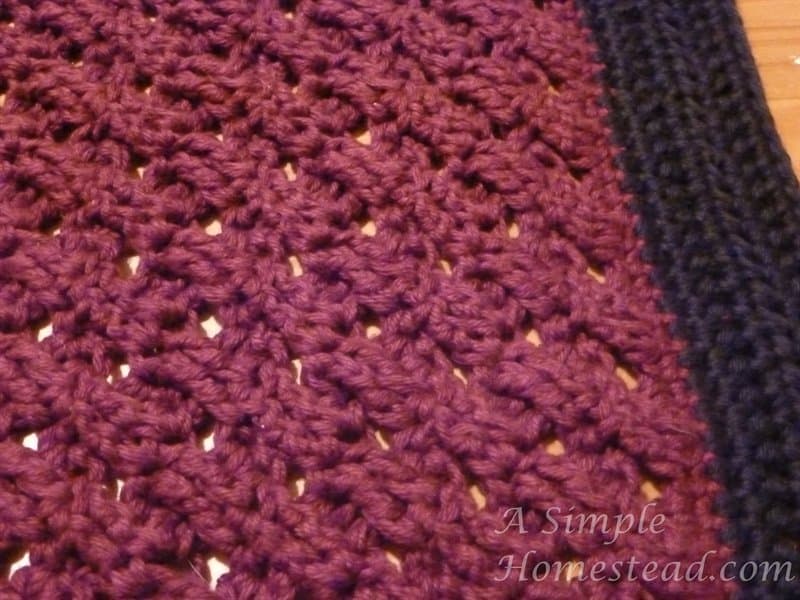 Because I was using two strands of yarn plus the criss-crossed stitches, it gave it some depth that should be nice and absorbent. The edging was just a simple single-crochet / half-double crochet combination.
I had a helper this day that felt she needed to be in the pictures!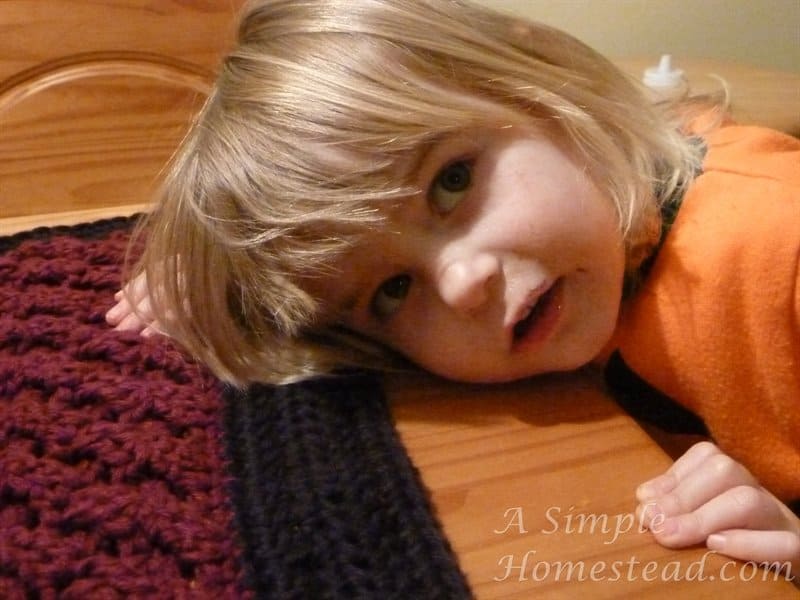 (complete with a chocolate-face!)
Pattern: Criss-Cross Bath mat
Designer: my own design, based very loosely on a stitch pattern I found
Yarn: I Love This Cotton from Hobby Lobby
Colorways: Aubergine and Black
My Ravelry project page
Modeled by: Little Chick