I've been reluctant to show one of my Designers Challenge projects. It's actually from a couple months ago, and I suppose it's worth showing my failures as well as my successes.
The challenge for July / August was to make a bag in either knit or crochet, using mitered squares and it needed to be modular / piecework. This is my resulting bag.
It's not horrible, but I'm just not completely happy with it. I started off making the mitered squares (new technique for me) in Tunisian crochet.
I think part of what I don't like is that I didn't do a great job of seaming them together. I've since learned a better way.
Sometime in the time while I was seaming the miters and creating the side panels, I was inspired by a project that was peacock-themed, and realized one of the colorways I was using was called "peacock"! I knew I had some purple on hand and thought it might look nice to add that as an accent to tie the pieces together.
Then I decided to add an oval medallion similar to the end of a peacock feather in the center of the bag. I pulled out several colors and used a picture of a feather for an example. There's a tiny bit of yellow/gold barely visible; I didn't want it to stand out too much but it's hidden more than I like.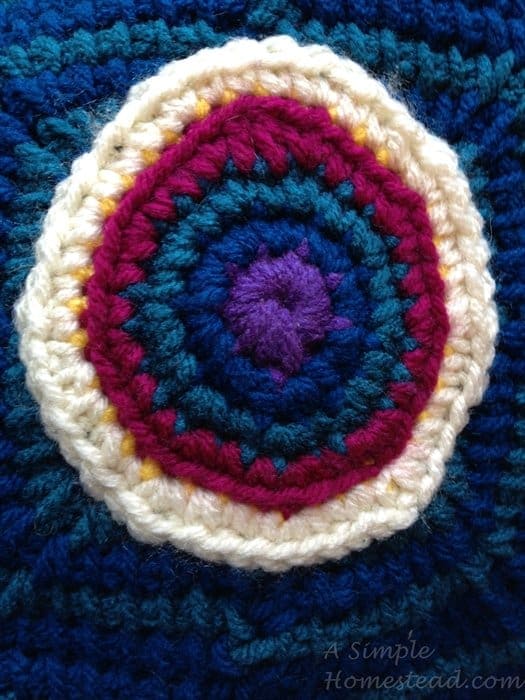 Pattern: Peacock mitered bag
Designer: me
Yarns: Red Heart with Love except the yellow (I Love This Yarn ?)
Colorways: Peacock, Mallard, Violet, Aran, and Boysenberry
My Ravelry page
My posts of late have been filled with mostly knit and crochet, but I've been working on a few other crafts too. Now that Little Chick is older, I not only can spend some time working on cards without worrying about what she's doing, but she loves making cards with me!
This is a set of anniversary cards we made recently. I forgot to take a picture of the one we sent to friends, and my photography isn't the best on these, but you get the idea. The rainbow cards are an idea I saw online and tried to replicate. When Little Chick saw what I was doing, she imitated my card (hers is the middle one). The last card I did all by myself 🙂 for my sister & brother-in-law.
I also spent one evening making up a whole bunch of thank you cards. It seemed I had been making one or two constantly for some swaps I participated in and decided it might be good to get ahead of the game.
Craftster has a quarterly (?) organized swap called "Shop the Swap". Crafters set up a "shop" of items they already have made up and others can "shop" from it. I thought a stack of thank you cards might be nice and I know I have a few other things I could have posted, but I never got around to setting up my shop. Maybe next year.
I have a few longer-running items I'm working on. One is my first ever truly lacy shawl! I've made a couple of shawls before, like the Tunisian one I finally got blocked this year, but nothing this lacy and intricate.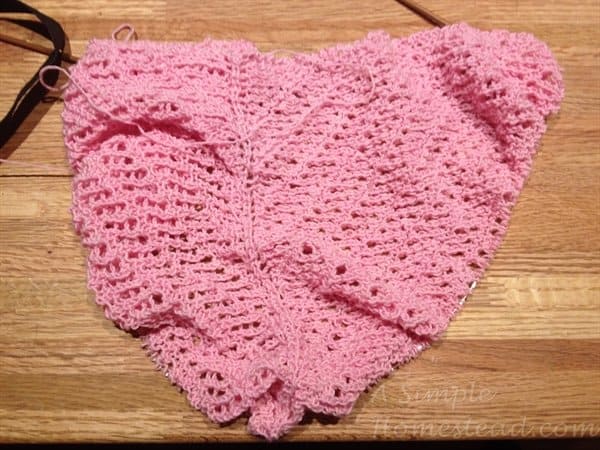 It's for a knit-a-long (of course) due in a few weeks and I should be done in time – I'm at the last 20 rows (the longest) for the edging. It's hard to see all the lace loveliness as it's bunched up and will need some serious blocking.
The yarn is a delicious Ella Rae Lace Merino in a colorway called Bubble Gum – how fun! I fell in love with it when considering the KAL and my options but really didn't want to spend the money. But then I won a $10 g/c to The Yarn Attic for a different KAL I participated in. I took that as a sign I was meant to buy the yarn LOL! I still have no idea where I'm going to wear it but I don't care. I think it will be beautiful.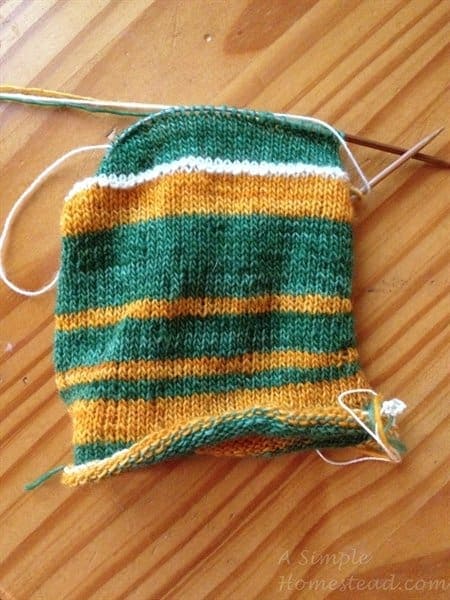 If you're not on Ravelry, not a fan of Knit Purl Hunter, don't like American football, or have been living under a rock, you are excused from hearing about this KAL :-). It's called the Scoreboard Cowl KAL, sponsored by Skacel.
The pattern is this: you pick yarns that match your favorite team – one color (A) will be for your team, the other (B) for the opponents. For every point your team scores you knit that many rounds of the scarf / cowl in color A; if the opposing team scores you knit in color B. So for example, if the Green Bay Packers!! score a touchdown (with extra point), I knit 7 rows in green. If the other team scores a field goal (boooo!) I knit 3 rows in gold. There was an optional third color that I chose to add (white) as a demarcation line between games. Papa said maybe I should knit grey or black if the Packers lose … thankfully I haven't had to make a decision yet if that should happen :-). #undefeated #goteam!