Are you sensing a theme? I couldn't resist making one more washcloth in that spike stitch pattern. It's a simple design so it works up quickly but has just enough change to keep me interested. Obviously – since I've now made three of them! I think I'll take a break and do something else next time.
Pattern: Spike Washcloth
Designer: stitch pattern / me
Yarns: Lily Sugar'n Cream and Lion Brand Cotton
Colorways: 00026 Light Blue and 98 Natural
My Ravelry page
I also finished the star stitch washcloth that was almost complete last week. I like how this one worked up as well. If you know how to do the star stitch, it's just alternating two rows of single crochet with the two rows it takes to form the star stitch. That's it.
I decided to change up how I do my edge finishes and I like this better than doing a single crochet in each stitch around. These have two sc's in one stitch and then I skip a stitch. Sort of like a tiny little cluster.
Pattern: star stripes washcloth
Designer: me
Yarns: Lily Sugar'n Cream and a tiny bit of Lion Brand Cotton
Colorways: 00026 Light Blue and 98 Natural
My Ravelry page
I spent several hours this week finishing up my yarn stash organization. It needed it and I'm glad it's done. Yes, there is a LOT of yarn. I know it; that's why I need to use it up!
Things were getting rather haphazard in the closet, with yarn just shoved in there and falling off the shelves. Not only is the space neater, but I also have the yarns grouped so I can find the yarn I'm looking for easier.
The top row is all worsted and Aran weights, the second row is all DK/sport weight with the exception of the very left of the shelf – that's also worsted/Aran. LOL – I just noticed in the picture, can you tell where my reflective yarn is kept?!
The reflective yarn was part of a package I received last year – a big package of Red Heart's newer yarns that I won in a contest.  That certainly didn't help my stash.  But winning is too much fun to stay away from the temptation to add to my stash – and my only cost is time!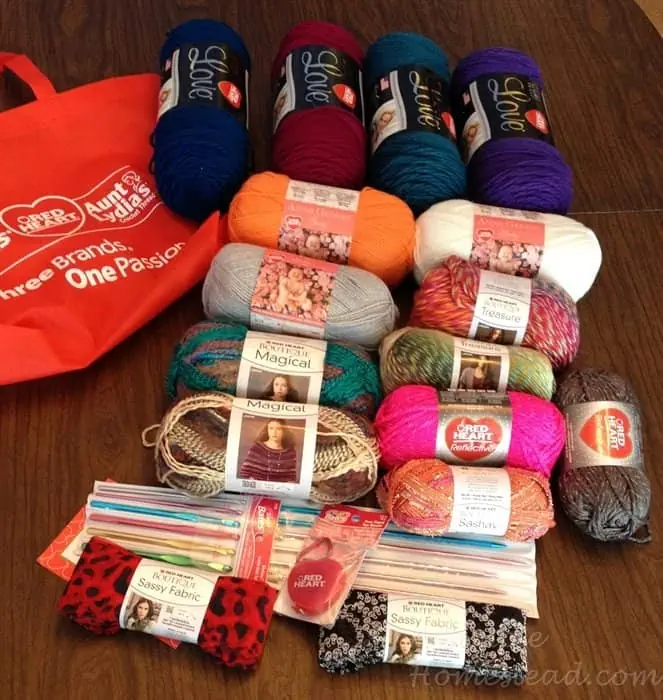 I took advantage of the wide selection of grocery bags we have but don't use for groceries to help sort out those yarns that wouldn't sit well on the shelf because they're balls, smaller skeins, or oddly shaped. I have a couple of bags of fingering/sock yarns, one for bulky and super bulky, and there's even a small one for lace yarn. Part of the third shelf is dedicated to some partial skeins that I should just use up.
The floor mostly is covered with plastic bedding bags filled with thread. It's sad because I love working with thread, but haven't made any doilies or any other thread projects for a couple of years. December 2013 to be exact. I really need to get back into it … or decide to find a new home for them.
Or … find a way to stay home and knit/crochet all day long :-).