Such a sad sight.
Lovely cupcakes, don't you think? (not)
A few days ago, Papa mentioned that we had frozen strawberries and some whipped cream available … wouldn't it be nice to have some sort of cake with it (hint, hint). I wasn't exactly feeling the baking bug, so I went to see if we had any cake mixes available. Only one – in chocolate. Little Chick insisted I made a white cake instead but that meant a from-scratch cake. I was ok with that plan. As much as I love chocolate, if there's a choice, I actually prefer a good vanilla cake instead. But it has to be good.
Off I went on an internet search for an inspiring recipe.
<start rant> Dear internet recipe sites: Please do not list your recipes as "from scratch" when the first ingredient in your recipe is a cake mix from a box! I don't care if you add 20 ingredients after that. It's still not "from scratch". <end rant>
I found a good vanilla cake recipe from one of my favorite sites, but I won't bother to even link here, because I obviously didn't do it justice.
That's what happens when you're not paying attention because there are too many people "helping" in the kitchen while you're trying a new recipe. That's my story … and I'm sticking to it.
The white cake recipe I found called for cake flour, which we never have on hand. Thankfully there's an easy substitute – for each cup of cake flour you take out 2 Tbsp of the flour and replace it with 2 Tbsp of cornstarch.
Did you see that?
Cornstarch
Ahem. Not baking powder.
Warning bells should have gone off when I'm putting the ingredients in, and for a moment thought "wow, even more baking powder?" Yeah. Again … blame the family distractions. What's worse is that I've made cake flour substitutions many times before for my favorite angel food cake recipe. Wait! I haven't shared that recipe yet? I'll have to remedy that very soon.
But I digress. About 15 minutes into baking I started to smell burning. Not surprising considering that my super-inflated dough had spilled over the sides of the pan all over the racks and oven floor.
SIGH
So much for white cake. At this point, I was ready to give up and I went to plan B: brownie cupcakes.
I'm not sure why I never thought of making brownies in a cupcake form before! Portion-control when it comes to brownies is a very good thing in our house, and we all seem to like the crispy edges mixed with a bit of gooey center. Making them in a cupcake pan gives us all that!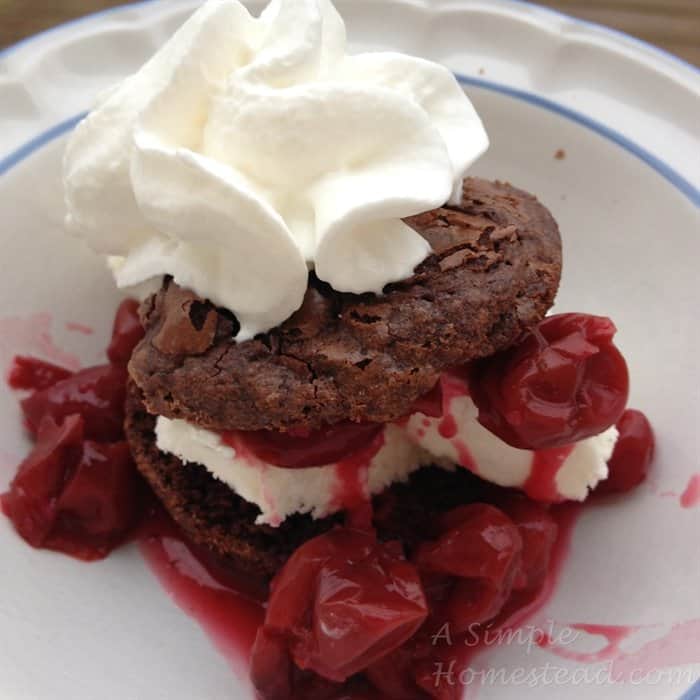 I couldn't find the strawberries in the freezer (Papa found them later), but I found a container of unsweetened cherries. Dessert was saved. Brownies, a spatter of good vanilla ice cream, cherries, whipped cream, and a little drizzle of chocolate sauce. Yum!
Any baking failures you'd like to share? I know I can't be the only one 🙂