I have a bunch of small projects finished over the last couple of months that I never shared because they didn't seem to fit in with the larger posts.
A year ago … yes, a full year ago, I made a lovely Tomboy cardigan for Little Chick. I have some cute pictures of her posing with it before I got the buttons on, because I was just so excited it was "done". And then it sat in a corner waiting for some final attention. This month I decided that if I ever hoped for her to wear it, I'd better get those buttons on NOW! Thankfully I made it a size or two larger than she was wearing last summer so it still fits!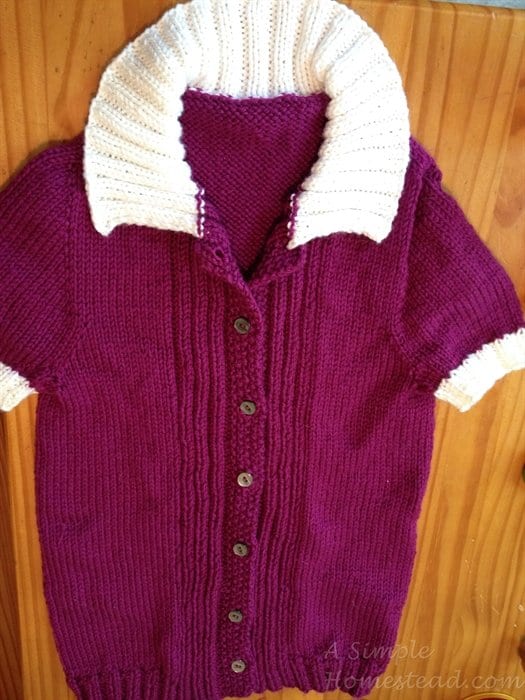 Pattern: Tomboy Cardigan
Designer: Elena Nodel
Yarn: Red Heart Soft and Caron Simply Soft
Colorway: 9537 Fuchsia and 0001 White
My Ravelry project page
I am sloooooowly getting supplies moved down and organized in the craft room, but already I've taken advantage of the nice table surfaces and made some cards for friends and family. I also found a card contest (surprised?) that sounded interesting. The theme was to make a birthday card in orange, turquoise and black. Not normally colors I'd choose, but I love a challenge … apparently a couple times over. Little Chick even wanted to help. Her favorite tools are glue sticks and paper punches.
One of my favorite ongoing-KAL/CAL groups on Ravelry is Red Heart Lovers. Every month they pick a theme along with one knit and one crochet pattern for that theme. You need to use a Red Heart yarn/thread for a chance to win prizes. I haven't won (yet) :-), but the projects they pick are quick and fun. May's crochet project was this bracelet. I changed it up some to use a smaller hook, more in line with what thread normally calls for and just increased the number of chain starting stitches. After I had finished and read some of the other comments, I realized that it should have been a foundation start, not just a chain … but it worked out anyway.
Not surprising … I can't seem to find the bracelet now. Like most other feminine, lacy, bling-y, sparkly, jewelry-type things in my house, it seems to have developed legs!
Pattern: Filigree Bracelet
Designer: Pam Watkin
Yarn: J&P Coats Knit-Cro-Sheen (Size 10)
Colorway: 0032 Candy Pink
Modeled by: me
My Ravelry project page
One last quick project. A long time ago I picked up an unfinished pencil holder (it may be MDF?) from Target that was on clearance. Does anyone else have trouble passing up those red stickers?! Actually, I picked up two. One I finished with some paper and brought to work; the other sits unfinished still on my craft room table.
A few years passed and the paper was faded and began to fall off. Hmm … doesn't bode well for archiving any cards I may have made! Life had changed at work too and I really didn't need it so it went home and became unfinished as well.
Back in January, my office moved to a new location and after a while I realized I could really use a pencil holder on my desk again. Making fancy paper covers for the four sides seemed like a lot of work, but I didn't want to leave it plain. My ol' favorite crafting supply FELT came to the rescue yet again. I just rolled the felt around the sides and glued in place. Then to decorate it a bit, I used some of the fun twine I had on hand. Some of the twine hadn't ever been used – it still had plastic wrapped around it! I actually have 6 colors of twine, but four seemed more than plenty.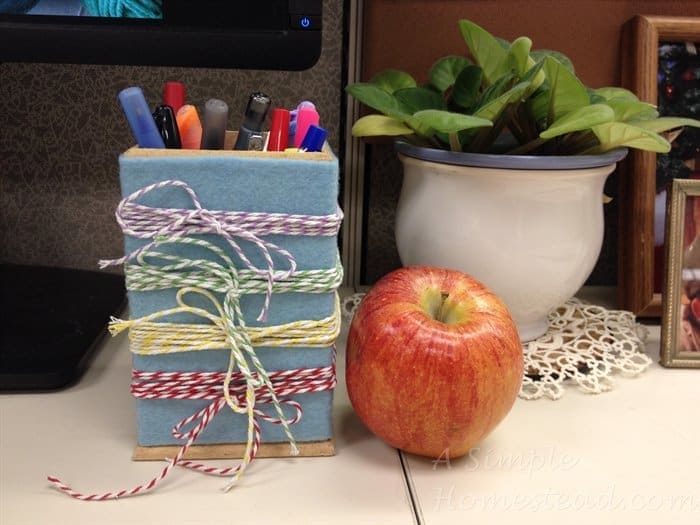 Lots of different crafts today – crochet, card-making, sewing (buttons) on knit, and misc crafts.
Are you a multi-crafter too?