Many years ago – even back before Mama and Papa were married, we used to attend at least one Rendezvous each summer. What is a Rendezvous, you ask? By definition,
rendezvous noun – a meeting at an agreed time and place, typically between two people.
The Rendezvous I'm referring to is a gathering of people that re-enact the Mountain Man Era also known as Buck-skinning. Typically the reenactment is for pre-1840's equipment and attire. Women dress primarily in calico cotton or leather (deer) dresses. The men wear drop-front woven or deer hide trousers, or sometimes just a loin cloth. It's not unusual to see coon-skin hats or other furs. Events usually have activities like tomahawk throwing, black-powder shooting or sometimes even log rolling. It's an excellent lesson in America's early history, and can be loads of fun people-watching as there are quite a few "characters" that attend.
We haven't attended a Rendezvous in over 10 years. Partially because going to largest one in our area meant we either had to deal with rain or extreme heat (in one of our last years, I realized later I had been extremely close to heat stroke!) Papa also decided he'd rather go fishing that camp like this … and then a few years later he gave up fishing for finding a sucker… I mean, friend for playing cribbage all weekend. And finally, sometime around the time of our move out to the country, our wall tent disappeared. We're not sure if it was stolen or what happened as we had a break-in both at the building site and a storage unit during our brief 5-month "homeless" time (while we were building).

Our wall tent looked something the one in the foreground – complete with a "fly" in the front for coverage during those rainy times. The tent was nice but didn't offer a way to have air flow during heat spells! Plenty big for two people and their supplies for the weekend.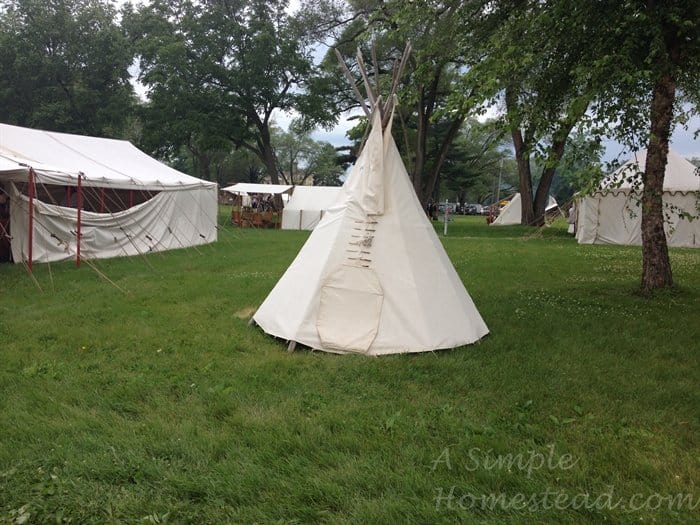 Anyway … the whole reason I brought this up: June is the time for the Prairie Villa Rendezvous in Prairie du Chien, Wisconsin. Papa wanted to revisit and introduce Little Chick to such a wonderful event. We even talked about attending next year – camping, but this time in the "modern" area. You can camp in "tin tee-pees" (campers) in another section away from the main areas; the main part of the Rendezvous was always supposed to be authentic. You could use things like coolers as long as they were hidden under a blanket, or in our case, Papa built a styrofoam-insulated box. Nothing plastic or post-1850's was supposed to be allowed. Apparently that's changed. We saw one vendor selling fancy parasols – with plastic handles; and she even had a PVC pipe display rack for other items. It was painted black so it wasn't as noticeable, but why not use natural branches instead?!?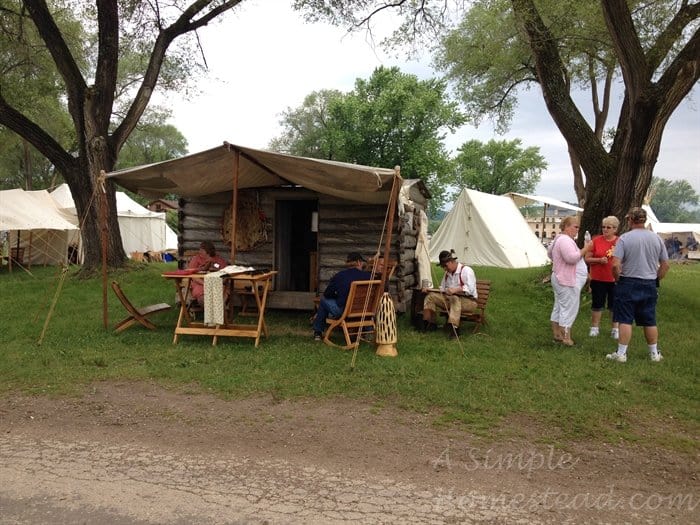 We were also saddened to see that the event had shrunk to about half the size it was a decade ago. I guess the older generation is dying off and the younger ones think other events (Renaissance Fairs perhaps?) are more fun. We overheard someone talking that the lease between the city and the group that runs this particular Rendezvous expires after this year and the fees have gone up to the point where they aren't sure if they can continue. I guess we made it back for what might be one of their final years.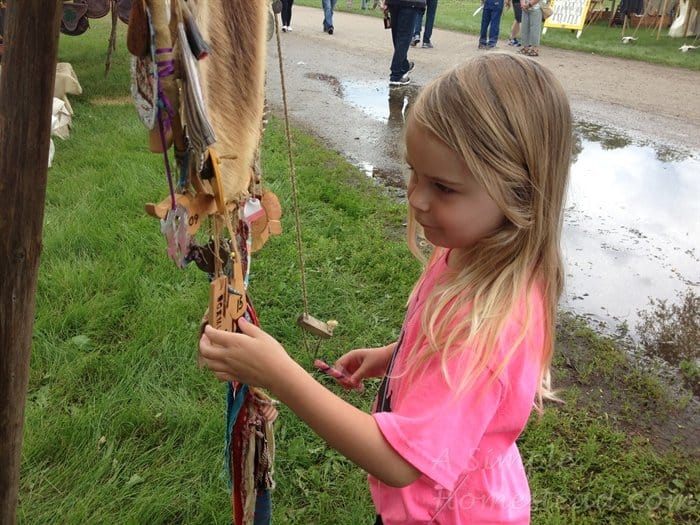 As you can see, people bring all sorts of dwellings to these events – wall tents, tee-pees, and even full cabins. It may looks small, but I'm sure permanent cabins for a small family back in the early 1800's wouldn't have been much bigger!

Little Chick seemed to enjoy the event – somewhat. We didn't buy anything other than food to fill our tummies. Kettle corn, ice cream, "penny" candy (that costs way more than 1¢), wild rice soup in a bread bowl (this was a rainy and therefore cooler year); I forgot to get some homemade root beer, but we were full enough.
Alright. I debated whether or not to post these pictures my sister so gladly shared on Facebook a couple weeks ago for our anniversary. Boy, do we look young! In addition to hot-weather calico, Papa had also made me a nice warm leather dress and even put lots of beads on it. We still have it … I'm hoping Little Chick can wear it someday.