What do you get when you take a bunch of scrap yarns, a chance to participate in an international craft swap and a basic idea?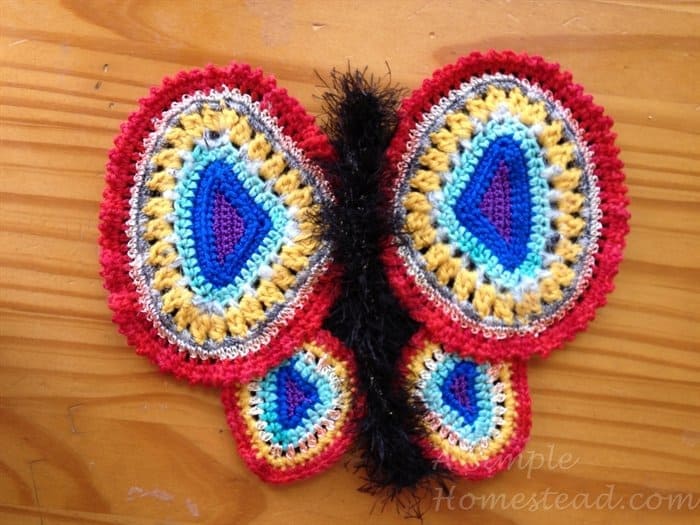 One amazing, freeform butterfly!
I don't usually participate in swaps, but I ran across one over on Craftster that sounded like a perfect match. It was called "Yarnies vs Sewists". They were going to match knitters/crocheters up with someone that sewed so you'd get a gift you might not be able to make for yourself. The swap partner I was assigned does also knit, but for this swap she was willing to sew. She asked me a couple of very specific questions so I'm eagerly anticipating what is in the mail!
For her projects she gave me a couple of personal details – including that she has a butterfly tattoo. I don't know what it looks like, but I know it has a lot of meaning for her. She also listed butterflies as one of her favorite animals. She mentioned that she likes either functional or artsy crafts; nothing "cutsie". That inspired me to make this butterfly. I like how it turned out and have been debating about making another to keep :-).
Pattern: my own design
Yarns: too many to mention; see Ravelry for details. Yarns varied from fingering weight to worsted in a variety of fibers.
My Ravelry page
My swap partner also requested "Small little bags that I can hang in the barn to store stuff – like little A5 bags". As we were supposed to make at least one 0-2 hour project and one 2+ hour project, I figured I could make a couple of those bags … although NOTHING I make usually amounts to under 2 hours, even if you take out interruptions.
Favorite colors were listed as anything from nature including "Sea greens and Blues". She also mentioned that she doesn't like synthetic colors and materials so for this bag so I was able to find several green-ish cotton yarns. I threw the white in there just to give it a bit of an ombre look.
Pattern: my design – crochet seed stitch
Yarns: various cottons
My Ravelry page
I tried winging it for the bags I made – because I couldn't find any patterns that came close to what I imagined her wanting in size and shape. Unfortunately for the second bag, I goofed and this one ended up on the small size. I decided not to send it and am entertaining thoughts of trying to felt it to make it even smaller.
Pattern: my design – stockinette with ribbed sides
Yarn: Patons Classic Wool
Colorway: 229 Natural Mix
My Ravelry page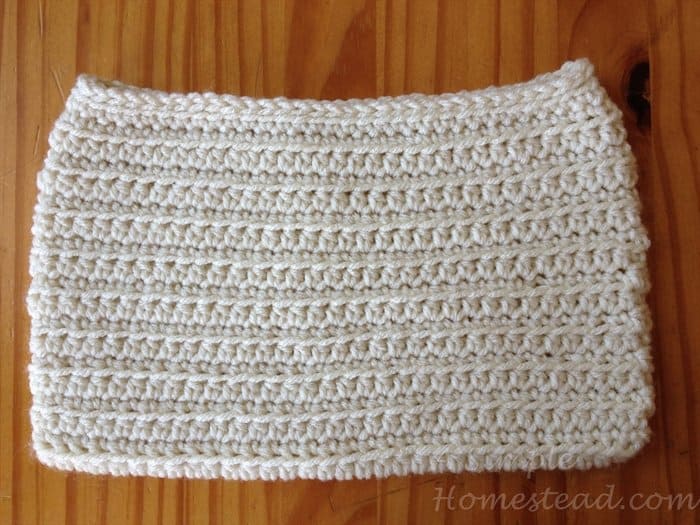 I could have just sent the butterfly and one bag, but I really felt strongly about sending a second bag. Despite the fact that she doesn't like synthetic materials, I kept thinking about these being used in a barn and wanted to make something washable. So I chose an acrylic yarn for this one. Just a simple bag. None of them had closures and I was having difficulty imagining just how she might use these, so I included a couple of zippers that she could attach later if necessary.
Pattern: my down design – alternate rows of hdc and scBLO.
Yarn: Red Heart with Love
Colorway: Aran
My Ravelry page
I sure hope she enjoys what she gets. I think that's one reason I don't participate in swaps much – I'm worried about how what I make will be received (and vice versa).
One other item I popped in the mail recently was this set of stitch markers.
They were a prize I offered for a Ravelry contest. I thought I had some on hand when I offered but apparently I've given them all away, so I had to make up a quick set.
Have you ever participated in a swap before? How did you feel about the outcome? I'd love to hear!