Not much to show this week but I suppose I do need time to spend with family, clean the house (? nah.) and do other projects.
I love working with thread and making doilies but I haven't done much of it recently. I've done a fair job of finishing the projects I've started in the last few years, but sadly the oldest UFO (unfinished object) is my Between Meals Centerpiece doily. It hasn't been touched in over a year and still looks like this.
I think I have less than 10 rounds to go, but of course, each round increases in size and takes longer to finish.
Another project I'm working on got me diving into my extensive thread stash and I decided it was time to find a quick doily that would allow me to have the pleasure of finishing a doily without pulling me away from the other projects I want to work on.
I found an old pattern that looked intriguing. And by old, I mean older than me (LOL). It's from 1951 and I got my version from the Yahoo group Celt's Vintage Crochet. If you love "antique" thread patterns, I highly recommend joining Christine / Celty's email group. She takes out of print patterns and retypes and formats them into nice, readable patterns.
This took me 3 days to finish – two nights and a sick day at home. Probably only 8 hours total, including weaving in several ends.
I'm not sure what I'm going to do with it, but doilies are nice to have on hand in case you need a quick gift.
Pattern: Fingerbowl Doily
Designer: Woman's Day
Threads: Aunt Lydia's Classic Crochet (size 10) and J&P Coats Royale Classic Crochet Thread
Colorways: 0420 Cream and 0450 Aqua
My Ravelry page
I know I've said time and again how much I love knit-alongs and crochet-alongs (KALs/CALs). Last month I discovered that the Red Heart Lovers group on Ravelry hosts a monthly KAL/CAL with prizes sponsored by Red Heart yarns. They choose one specific knit and one crochet pattern to make. You can make modifications to the patterns but there is a requirement to use a yarn or thread produced by Red Heart.
In April, the patterns were a crocheted owl basket and a simple garter stitch knit basket.
I'm glad I chose this pattern. I read the comments of others that had worked the crocheted version, which used lots of front and back post stitches and how hard it was on the hands. This basket was easy and quick (~2-3 hours).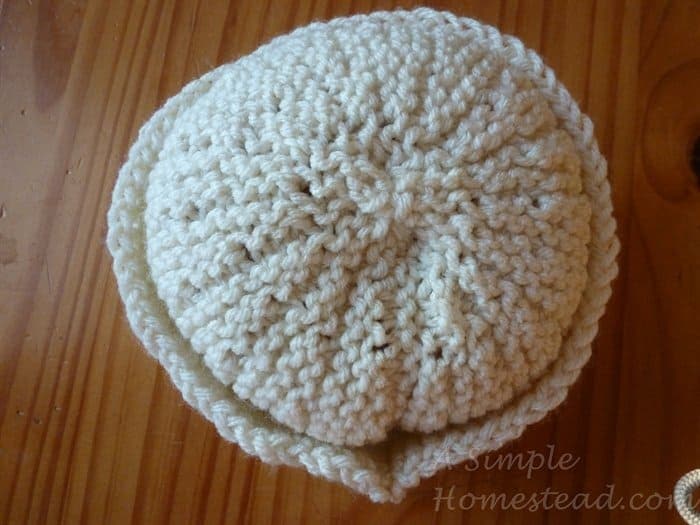 The basket is worked side-to-side using short rows to make a large circle, much the same way the Almost Lost Washcloth is made. Then you fold the edges down to help support the sides and push on the center to create the bottom.
It even works great as a hat, as demonstrated by my resident chocolate-faced project-snatcher.
I didn't get great pictures of the basket but it's already in use holding some play dough molds!
Pattern: 128-32 Breadbasket
Designer: DROPS design
Yarn: Red Heart with Love
Colorway: Aran
Modeled by: Little Chick
My Ravelry page