Finally! I can show off all the wonderful things I made at the end of the year but didn't want the recipients to see!
In no particular order …
I planned to keep things simple this year and just buy gifts instead of stressing myself out to make them.  I think that lasted from October 30 through Thanksgiving.  Then I learned that my sisters-in-law planned to give everyone a gift this year.  One reason was that we have lost several family members the last few years and we wanted to make Christmas special for all, even those that lost their parents.  The other reason was that our holiday get-together has gotten entirely too focused on the children; they still received as many gifts as usual but it felt more like a good mix this year.
Great decision, but it left me with the dilemma of what to give everyone.  I know we have several coffee drinkers (addicts?) in our family so I decided to make some coffee-mug cozies.  Some were in Green Bay Packers colors, some were more simple but for many of those, I purchased a few embroidered patches in teams such as the Packers, Chicago Bears (yes, we have one of those fans in our midst), and even a Texas longhorn emblem.  Unfortunately, I didn't get pictures of most of them with the patch.
Pattern: Coffee Clutch
Designer: Ann Budd
Yarn: various scraps
My Ravelry project pages – sport weight and aran
Thanksgiving also brought a request from my sister. I made her a hat/mitten set something like 7-8 years ago. Alas, the hat has shrunk a little with all those washings and the mittens are starting to fall apart. She requested a new pair. I had hoped to get the full set done for Christmas but I only managed to finish the hat. I love this dark gray and baby blue combination! It goes perfectly with her coat which is actually the reverse colors – baby blue with dark gray and white accents.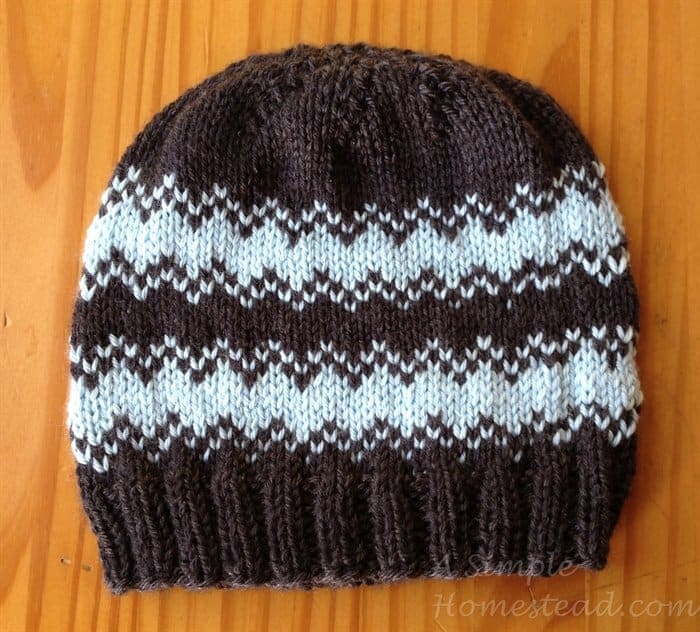 Pattern: Atwater Hat
Designer: Sara Gresbach
Yarn: Caron Simply Soft
Colorways: Charcoal Heather 9508 and 9712 Soft Blue
My Ravelry project page
At first I didn't know what to make my brother-in-law (her husband). How about "matching" hats?! Same pattern just different colors. I was told he likes purple so I used some lovely purple I just won recently.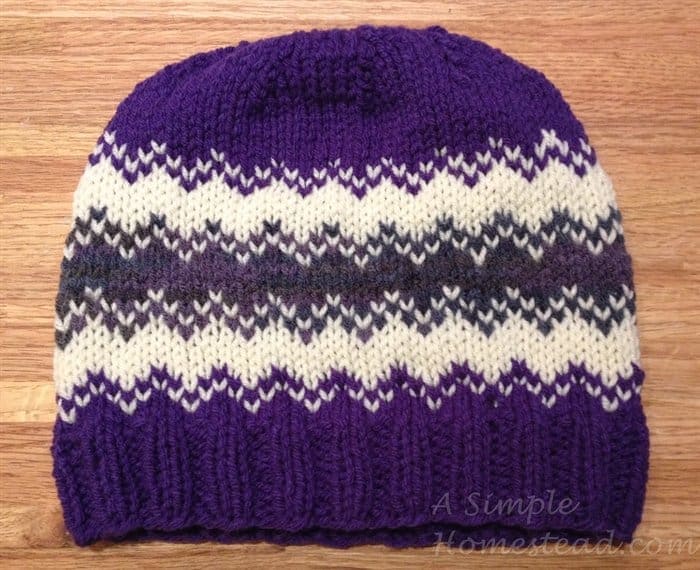 Pattern: Atwater Hat
Designer: Sara Gresbach
Yarn: Red Heart with Love, Red Heart Super Saver, and an unknown variegated
Colorways: Violet and 0313 Aran and ???
My Ravelry project page
And since I can't make just one hat I like without making several (like last year's Strib Hat bonanza), I made one more in this same pattern. This one went to a young man we're friends with that has very little family support and I knew he wouldn't have much of a Christmas. I have him and "IOU" at Christmas-time and said he could choose the colors. He picked black and purple. I used the same purple as above but this picture is much closer to true life.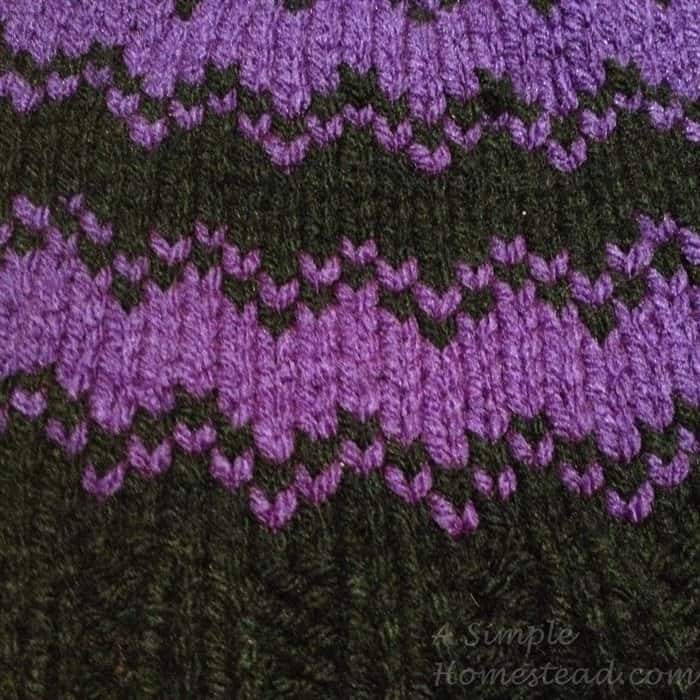 Pattern: Atwater Hat
Designer: Sara Gresbach
Yarn: Red Heart with Love and Caron One Pound
Colorways: Violet and Black 503 and ???
My Ravelry project page
Remember the cape I was making my daughter? Look at how much she liked it 🙂
She looks like she needs a hair cut but actually, we're trying to grow the bangs out – we just must not have clipped them up that day.  The Anna dress, the Anna doll, and the new cape were all Christmas gifts, although the cape was a few days late.
It's funny because this picture shows just how big the head portion of the cape looked to me but in truth, once it was on her head, it actually could have been slightly larger.
It looks almost like little hearts but I didn't plan it that way. I was aiming for half circle. Heart-shapes are cuter though. The cape that Anna wears has little pompom fringe on the bottom. I'm not a fan of little pompoms on garments so I opted to crochet a loopy edge instead.
Not on her, the cape is rather shapeless, but as a dress-up accessory, it works just fine.  I stole the silver clasp from a stranded chenille sweater I had that is falling apart anyway.
I have a couple more Christmas gifts I want to show, but this post is long enough … so I'll save them for another day.