I can finally show off what I've been up to the last month!  I decided to make hats for all the great-nieces and nephews this year.  Well, almost all.  I have two nieces that are in South Carolina and need hats as much as I need a bathing suit this time of year.
This was the first hat I made. Quick and simple. The pattern said it would be stretchy enough for an adult so I used a slightly smaller needle, aiming for a pre-teen size. It ended up too small for my daughter! However, it worked out perfectly for my newest great nephew who is only 7 months old, but a big boy.
I made a pair of matching mittens using a pattern I received this year from my mother-in-law. This is the pattern she uses to make dozens of mittens each year to donate. She even has it down to a science where she knows given the weight of the yarn, what size mittens she can get out of it!
Pattern: Ribbed Alpaca Hat
Designer: SweaterBabe
Yarn: scrap worsted weight yarn
Colorway: black, white, and grey
My Rav project page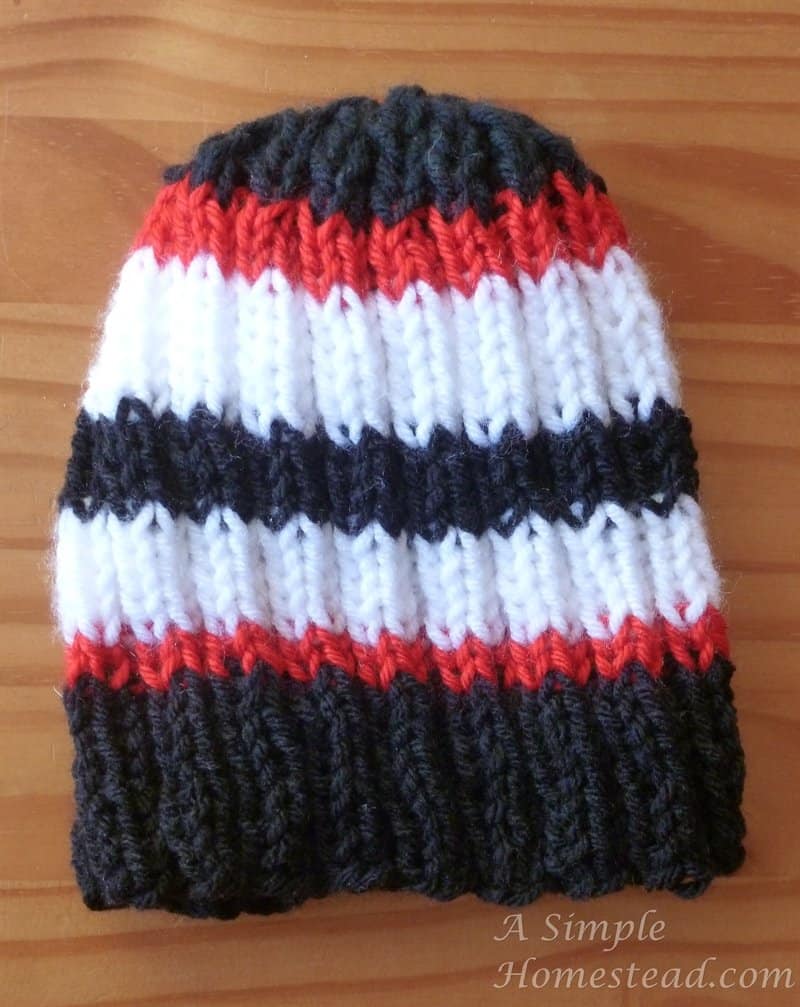 Since the first hat didn't work out so well, I tried again with the proper sized needles. Again, it didn't really seem like it would fit an adult well – it fit around but didn't cover my ears. I still considered giving to the 8-year-old. That is until I saw him at Thanksgiving and realized his coat was mostly a bright lime green and turquoise. This hat would totally clash. So, this hat will remain in my stash to be gifted elsewhere or donated to charity. On to the next one …
Pattern: Ribbed Alpaca Hat
Designer: SweaterBabe
Yarn: scrap worsted weight yarn and Red Heart Soft
Colorway: black, white, and RH Soft red
My Rav project page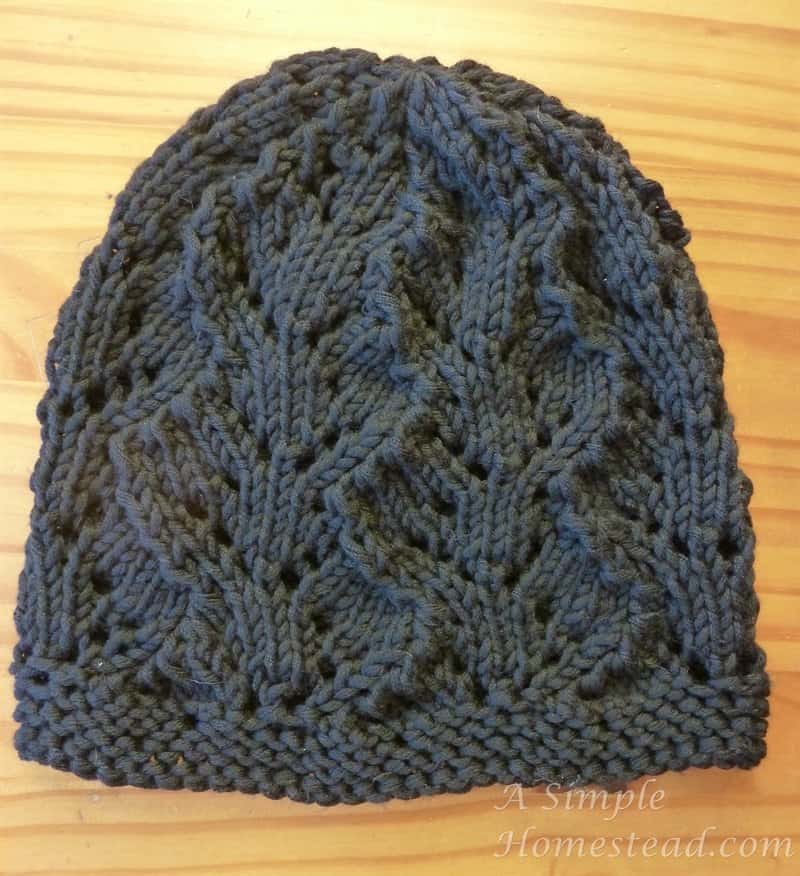 For the almost-15-year-old niece, I envisioned a slouchy-type hat.  Finishing this hat brought me to the realization that my stitches seem to be a little short.  It didn't end up as slouchy as I'd hoped.  However, if you wear in the proper teenage-style – back on your head, then it's a slouchy hat.  I was trying it on like an old fogey and pulling it down towards my ears.
Pattern: Montera Slouchy Hat
Designer: SweaterBabe
Yarn: Berroco Chunky Comfort
Colorway: black
My Rav project page
In case you've noticed a theme in my choice of designers, I was also using these hats to enter a three-month-long "tic tac toe" type contest for SweaterBabe.  I didn't win, but it sure was fun.
Since the SweaterBabe pattern wasn't working out for me quite the way I had hoped, I made something similar using a pattern I came up with.  I used two strands of black yarn intermixed with stripes.  Now, THIS hat turned out big enough!  It was actually a perfect size.  Nice and stretchy so it fits everyone from my daughter up to me.
(nice blurry picture, eh?!) My great-nephew liked it so much he asked me to make him another hat but this time in Chicago Bulls black and red.
Pattern: Black Ribbed Hat
Designer: me!
Yarn: Berroco Chunky Comfort; misc worsted
Colorway: teal and lime; black
My Rav project page
The last two hats made me the most discontented. Probably because they ended up way too huge … and I didn't have time to make new ones.
I honestly have no idea what happened to this hat. Yes, I skipped the crucial gauge swatch … because I had less than 10 days until Christmas.  It ended up being too big for even my large head!  I ended up gifting the Mt Finley hat instead because this great-niece is only twelve and I couldn't see giving her an XL-sized hat.  Like her sister, she wore it as a beanie on the back of her head. Thankfully she really seemed to like it.
Pattern: Vivacity
Designer: Kylie McDonnell-Wade
Yarn: Red Heart Super Saver
Colorway: Linen
My Rav project page
And for my last hat… Again, I didn't take the time to make a gauge swatch and again, this hat ended up huge. I even cheated a little and used a smaller sized needle knowing my recipient would have a smaller heat. Put on an 8-year-old, it fell down over his eyes. I promised to make him a new one. Maybe his father can wear the extra-large sized version. I love the colors in this hat though and I can't wait to make another one!
Pattern: Strib Hat
Designer: Kelly Williams
Yarn: Caron One Pound; Berroco Comfort Chunky
Colorway: black; teal and lime
My Rav project page
So now you're caught up with all the knitting I've been doing lately but couldn't show you until now! I still have three hats to make – a remake of the 8-year-old's hat, a new Chicago Bulls themed hat, and my sister-in-law has requested a hat in "aubergine" and black to match her coat. However, they'll have to wait a little bit. I still have to finish some gifts for my friends whom I usually don't see until after Christmas and sometimes the New Year so I have the grace of another week or two to finish their presents.
What's on your hook / needle ?