I hope you all had a wonderful Christmas celebration. We were so busy the few days before and during Christmas I didn't have time to write anything.
Last weekend we went to a Bethlehem recreation at one of the local churches. They only hold it every 3-5 years, so we wanted to be sure and go this year as we had never been before. After visiting, I can see why they don't do it every year. What a production!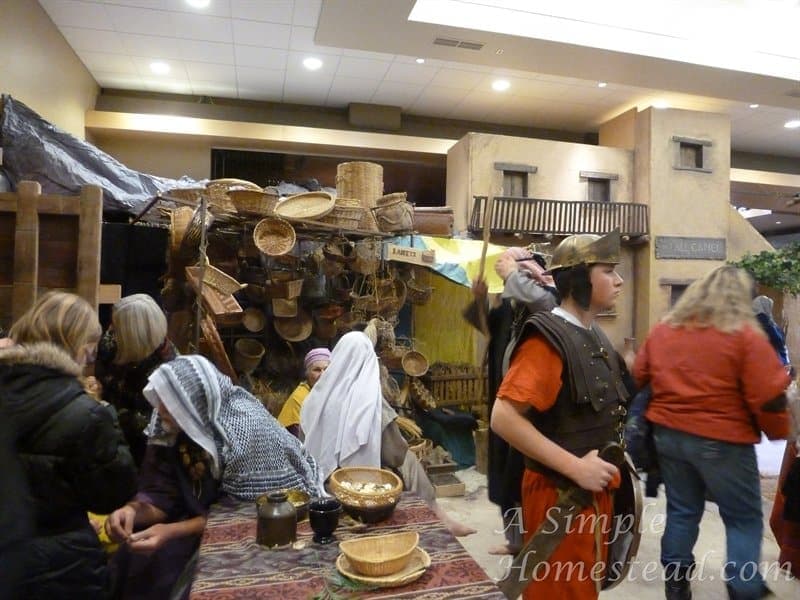 The entire fellowship hall is converted into the streets of Bethlehem. All the volunteers dressed appropriately and stayed in character throughout the "tour". We were asked several times if we heard about the special baby that had been born and we were to keep an eye out … but don't let the Roman guards know!
We were given "gold" coins as we entered so we would be able to pay our taxes, purchase food and jewelry – even Little Chick received a coin. If you had any leftover it was to be donated to the beggars and the poor.
There were samples of dried fruit and nuts, cheese, a fish vendor (no samples), a bread maker, tanner, dyers, weavers, basket makers, and I could go on and on!
The biggest downside to our excursion was the wait. They are so organized that they have a system laid out where you can wait in the sanctuary, sing Christmas hymns, watch movies or interviews about past participation … at least you're not standing for a long time, or out in the cold. Even so, it took over 1 1/2 hours of us sitting and then probably close to another 1/2 hour of us slowly walking to get to Bethlehem. Little Chick was as good as gold even though I'd forgotten to take any activities with us (I didn't think it would be that long). We discovered the little girl sitting next to us not only was 9 months older … but she had the same name! Aren't they a pair of cuties!?
Since someone … ok, I'll confess, it was me … ate up the last of previous cut-out cookies, we made another batch on Sunday to bring for Christmas dinner. This is what the perfect toddler cookie looks like! Actually, she dumped even more sprinkles on and I had to try and shake some off!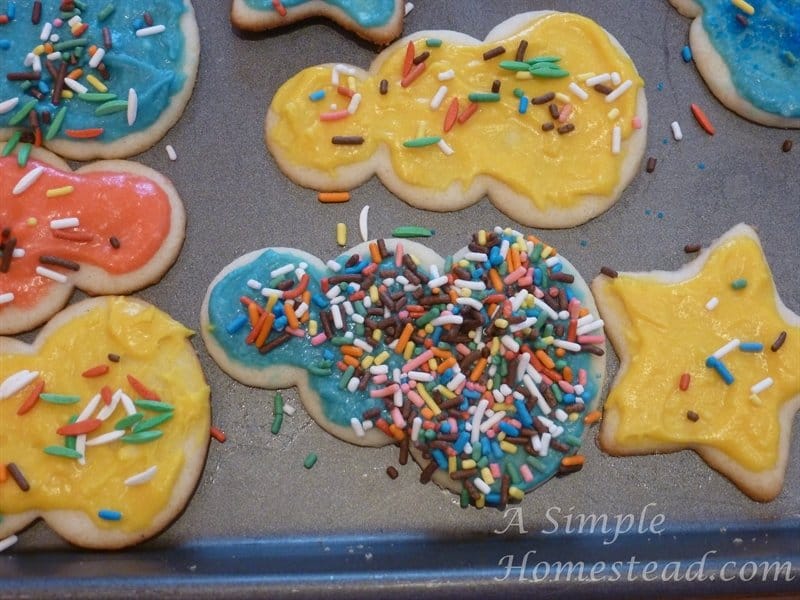 As long as I had the Kahlua out to make some truffles for Grandma N, Mama and Papa had a little post-dinner treat ourselves.  Guess who else wanted one?  She ended up with some milk in a matching glass along with a chocolate biscotti I made for a potluck last week.
We had a very nice Christmas. It was noticeable that some of the adults had lost a bit of their joy this year, but that's to be expected.
The kids waited (in)patiently for us to open gifts.
The adults all took turns holding the "new" baby … he's seven months old already!
Little Chick looked beautiful (as always) in her pretty red Christmas dress.
while she enjoyed the wonderment of Christmas!
It was a very long day as we ended it with a 10:30 pm Candlelight service at church, but she did very well.  And she has lots of new toys to play with.
How was your Christmas? I would love to hear!