Remember last year when I suddenly got the urge to work on not one, not two, but THREE different afghans at the same time? Yep, crazy. Well, I finally finished one of them.
I started off making three of each of the different squares for the bi-weekly patterns. It seemed fun back then.
This was the afghan that gave me my first taste of true granny squares. The problem was that I was using Red Heart Super Saver. Now, I'm not so much of a yarn snob that I don't understand why people buy that yarn. I get it. It's inexpensive, easy to obtain and comes in a wide variety of colors. But most of the colors are just too rough for me. I can only work with them for so long before I have to switch to another project.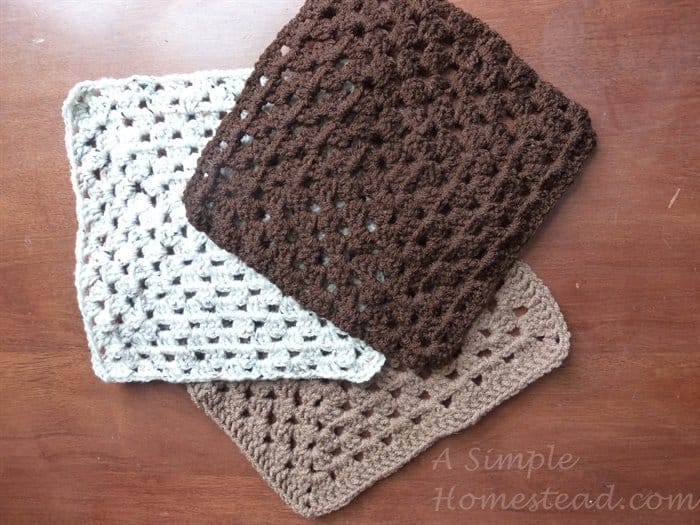 And it seemed like the square patterns suddenly all became very similar – using a lot of front post stitches. I got bored with the square patterns, didn't like the yarn … and so this project sat for more than a year. My LYS (local yarn store) is having a WIPs contest this month. I had over 1/2 dozen WIPs I could have finished and entered, but somehow this one called to me. I finished 3 1/2 squares to bring me up to a total of 12 and called it quits. I found some leftover Carrot color deep in the stash and outlined each of the squares to bring them all together. Then I finished with some more of the Aran Fleck and the last little bit of Coffee I had. I have about 1/2 a skein of Aran Fleck left, 50g of Cafe (the medium brown) and only 5g of the Coffee. Talk about cutting it close!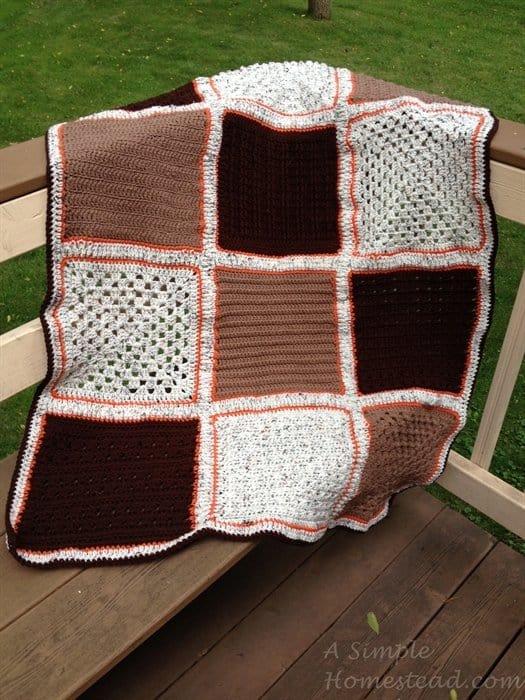 Not sure what I'm going to do with it now that it's finished. It's not a full afghan; the size is small enough I'd call it more of a lap robe. But it is DONE! and that makes me happy.

Pattern: Checkerboard Textures Throw with a few made-up square patterns
Designer: Katherine Eng
Yarn: Red Heart Super Saver
Colorways: 4313 Aran Fleck, 0360 Cafe, 0365 Coffee, and 0256 Carrot
My Ravelry page