I don't know about you, but summer is a busy time for us. It's hot and we have things to do outdoors so we don't want to spend a lot of time in the kitchen making dinner. We love making breakfast foods for dinner, but sometimes you need a change of pace from cooked eggs, pancakes, waffles, etc. That's where this apple pancake recipe works out great!
It's also a great way to get a certain 4-year-old who refuses to touch eggs to eat them (yep, we're sneaky that way). Because it's not eggs … it's more like having dessert!
You'll need a cast-iron skillet, or some other type of skillet that you can place in the oven to make this dish. The first step is to saute the apples in butter and brown sugar. What could be better than that?! The raisins and walnuts are added at the end of the sauteing.
The mixture then needs to sit and cool for 30-60 minutes, so plan ahead. This is done so the sugared mixture has a chance to solidify somewhat before you pour the pancake batter on top. If you pour too soon, the apples and pancake will mix together. It'll still taste fine, but it works better if they're not a jumbled mess.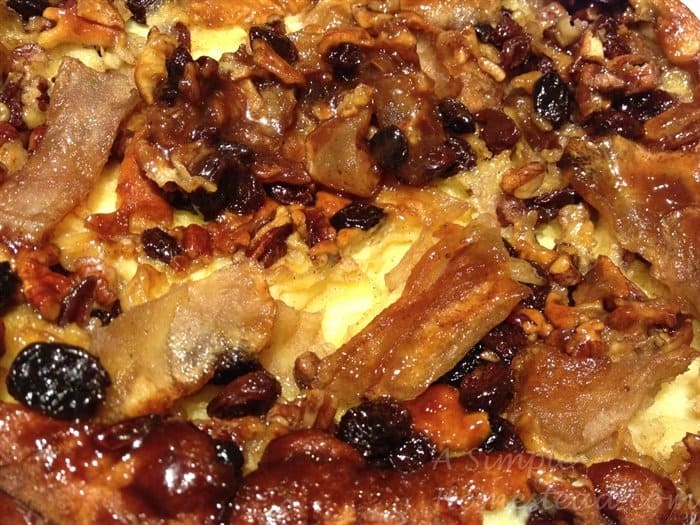 Once the pancake batter is poured on top, the skillet goes in the oven to bake. When it comes out of the oven, it will be all light and fluffy, and will immediately begin to deflate. Don't worry – this isn't a souffle. It's ok if it sinks, because after resting a few minutes you're going to turn it over onto a plate so you can view all the delicious, sticky yumminess underneath.
You can really turn it into a dessert if you put freshly whipped cream on top… not that we'd have dessert for dinner or anything.
Print Recipe
Grandma's Apple Pancake
Ingredients
2

medium tart apples

peeled and sliced. Granny Smith work well

3

tablespoons

butter

1/2

cup

light brown sugar

3/4

teaspoon

ground cinnamon

1/4

cup

raisins

1/4

cup

walnuts

or pecans, optional

3

eggs

2/3

cup

whole milk

2

Tablespoons

granulated sugar

1/4

teaspoon

salt

1/4

teaspoon

vanilla extract

1/2

cup

all-purpose flour
Instructions
Peel and slice the two apples.

Melt 3 tablespoons butter in a 9- or 10-inch oven-safe skillet, such as cast iron. Add brown sugar, cinnamon, and the sliced apples and saute for 10 minutes until the apples are softened, stirring occasionally. Add the raisins and walnuts during the last minute of cooking. Turn off the heat and let the pan sit for 30-60 minutes so that the apples and glaze will stick to the bottom when the batter is poured on top.

Preheat oven to 475°F.

In a medium bowl, beat the eggs. Mix in milk,sugar, salt, and vanilla. Mix until sugar is dissolved. Sift in flour and mix until smooth. Let batter rest for about 10 minutes.

After the apples have cooled and thickened, pour the batter over the apples and pop the whole thing into the oven for 16 – 18 minutes or until the top begins to brown. Remove it from the oven, cool for one minute, and then use a spatula to loose the pancake around the edges. Put a plate on top of the pan and invert the pan and plate together so that the pancake comes out upside down on the plate.
Notes
Up to 1/3 cup of heavy cream can be substituted for some of the milk for an even richer finished product.