Last year, I made my sister a pair of mittens. Looking back, I'm not all that happy with the way they turned, but it really was my first project beyond an afghan. She wanted a hat in the same charcoal grey as the mittens. She picked out the Peruvian Earflap Hat from Caron.com earlier this year. I was really fortunate to find that Caron Simply Soft which I used for the mittens had a blue that would work perfectly as an accent color to match her blue boots! My biggest struggle with this hat was trying to get the size right. I know I have a pretty large head (hold the comments please! 😀 ), but even the largest size of the pattern seemed to small, so I ended up improvising and adding more stitches until I thought it was big enough. Here's Cindy again to show how the hat looks: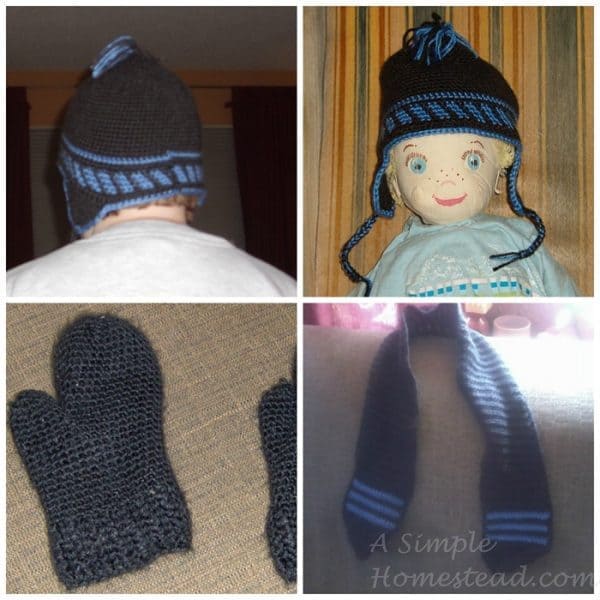 If I knew how to knit, I would have added I-cord for "strings" from the earflaps. I tried braiding 3 strands of yarn together but it seemed too small. So, I ended up putting the three strands together and creating a chain of them. They could've been longer, but I'm not sure she'll use them to tie anyway.
[update 12/27 – the hat was too small, so I'll have to make another one :]
---
Earlier this year I subscribed to the magazine Interweave Crochet. Mom was looking through the Summer 2008 edition and decided she liked the look of a cotton bath mat that was featured. When I asked if she was going to make it, it didn't sound like she thought it was worth the effort of getting the pattern and the yarn. So, I decided I'd make it FOR her!
The trick to this pattern is that every other row you're creating loops by wrapping the yarn around another crochet hook.
I'd made about 1/3 of the pattern and wasn't happy about how the loops kept pulling back to the other side. I was just about desperate in thinking I'd have to sew them so they would stay put or give up on the pattern altogether when I ran across a link on Ravelry.com that pointed me in the right direction. Someone else made the pattern and realized that if you reversed the clockwise/counter-clockwise wrapping around the hooks, the loops were "locked" and wouldn't come undone. So, I "frogged" the whole thing and started over. My husband's response was "So, this is for your parents for NEXT year?". I wasn't sure at that point if I was going to get it done in time, but once the loops stayed where they were supposed to, the pattern actually made up quickly.
The original pattern was in a turquoise with a red border. Yuck! I picked the cream color because it was more neutral, and I'm pretty sure the denim blue will go in their bathroom.