I just can't seem to get my craft projects done. Could it be because I spend lots of time with my toddler? And the rest of the time online? Hmm … maybe I'm on to something here. In the first seven months of 2012 I have completed the following:
For Christmas (*cough* … ok, I didn't finish this until the end of January), I made my sister and brother-in-law a set of coordinating pillows. It was really my first "real" knitting project and I spent a lot of time working on it while on breaks at work. I love how these turned out. The pattern is called Summer Cotton Pillow Set and is available for free. I made this using Vanna's Choice acrylic yarn. Nice yarn to work with.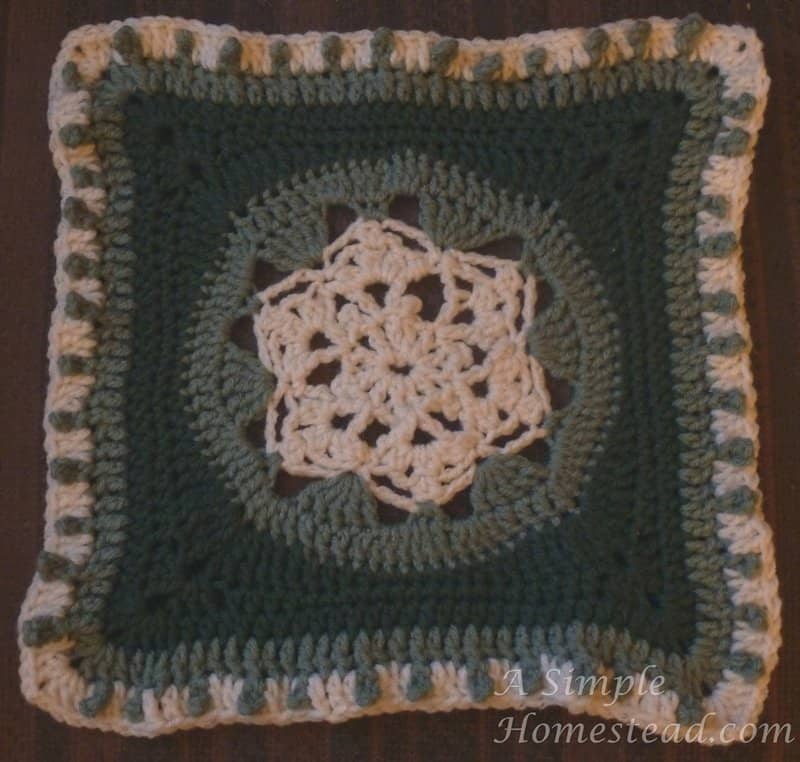 I needed a little change of pace the following month and signed up to do a test for one of my favorite square designers. The picture doesn't do this justice, but this 12" afghan square has a nice snowflake interior and bobbles on the outside edge. The pattern is called SmoothFox Peach Iced Tea (available for purchase on Ravelry). I was able to start and finish this in one day, which gave me a little sense of accomplishment.
Now I have to figure out what to do with this – and all the other squares I've created over the last several years!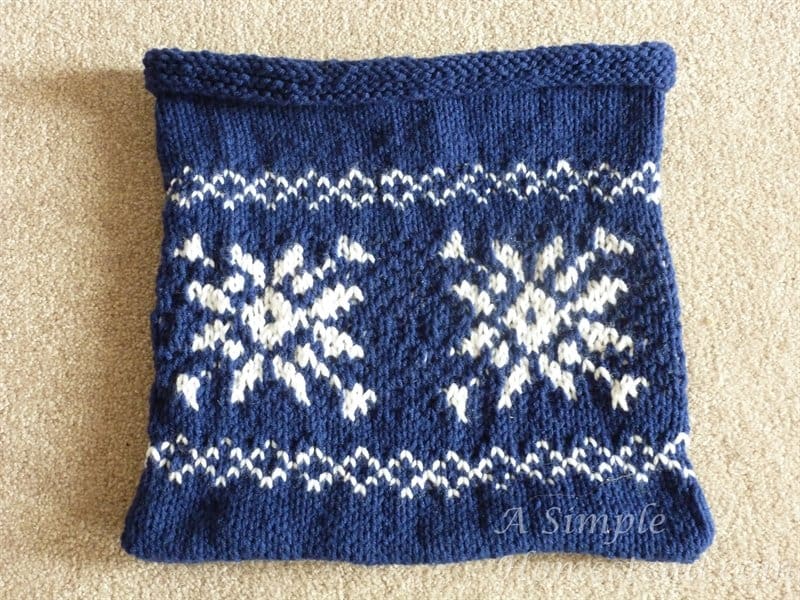 In March I decided to tackle one of my crafting "bucket list" items for 2012 and tried making this Fair Isle Snowflake Gift Bag (free). There are "holes" knit into the top of the bag so you can thread a ribbon through to tighten into a scrunch-topped bag.
While the pattern for this was great, my efforts were less than pleasing. Apparently I need to get a lot more practice in keeping tension when working with two or more colors before I attempt to take on that Norwegian sweater my husband wants!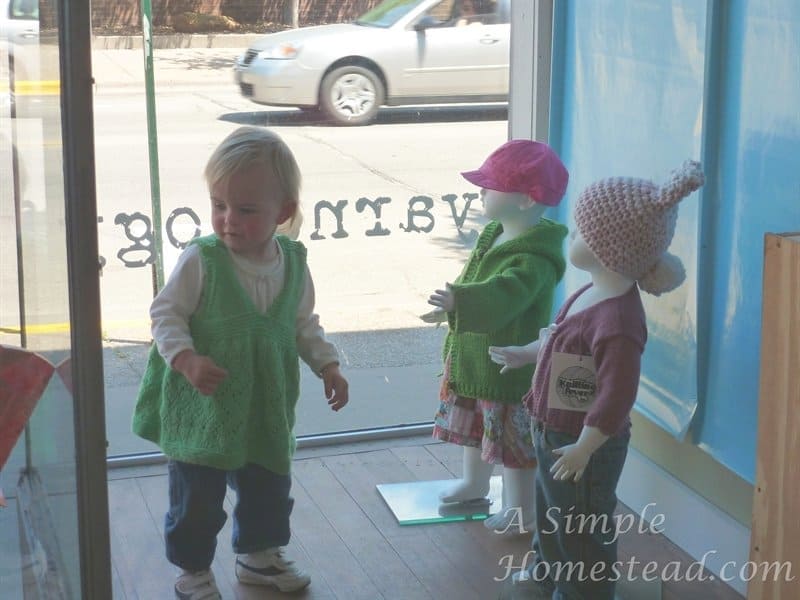 The only other pattern I've managed to finish this year was also a pattern test – this time in knit. The pattern is called Baby Ziggy (available for purchase on Ravelry) and it's a child's tunic with a zig-zag pattern on the bottom. I love, Love, LOVE how this turned out! It was the first time I attempted to knit a clothing item and it was my first time using Rowan Amy Butler Belle Organic DK yarn. So wonderful!

I was over-the-top excited when I finished this, that I made an excuse to drive to our local yarn shop (LYS) just so we could model and show it off! E even thought she should join the other models in the window!
The only downside to finishing this pattern was that the Amy Butler yarn is a 50/50 wool/cotton blend. Translation: it's warm! I made it in a 24 month size, and but that's what E is wearing now so I hope she'll get at least some use from it this fall.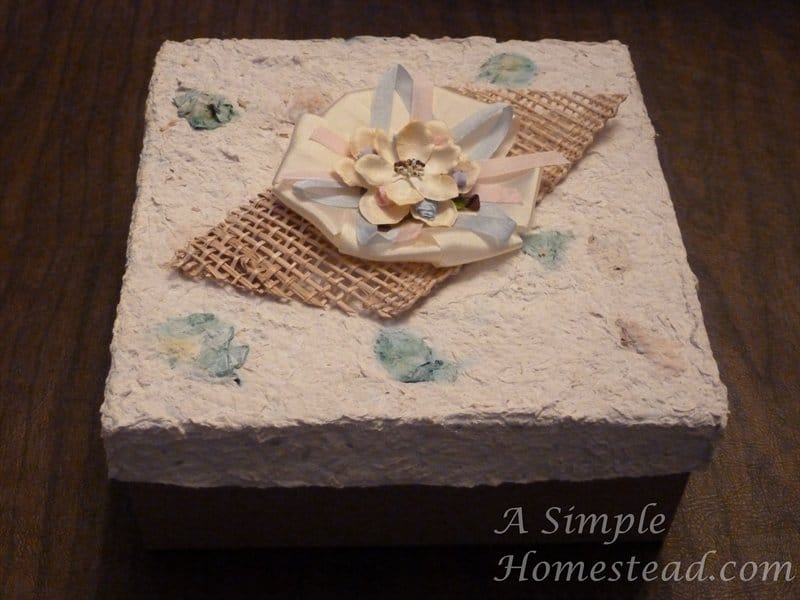 Last week I finished my ribbon entry into the "Silk Indulgence Craft Challenge" (if you're reading this before Aug 17, 2012 – go to see all the entries, vote and get a chance to win some silk ribbon). We each received 2 yards of 4 colors of May Arts Silk Indulgence ribbon. The challenge was to create something – anything really, but you had to use some of all 4 ribbons in your project. I don't expect to win – there's some stiff competition in the entries! But it was fun, and it *was* a challenge to me since the silk ribbon was softer (i.e. less body) than the ribbons I'm used to working with. Instead of making roses as I'd originally intended, I make rose buds and stuck them inside a paper flower I had, and then made a floral-type base with some of the other ribbons. The top of the box was decorated using DecoArt Paper Perfect – it's a paper-based product you spread on with a pallet knife and let dry. I also added some dried flowers (the green "spots") in the mixture.

I'm currently working on another test knit – my first pair of socks. The pattern is called HiyaHiya Blossom Cuffed Sox IV (Cuff Down) and is available for purchase on Ravelry. The yarn is Lorna's Laces Shepherd Sock. It's a beautiful yarn – it has subtle variations in the red color.Some days this has been extremely fun – other days beyond-exasperating but mostly because of my inexperience. I've learned I really hate dpns. I've been trying to do them on circulars (pattern allows for either/or), but I'm also working with fingering-weight yarn and small needles for the first time too. I may need bifocals!
I started this on June 25th and have to finish by August 20th. Bad news is I'm not even done with one sock yet! I had even signed it up as a Ravellenic Games 2012 project (to be worked on during the Olympics), but that didn't work out either. Not all of my lack of progress is my fault. I took this project and a couple smaller ones with me camping thinking I'd work on this one the majority of the time. I should have been able to finish the one sock and get a good jump on the second in the four days were were gone. Day one: my needle broke! Ack! Of course, I'm miles away from any LYS to buy another one. Turns out we were able to super-glue it back together but of course who has that when they're camping?! (maybe I'll add that to our packing list for next year!) So I got roughly zero hours knitting that weekend and only an hour or so crocheting.
What have you completed lately?