On Saturday we had some wonderful spring weather. Granted it was cool, but the sun was warm and that made it a good day to be outside.
Our flowers have started to bloom. Only these crocuses have appeared but we have sprouts for daffodils and tulips peeking through the ground.
Our strawberry plants are making an appearance. I saw a few sprouts from the rhubarb and the Egyptian onions as well.
I took the opportunity to finish starting my seeds for the garden; it's so much easier to do that outside when you're not concerned about where the dirt lands. Papa discovered a stash of older seeds I'd forgotten about. Apparently, I'm not all that good at organizing at the end of the year; if I were, I could have saved some money buying seeds this year! I let a friend know that she should come shop at my house this year before she goes to buy seeds.
This looks like a lot of pots for my two 4'x8′ garden beds – and that doesn't include the plants that need to be direct-sown outside. But it's really not that bad. There are 36 peat pots and one plastic cup Little Chick got from Sunday school with sunflower seeds.
I think close to half of those peat pots are flowers. I love pansies/violas/johnny jump-ups – whatever you call them. For years I had them planted in the front flowerbeds and they do some self-seeding, but we've done so much rearranging (digging up and replanting) that they all disappeared. I have three different colors with at least 2 pots each. Then there are the pink and white cosmos that I knew Little Chick would enjoy (another 3-4 pots). I really liked the picture of a double-flower I found, whose name now escapes me (Camellia perhaps?); that's four more pots. I also decided to try and grow some ornamental grasses. We had purchased some from the garden center years ago to put around our septic tanks so they weren't quite so obvious; sadly they didn't survive the winter.
The rest of the pots are kale (the tallest plants growing), parsley, yellow cherry tomatoes, colorful peppers, and scallions.
Little Chick and I took the opportunity and planted our first crop of peas directly in the garden. We did more than I had originally planned as I had thought to vary the plantings so we extend the crop season, but she was having too much fun and wanted to plant more. Regardless, they're in early and we should be able to get a couple of pea crops.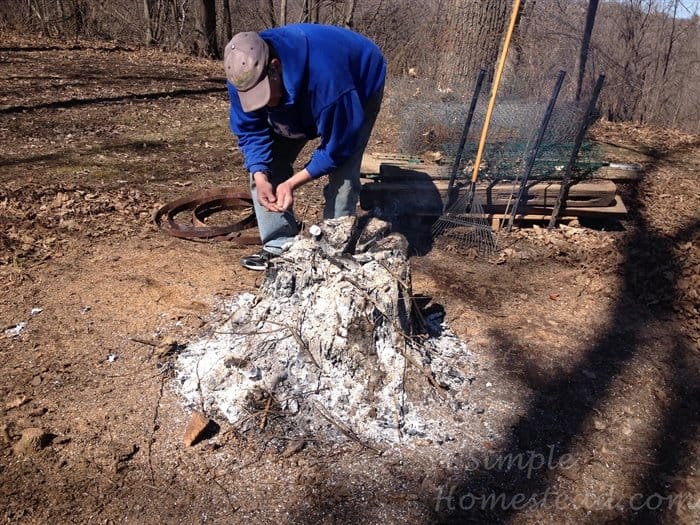 It was a good day to get some yardwork done. Papa decided to burn an old tree stump in the side yard. Cool weather and burning wood … why not toast some marshmallows?!
For a brief (very brief) moment, I had thought about making homemade marshmallows and/or chocolate chip cookies to put them between, but in the end, we just used Nilla wafers and store-bought marshmallows … but at least it was good dark chocolate!
Our forecast for Sunday wasn't as nice. We were supposed to get a couple of inches of snow. When nothing arrived before/after church Papa checked the radar and said we were in a corridor of non-snow. There was snow to the north and snow to the south, but this is all we saw.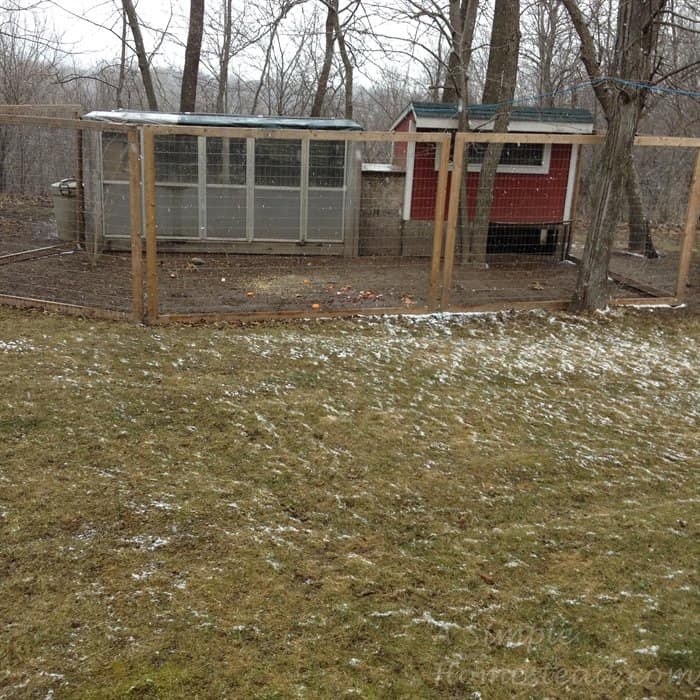 That is … until dark.
Suddenly we had a couple of inches on the deck for Finley to trudge through. Still not too bad. Except by Monday morning …
7″ (almost 18cm) of snowfall! The chickens were quite confused when Papa opened the door for them. "I could have sworn the ground was a different color last night!"
I have to admit it was beautiful. A wet March snow with just enough wind that it stuck to the trees.
Later in the morning, the wind picked up a bit and we had avalanches of snow as it fell off the tops, knocking more snow off branches as it tumbled to the ground. Quite a bit melted and packed the snow down. It would have been a good snowman-making day, but Little Chick showed no interest in going outside. Today we're supposed to get above 40°F (4.5°C) and the snow will melt quite a bit more … just in time for the next sleet/snow mix tonight for an additional 1 to 4″!
Gotta love March weather!