My local yarn shop (yarnology) held a Sweater Challenge again this year. I tried participating last year, but I kept hitting a sticking point in the front cable of the pattern I chose. It just didn't look right. Eventually I ended up frogging the whole thing. It's currently sitting as rewound skeins in a bag in the closet.
This year I got smart and picked a design that
was crochet, since I crochet faster than I knit
was a lacy, fast working design
had capped sleeves
I was the first one to finish my sweater for the challenge! I can't remember if there are prizes but frankly I don't care. I LOVE how this turned out. I think Little Chick is actually a bit jealous although she hasn't come out and ask me to make one for her (yet).
Pattern: Eve's Rib Tunic
Designer: Doris Chan
Yarn: Red Heart Soft
Colorway: 3729 Grape
My Ravelry page
Prior to this sweater, I had only made myself one other sweater. Ever. That one was also a crocheted sweater – way back in 2009! After a short while, I wasn't all that happy with it, so my sister snagged it for her own use 🙂
I recently read this great article on Three Tips for Fearless First Sweaters. I could have used that advice years ago…
I do have one comment to make about the pattern itself. It was one pattern of several in the book Everyday Crochet: Wearable Designs Just for You. The one issue I had was that several of the patterns – this one included, were based upon stitch patterns and/or instructions from another design in the book. That resulted in a lot of flipping back and forth between sections of the book in order to make the sweater. I realize the book was probably written that way to save on paper space, but it was a bit frustrating.
I'd love to make myself another sweater soon, but first I'd like to complete a design idea I have for Little Chick. Sometime BEFORE she grows too big to wear it.
Like many young girls, she loves pink. Last summer, during the shop hop, I picked up these three shades of pink in Berroco Modern Cotton and started a large swatch. The plan is to make a gradient color-blocked dress with a different textured stitch pattern for each section. The top will be a pale pink (her favorite shade) with the darker colors below.
Since it's a cotton-blended yarn, I would love to finish it before late spring/early summer. Problem is … I set this swatch aside sometime around the holidays and now I can't find it! sigh I guess that's a sign I need to tear about my stash closet. Again. 😀
Meanwhile, I've been working on a few other projects. Most notably, my Scoreboard Cowl is finally finished!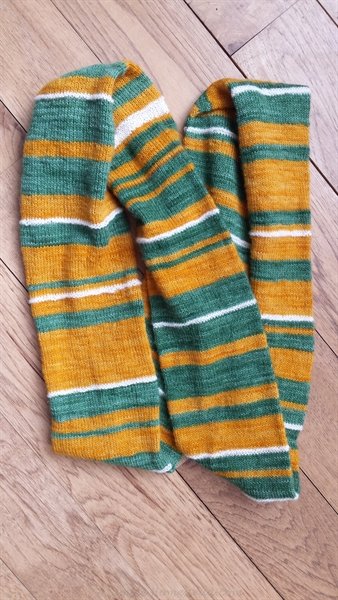 This was the 2015 version of the Scoreboard Cowl; there was an updated version for the 2016 football season. The idea was to knit one round on the cowl for every point scored in each football game. Of course, I chose colors that were close to those of my favorite team: the Green Bay Packers. If they scored a touchdown (and extra point=7), then I knit 7 rounds in green. If their opponent scored say a field goal (3 points), I would knit 3 rounds in gold. Each complete football game was separated by 3 rounds of white as an accent color.
I was doing great, until the Packers started losing game after game, right around mid-November 2015. Then it was harder to feel motivated to work on the cowl. Still, I couldn't seem to let it go and I certainly didn't want to frog it (rip-it, rip-it), so late last year I picked it up again. There's way too much gold color in that cowl for my liking…
The original (free) pattern called for a worsted weight yarn. I was worried how long it might end up being and in truth, I fell in love with these Malabrigo colors … in Lace weight! Boy, am I glad I went several sizes smaller in yarn weight!! Finishing up, I was concerned it still might be too long, but I think it's the perfect cowl length, as long as I wear it doubled-up.
Pattern: Scoreboard Cowl
Designer: Michelle Hunter
Yarn: Malabrigo Lace
Colorways: 117 Verde Adriana, 096 Sunset, and 063 Natural
My Ravelry page
Question: Have you ever made yourself a sweater?