Nothing like dropping off the face of the earth for the last couple of weeks! That's almost what it has felt like. We had plans to head to Grandma's house for Easter to see Papa's family as well as my sister and brother-in-law. Best laid plans … and all that.

You see, Papa worked really hard the week before Holy week, helping to set up for our church's annual rummage sale. He was over at church every day for several hours while Little Chick was in school and would go back at night, setting up tables, hauling boxes and organizing. Saturday April 9th dawned cold but clear – a great day for a sale! The sale itself was a huge success, and we raised quite a bit of scholarship money for local students.

Palm Sunday came and Papa was exhausted, but that was to be expected. By Monday, his sinuses had become a faucet. Then came the cough. On Thursday, I started feeling the fever and aches and knew what was coming. It was a good thing I stayed home because Papa slept 20 hours that day – and could have slept more! I decided it was time for some medical tests. They treated him for pneumonia (and later me too) and gave him Prednisone to boost his energy level. That was a good thing, because by the next weekend, I was down-and-out and Little Chick had spiked a fever. Fortunately she didn't get hit as hard, but it was still a rather sucky Spring Break for her. No fun extracurricular activities – just her sick parents at home. She didn't seem to mind because we caved and let her watch as much Phineas & Ferb as she wanted 🙂
Our Easter Sunday was rather non-eventful. Papa and Little Chick actually went to church – although they probably shouldn't have because her fever spiked in the middle of the service, so they came home early. He managed to pick up a small ham and we had twice baked potatoes and a few other food-items I don't really remember, because my my appetite was non-existent.
Two-to-three weeks later and we're still coughing, sniffly, and tired. From what I hear, it can take a month to get over this crud!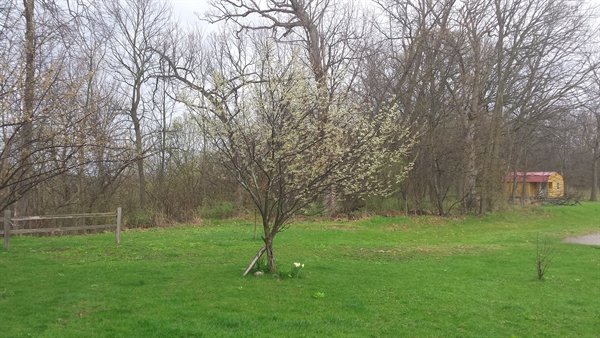 Meanwhile, even though we haven't enjoyed the outdoors much, life still goes on. The rain falls, the sunshine breaks through and the flowers bloom. Our garden is growing a little bit – but Papa says only about 1/2 the peas sprouted, so it sounds like we have some replanting to do.

On the few occasions we have been outside, it's been glorious! Our plum trees are in full bloom. Plum blossoms have such a sweet scent and I have to say that has become my favorite spring smell. Even more than the other flowers and lilacs!

The weather was nice enough last weekend that Papa suddenly got the itch to smoke some ribs. We haven't had ribs in AGES! Little Chick didn't care for them, but I could have eaten a whole rack myself. I didn't though. Papa might have objected because he only bought one rack 🙂 We got to try out a couple of spice blends Papa received for Christmas. I liked them both even though one was sweeter and the other spicier / less sweet. (I'm hungry now just thinking about them).
We also had a little excitement this weekend. Finley was hot on the sniffing trail early Saturday morning. His eyes just about popped out of his head when Papa finally lifted him up so he could see what he was tracking:

The dumbest raccoon ever. How dumb? Finley end up tree-ing this critter Saturday morning. We gave it an opportunity to climb down and disappear later. It climbed down, but a few minutes after we let Finley outside again, it was back in another tree – just a few short yards from the first one. It ended up staying up in the crook of that tree all Saturday. At 10pm, Papa saw that the tree was empty so we'd hoped the raccoon learned it's lesson. Nope. Sunday morning, Finley had it re-treed again in the same area. Monday morning, it was hanging out around the chicken coop. Papa had tried to live-trap, but it apparently didn't want leftover chicken we left as bait (Finley ate it the next morning). That meant it had to be dispatched. It wasn't something Papa wanted to do, but the fact that it wouldn't leave, was too close to our egg breeders (who freaked out Monday) and didn't seem to know it should be sleeping during the day … Papa: 1, raccoon: 0.
What's blooming where you live?