I'd say it's officially fall here. There were local areas that were touched by frost this weekend, the snow birds (my parents) headed back to Florida, we had to turn on our furnace, and our household caught the first cold of the season.

It was one of those beautiful crisp fall weekends where it draws you outside – if nothing else to search for the perfect pumpkin. Our search this year led us to the local grocery store's parking lot LOL. Well, it was because they were having a "pumpkin blowout" – big sale with truckloads of pumpkins, along with a bouncy house (another reason we had to go), free apple cider, and face painting. They even had some chickens and goats to pet. We came home with three pumpkins and a bale of straw … and cold noses.
Little Chick complained for a little while that her ears were cold. We should have brought her new hat along!
I call this design "Calamari Hat" – because the little eyelet rings reminded me of fried calamari!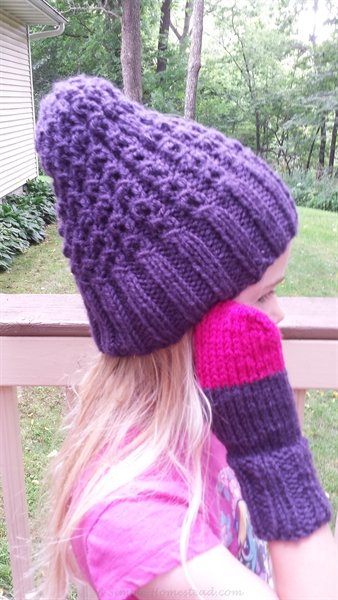 I wrote the pattern for multiple sizes – from newborn up to adult. However, this hat is super-stretchy and I probably could have gotten by with writing just a couple of sizes 🙂 This size that fits Little Chick so nicely just barely fits my own large head.

The hat can be worn slouchy as Little Chick shows here or with the wide brim folded over for a more snug fit.
It's a fun, quick little project that you can make up using less than one skein of Aran weight yarn!
Buy now on: