Finally! You can stop drooling over the cornbread shown in last week's chili recipe and make your own!
This is our favorite cornbread recipe. It has enough honey added to the mixture that you really don't need to add anything to it after it's baked. But why would you do THAT?! Butter melting on fresh, warm cornbread with honey dripping off the sides… yummmmmm!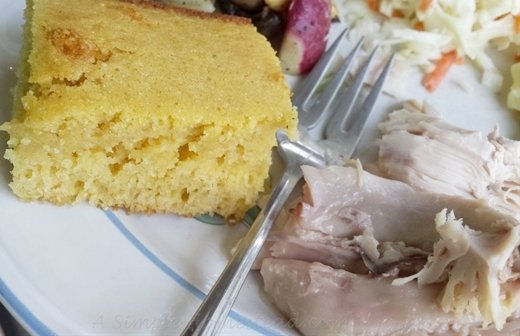 So simple a recipe too: just add all the ingredients into a single bowl and bake in your favorite way. We've made these as muffins, in a square baking pan and even as a quick bread loaf.

It goes well with a variety of meals. In the summer time, I love it with rotisserie chicken, homemade coleslaw, and baked beans (I'm really getting hungry now…).
And of course it goes exceptionally well paired with some homemade black bean chili in the cooler months.
Print Recipe
Sweet Cornbread
Ingredients
1

cup

corn meal

1

cup

flour

1/2

cup

granulated sugar

1

Tbsp

baking powder

1

tsp

salt

1/4

cup

melted butter

2

eggs

1

cup

milk

1/4

cup

honey
Instructions
In a small bowl, add the dry ingredients: corn meal, flour, sugar, baking powder and salt. Stir until well blended.

Add the melted butter, eggs, milk and honey. Stir just until combined. Do not over-mix.

Pour the mixture into a greased baking pan. Bake in a 400°F oven for the times listed below, or until a toothpick inserted comes out clean.

* 9"x9" square baking pan – 40 to 45 min

* loaf pan – 60 to 75 min (but lower the temperature to 350ºF)

Serve warm.
Notes
2021: Thanks to some feedback from others that have made this recipe, I have increased the baking time to ensure it gets cooked thoroughly.