Why we needed a new garden
We knew by the end of last summer that our garden needed some work. Since we hadn't used green-treated boards in the old garden, the raised beds were rotted out. Even the garden fence was looking shabby – needing new paint, and some replacement boards. However, we weren't going to do much maintenance as we planned to sell our house this spring.
And then everything shut down in late March. Not only would it make it harder for us to sell our house, but even more difficult than usual to find a new place. So because we weren't going to start a garden if we were moving, here it was, almost April with no seeds started and Papa going stir crazy with the women invading "his space" :-). So we planned for a garden remodel, which turned into a complete rebuild in a new location!
While he waited for the utility companies to come out and mark where the gas, telephone, and cable lines were located, he dismantled the old garden.
Looks like a bunch of graves, doesn't it? He was able to reuse a few pieces, but a lot of the new garden needed new lumber. Not shown in this picture: we decided to plant the old garden area with some blueberry bushes. Mama loves blueberries!
Semi-finished new garden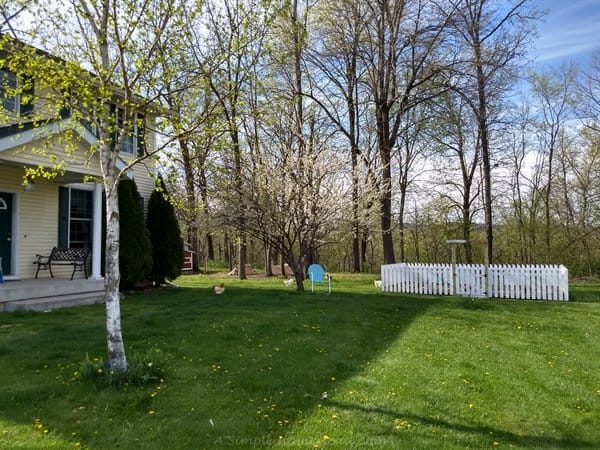 This is a view of the new garden, standing about where the old one was. It's now on the north-east side of the house. I little more protected by the late afternoon sun, but it's also away from the black walnut trees!
We still have to paint some of the boards, but the green-treated ones need to sit for a few months before that happens. We're considering putting an archway over the gate. It would look pretty and Papa won't inadvertently hit his head if we make it taller!
Garden Layout
The old garden had four 4 x 8′ beds with walking space around each raised bed. But this meant that we needed to mow or weed-whack around each of the beds.
Papa redesigned the layout so the beds are all connected. The two sides are half the width of the center beds, but longer. Plus there is the back section that was added. Papa's calculations state that we only lost 10 feet of gardening space this way, but it looks so much nicer! Plus, he put down tar paper and bark so we don't have to mow/weed the in-between sections. We only have to weed the garden beds 🤪.
One bad thing about our new garden: we must have planted it on an ant colony because now the garden is overrun with black ants! I have a feeling all my herb seeds became ant food, so I'm either going to have to replant once we figure out how to rid the garden of these pests or purchase full plants.
Oh, and somebody (that would be me) got overly excited about having a new garden. I planted everything I could possibly think of in early May, including a couple of tomato plants. Less than a week later, we had frost warnings. We covered the plants, but that's night frost was a HARD frost (26°F) and the plants didn't survive. I never claimed to be an expert gardener…
Spring Blossoms
I don't know if you noticed the picture of the beautiful chair above, so I'm sharing another that's closer. This is one of those wonderful metal chairs that is much more comfortable than it looks. We picked it up used and slightly rusty, which only became more-so over the last few years.
Papa recently did some carpentry work for a neighbor and bargained his powder-blasting services in exchange. It turned out beautifully! Go check out S&S Powder Coating, if you're in western Wisconsin. Sean does a wonderful job!
It's a great way to sit under the plum tree and inhale the sweet scent of its blossoms! So sad that they only last a week.