How are you doing today?
I mean it. I really want to know. Feel free to comment or shoot me an email, if you want to chat, vent, and especially if you need someone to listen right now. We all need connection and community right now!
Personally, I'm doing "ok". I'm still employed even though they cut the pay by 20% of everyone not furloughed. I love being at home with my family, working by a window in my make-shift office.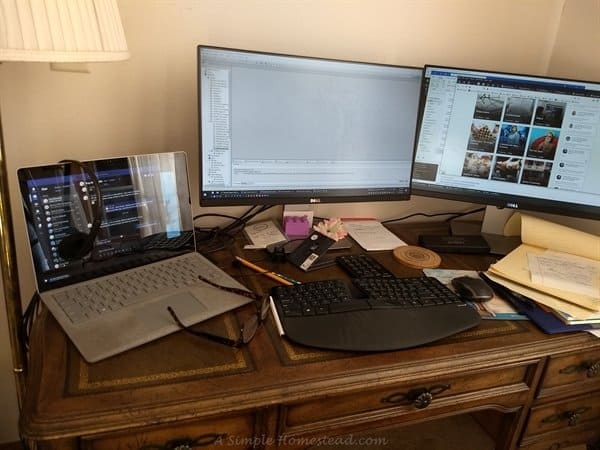 The weather is warming, and soon we'll begin a garden project.But I know some are struggling. Whether it's loss if income, loss if social interaction or in some cases it may be loss of loved ones.
I want to share some ways I've thought of that can help and encourage one another.
1. Write a Thinking of You note
Pick up an actual piece of paper, grab an envelope and dig a stamp out from your junk drawer. Nothing needs to be fancy about this. Just a few lines, not a book. Fold it cut the paper smaller if you want to keep it really short 🙂 I haven't met a person yet who doesn't love receiving happy mail, so I'm confident your note will be appreciated.
2. Call, text or online chat
Not a writer? I'm sure those same friends, family members and neighbors would love any sort of connection. Personally, I hate talking on the phone. Hate it. But allow me to video chat with someone I'm as happy as can be. I think it's because I like being able to see the person and tune into visual clues. Plus, video chat allow my mother and I to share our craft projects. It would especially be good to check up on those people living alone.
3. Run an errand
Going along with the previous idea, if you are willing, ask if there is an errand you can run for them. If you are headed to the grocery or another type of store, see if you can spare them a trip. Again, I know if some elderly and at-risk neighbors that are very appreciative if this help.
4. Support local businesses
Small businesses across the country are struggling and need your help. Is there a local restaurant you wanted to try that is offering take-out? We bought a small 4″ cheesecake for Easter (it saved us from making and EATING a full-sized one), and recently tried a local bar's pizza that people raved about. Some places that aren't able to be open are discovering the can do Facebook Live sales, offerings discounts if you buy during the sale. Plus, it gives them a chance to showcase their wares and answer questions.
5. Buy gift cards
Going along with buying local, if you can spare a bit of money, try buying gift cards to local establishments. My hair stylist is offering $30 gift certificates for $25 while she is forced to stay closed. It gives her a boost during this time and saves me money in the long run. Even if there isn't a special deal, if you have certain places you would miss if they disappeared, it may mean the difference between holding on or failing. I'm not buying many, and I realize it may be a risk if I purchase and they still go under, but it's worth the chance to me. One little gift card might not seem like much, but to a small business, it can make a world of difference.
6. Send a message to the "world"
I have seen many examples of children AND adults drawing chalk pictures and writing messages of hope on sidewalks and streets. There is Facebook group called Happy Heart Hunt that is making an effort to spread Happiness and Love. People post pictures of what they have created – by decorating their doors or windows in hearts, or what they have spotted while out and about. Even though we live on a dead-end street, I'm planning to do some chalk street drawings with my daughter later this week.
7. Support crisis fundraisers
Support a fundraiser for those in need – or create your own! My nephew, Steve runs a bar/nightclub called Freight 38 in Milwaukee, WI. Once shut down, he decided to try and give back to the community by making hand sanitizer for law enforcement, First Reponders, and other city agencies.If you'd like to help, their GoFundMe page can be found here.
8. Donate to your local food pantry
Because of the jump in unemployment and kids home from school, the need for food has never been greater but most food pantries are running low! While you're out shopping, pick up a few extra necessities. Even in our small town, we have two additional places where people can drop off or pick up donated food – one is our local church (we have a shopping cart outside the door; it's an honor system) and the elementary school has turned their free library box into a combination book and food location. Not sure what to buy? Simple items like peanut butter, boxed mixes, canned fruit or vegetables, tuna – and even toilet paper (!) are always welcome.
9. Make a mask
If you sew, making fabric masks is a great way to help others. If you search for face mast patterns, you will find a plethora of ideas. Here are some that I found:
Medical personnel are having issues with the mask elastics rubbing on their ears, here are some patterns to make a headband with a button:
Can't sew? How about making some Mask Mates (free pattern) – crocheted strips with buttons to secure the masks to save on the wearer's ears! My sister-in-law, who is a VA nurse has requested as many of these as I'm willing to make.
10. Take care of yourself!
You can help others by making sure your own needs are being met – physically and emotionally. It's exactly like when you fly a plane and they tell you to put on your mask first, before helping others. We're doing our best to eat right, exercise (maybe), and getting plenty of fresh air, especially with the weather warming up.
How are you helping others?
This form is currently undergoing maintenance. Please try again later.