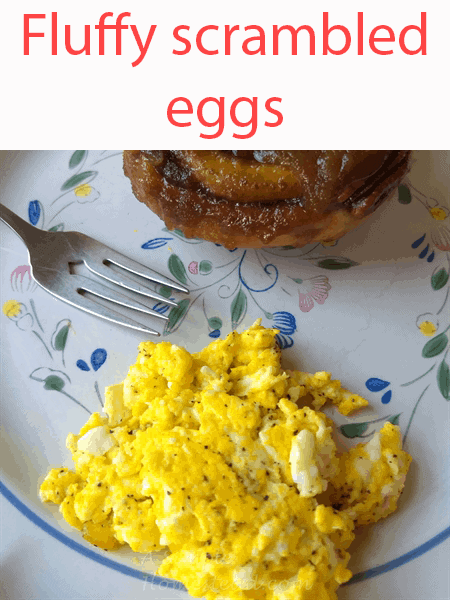 Scrambled eggs are my favorite way of eating eggs (that aren't baked and sugared), however they need to be fluffy scrambled eggs – soft and pillow-y, not hard. I used to think making the "proper" scrambled eggs required a culinary degree or equivalent experience, until my mother-in-law made the most delectable scrambled eggs I'd ever eaten. So I watched and paid attention the next time she cooked them for us!
Trick #1
Some of you may want to skip reading my "book" on scrambled eggs and get to the juicy bits, so here is the main secret to getting your eggs fluffy:
Low & Slow
That is to say, your cooking technique is the most important step in getting fluffy scrambled eggs. You want to cook those suckers on the lowest heat possible for as long as possible.
Why? The main reason, I believe, is because it's too easy to overcook the eggs when they're over high heat. You can still overcook them if you don't watch while they're on low heat, but you're less likely to get hard eggs.
Another reason is that I frequently (but not constantly) stir the eggs while they are cooking over low heat. Stirring them helps to ensure the eggs cook more evenly. Plus, as you are stirring them, mixing the runny eggs with the more cooked eggs, it "fluffs" them up, making them lighter.
Trick #2
The other trick I use that comes a close second to making sure your scrambled eggs are fluffy?
Add Moisture
Adding a bit of moisture allows you to fully cook the eggs without making them dry.
Steps to making the best scrambled eggs:
Don't be fooled by how wordy I am… these are SIMPLE to make!
Step #1
Melt a bit of butter in a saucepan over low heat. Just a little bit of fat helps to release the eggs from the pan. I do this even if using a non-stick pan.
If you have a dairy allergy you could probably use some type of oil – just a tablespoon or so, but I would make sure you use something that won't add flavor. In other words, don't use peanut oil or unrefined coconut oil
Step #2
When the butter has melted, add the moisture. I typically use a tablespoon of milk per egg, however, I don't measure (which is why this picture shows a lot of milk!)
Again, for a dairy allergy, water would work as a good substitute. In fact, I use water when making omelets; but I happen to like the added creaminess this gives to my scrambled eggs.
I let the milk heat up until it's hot, but don't let it boil or scald! Remember, this should be low heat, so you're just looking for a bit of steam off the pan.
Step #3
Add the eggs. What I love about this method is you don't need to pre-scramble the eggs. Just add them to the pan! (Saves on dishes)
I gently stir the eggs until they are scrambled and mixed with the milk. On low heat, I'm able to work on other aspects of breakfast and don't have to stir constantly or watch it super-closely.
In fact, you don't want to stir constantly. That results in a mushy mess of egg.
My favorite tool for mixing the eggs is a rubber spatula. We purchased a set of these Rachael Ray spatulas in red after our green ones were getting destroyed. I find using a spatula helps prevent sticking to the pan and gently turns the eggs as they are cooking.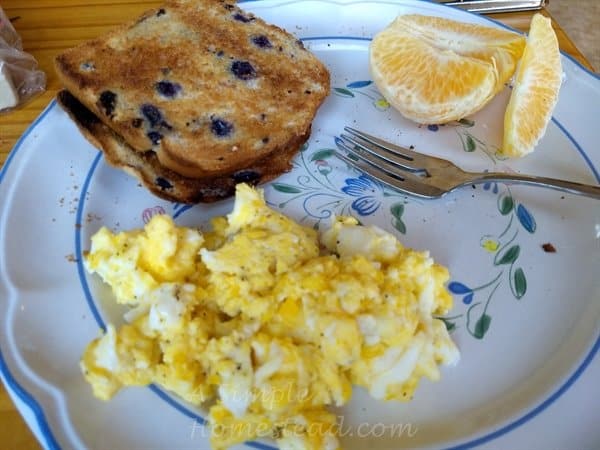 One thing I want you to remember: stop cooking your scrambled eggs before you think they are fully cooked! Why? Trust me, they are cooked! Remember that we added extra moisture, so that's what is making them look "wet". The eggs will still be soft and cooked when they are finished.
What is your favorite way of eating eggs?
Print Recipe
Fluffy Scrambled Eggs
Simple, yet delicious fluffy scrambled eggs
Ingredients
1

Tbsp

butter

2

Tbsp

milk

2

eggs
Instructions
In a small saucepan over low heat, melt the butter.

Add the milk and cook until heated.

Crack the eggs into the pan and gently stir until all ingredients are combined.

Cook over low heat, occasionally stirring gently, until eggs are soft and cooked thoroughly. Serve hot.
Notes
The ingredients listed above are for one serving (two eggs).  To increase the recipe size, add more eggs and milk, but more butter is not really needed, unless the pan size increases significantly.