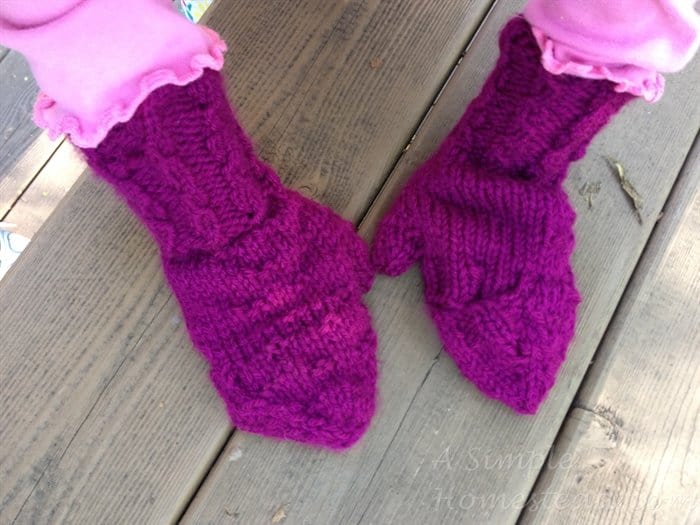 I'm beginning to struggle a little bit with what I can post because believe it or not, I've started some of my Christmas crafting! It's great that I'm actually a tiny bit ahead of the game this year, but it also means there are certain projects I'm finishing that I can't share! It's torture!
I did finish some mittens for Little Chick recently. Not surprising … there was a KAL that prompted me to make them. I'm not sure if flip-top mittens are going to be as handy and full length mittens. Maybe she'll be less likely to take them off outside if she can still grab things and therefore keep her hands warmer.
The original pattern called for a loop at the top and a button on the back so you could secure them out of the way. I didn't think she'd use them much like that.
This pattern was a great learning experience. I know I've done a little bit of right and left twisted stitches but never together in a pattern. Also, I learned a new cast-on. It's the German Twisted Cast-on, and Michelle has a great video in lesson 1. It looks difficult, but I watched the video a couple of times and when I finally tried it, the concept just clicked right away for me.
I had one problem. Can you see it?
I made two right-hand mittens! I somehow missed the part in the second mitten where you were supposed to knit across the palm before starting that thumb. Luckily I had just enough yarn that I was able to make a left-hand mitten so now she has a proper set.
I'm not completely sure what I'm going to do with the other spare right-hand one, because there isn't enough yarn to make another left one. However, I've thought about taking off the top of the spare, redoing in a completely different color, and then making a left mitten in that second color with the top done in the original color. Coordinated but not matching mittens. 🙂
Pattern: Unleashed Mittens
Designer: Michelle Hunter
Yarn: Vanna's Choice
Colorway: Wild (another place I had written down that it is called Wild Berry)
Model: Little Chick
My Ravelry page