I've mentioned other years how much we enjoy driving down to Norskedalen near Coon Valley, Wisconsin every fall for their annual Threshing Bee. This year we couldn't have asked for nicer weather! It was sunny and pleasantly cool – enough that it felt good to stand in the sunshine. The only bad part? They held the event a full month early this year … and there was no threshing! How can you have a Threshing Bee without anyone demoing the threshing?!
They did have someone plowing part of the field using animals and an old steel plow. It was funny because the animals wore signs on their sides on the straps that said "Not a Mule". Papa was sure they were mules, so we had to ask. Apparently they were donkeys – a more northern, larger donkey than we see "round these parts".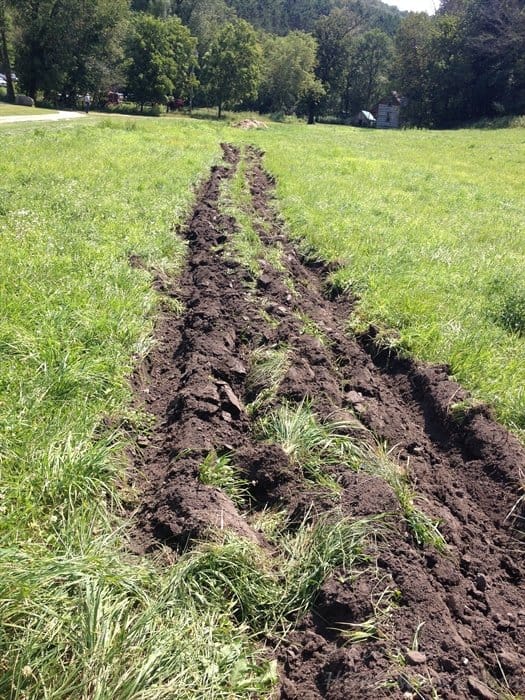 The gentleman only did a couple of swaths but those furrows look more straight that I could get – with animal or machine!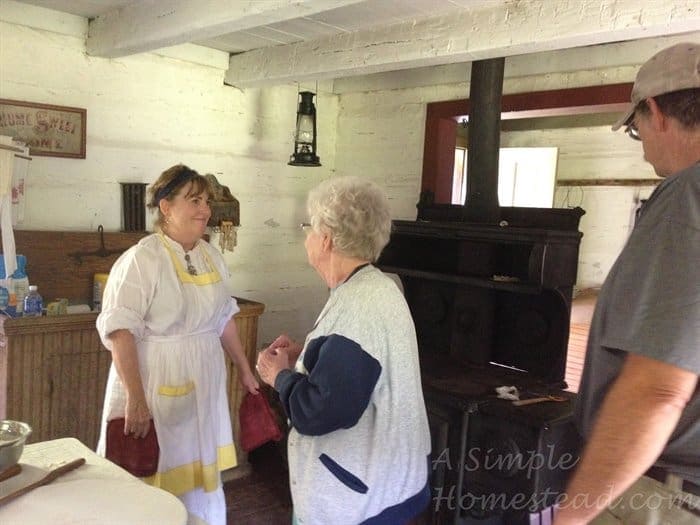 They had the usual lefse-making and my favorite … taste testing :-). The cast-iron stove you see in the background is how she was cooking the lefse (on the top). Usually she has some sort of roast or one-dish dinner cooking in the oven portion at the same time.
This year they had a spot in the house where kids could give rolling the dough a try, but Little Chick didn't want to. She also didn't want to taste the lefse either. I'm not sure why except she spent the day alternating between wanting to try new things and then refusing the next new experience.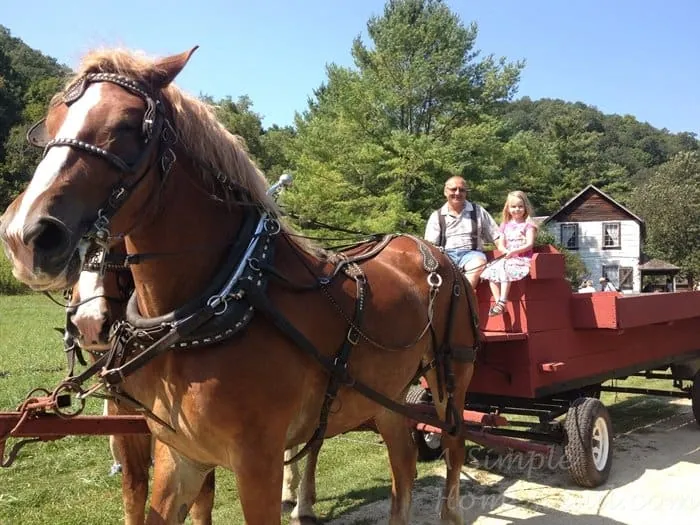 We had Grandma N with us this year as she's spending a few weeks with us. It's hard to keep Little Chick in one place anyway, but with Grandma a slow mover we were often separated – Papa and Grandma would stay and talk longer while Mama chased after the little one.
One of the times that we were off by ourselves, the horse wagon pulled up. I usually don't ride but LC wanted to. There was a group of people that had just gotten off and we were the only riders. The driver coaxed Little Chick up to sit with him and then he let her hold the reigns! Yikes – I'm not sure I'm ready for my daughter to drive yet 🙂 (he was holding onto the reigns too in case the well-behaved horses decided to sprint). She was thrilled to pieces!
Grandma mentioned later she had wanted to ride the wagon but we ran out of time. She did get to pet some of the lovely Fjord horses that visit the homestead each year. I think these people said they come up from Madison for the event – although the horses are housed a bit closer.
One of my favorite animals to visit each time are the alpacas. They're just so soft and fluffy … and I love the humming noises they make. We learned that alpacas don't really like to have their heads touched. You can pet their necks and backs, hug them and sometimes even lay on them. They're so gentle. The owners "cheated" this time and just brought the babies. They could fit them in the truck and not have to bother with hitching up a trailer.
They had a few more kid-focused activities this time. Per usual they had an old fashioned corn grinder and husker, and the rope making is always a hit because everyone goes home with their creation. One woman brought supplies so they could make pinwheels out of felt with a button center; they were sewn to a straw so they didn't stand up very well with the super-windy day we had. Little Chick managed to come home with a little hay bale made by a miniature tractor they bring for demonstration.
The bee keepers had taste-testing this year – something new. There were 6 different types of honey to try, from a pale yellow to a dark buckwheat honey (which I didn't like). Most were local honeys except the Texas pecan honey, which tasted a little like a pecan pie!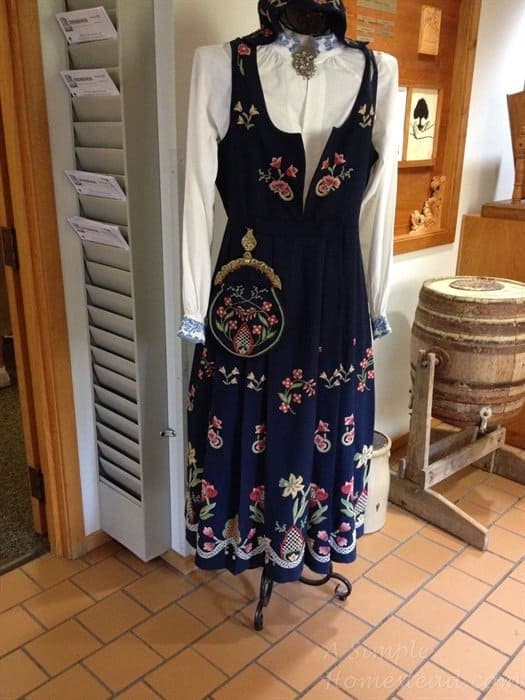 There was also a scavenger hunt for the kids where they had to go to certain areas and stamp a picture on the grid; each of the stamps was related to the area – horses, bees, an old washboard (the main house), a pie for a bake sale, turtles where the live ones lived, etc.
The turtles are part of a permanent display up in the Thrune Center. There are also different animal furs you can touch, samples of "scat" from different animals and even some bones. Little Chick seemed fascinated by the bat bones (so tiny!)
The center has a little gift shop but they also have a couple examples of Norwegian folk dresses called bunads. However, the volunteer that was there couldn't tell me what area of Norway this represents.
One part of the threshing bee they were still able to keep was the dinner. A HUGE dinner: roast beef with gravy, red potatoes, squash, rutabagas, bread, fresh tomatoes, corn, pickles, milk or coffee and pie for dessert. We purchased just 2 dinners for the 4 of us and had some leftover! We probably could have eaten just one dinner but you can't buy the pies separately, so that was the deciding factor 🙂
Little Chick still had some energy and I needed to walk off part of that dinner so we took a stroll down the short Troll trail. All the while she vacillated between wanting to see a troll … and not. Norskedalen has several trails but we've only walked this short one and one longer one. Someday we hope to walk the others!
One last stop before we left the grounds and that was the chapel. This chapel reminds me a lot of our home church – a little country church that maybe can fit 30-40 people if everyone gets real cozy!
They had a quilt show at the chapel but sadly I forgot to take pictures. It would have been difficult anyway – many of them they had hanging on lines strung outside the church. They must have used some industrial-strength clothespins because those quilts were whipping around quite hard.
We decided to take a different route home from the route we normally use which brought us through the city of LaCrosse. We usually avoid taking that way because then you have to stop for lots of lights along the way and deal with heavier traffic.
Along the way, we started talking about a favorite tourist stop – Grandad's Bluff. It's a large bluff that overlooks the city. Neither Papa nor I had been up there for years. Since we weren't in any hurry and didn't have a specific reason to get home, we decided to take a detour up the hillside.
They've redone some of the overlook park. Back when I was a kid, it was just a simple chain-link fence holding you back from falling off the edge. Now they have nice platforms and railings and it feels a bit more secure. Although when LC and I walked down to the lower platform which juts out more, I was a bit hesitant. Mainly because of the strong winds – in addition to the feeling of exposure.
On a clear day you can see three states – Wisconsin (of course), Minnesota (across the river) and Iowa on the southern edge. This was a good day – not as hazy as I first suspected.
It was a long day for all of us. We left the house at 9:30am and didn't get back until after 4pm. But Grandma and Little Chick both seemed to have a great time – so that's bonus points for us! 🙂