It's been a while since I've mentioned what's going on at our place. Part of the reason? I'm not completely sure what's happening. Why? We are living in a tropical rain forest this year, complete with an abundant crop of mosquitoes!
We've had big hatches of mosquitoes before. However, usually they overrun the place for a couple of weeks before things improve. August is usually dry and we can come outside again. This year? We've had so much rain in the past month that the hatches just keep coming! At our house we measured over 10″ of rain in August. Normal average rainfall I believe is 1″. We received another 3″ of rain on Tuesday night so it's still coming…
How bad can it be? Well, you know the mosquitoes are bad when it drives Papa inside. Not only that, but in order to lock the chickens up last night, he donned long sleeves, gloves AND a mosquito net hat! All to walk the 30 feet or so over to the chicken coop. It's bad.
So as far as I know, the chickens are doing ok. I'm relying on Papa informing me as to what is happening. We're getting eggs and one of the Rhode Island Reds is starting to molt.
We did have a chance to get some of our harvest in before it became unbearable. Papa pulled down the bean tee-pee and we were able to harvest enough beans to fill a few bags for our freezer.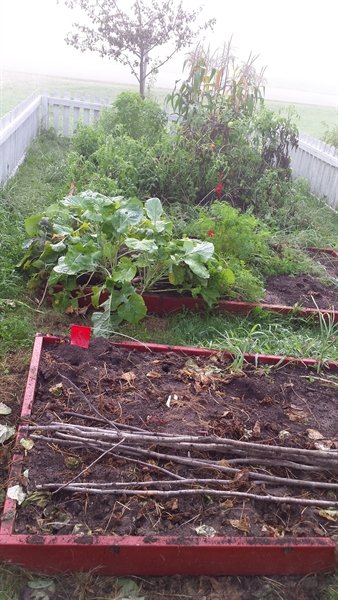 We had harvested the peas earlier so the first bed is now completely empty. Some areas of the garden look rather pitiful at this point.
Our experiment with corn I would say was a flop. We had some stalks grow up but not all developed and some of the ones that did, the bugs got to first. Currently they are drying in the "field" and we'll pull them out soon to use as a front-porch fall decoration. In the future we'll just purchase our corn from a local grower.
Papa was able to get enough beets in the first harvest to make up a few jars of pickled beets. It's not much but then again he's the only one in our household that likes them.
There were quite a few beets that he left in the garden to grow bigger and those were harvested in late August. Most of these were sliced and frozen.
No, those are not turnips! They sure look like turnips but instead are purple-topped rutabaga – and one of our biggest successes this summer (this is less than half our crop). They grew VERY well and I have solidified my love of that root vegetable. They will definitely be a frequent visitor to our garden in the future!
Most of our tomatoes are now finished. We did get a rather decent harvest – enough for Papa to make into canned pizza sauce. Since we make homemade pizza several times a month, we go through a lot of sauce. He was able to use some fresh basil from our garden too since I over-planted (actually I planted, I didn't think it would come up so I bought a plant!) along with some green peppers. We had a jar that didn't seal properly so we've already had a sampling of it!
Let's see what else … well, I mentioned the green peppers. There was just one plant this year, but I might have to increase that next year. We used some in a couple recipes (including the sauce). Also, something "clicked" for me this year and I've decided I really like fresh, raw green pepper. Before I merely tolerated it.
There are still carrots growing and a few tomatoes that will most likely finish out in the next couple weeks. I just hope I don't have to bathe in Deet to go out and harvest them!
What's happening at your place?