We just had a busy weekend.
On Friday we took a mini-vacation and headed to Milwaukee where my niece and her long-time fiancee finally tied the knot! It was pouring rain when we left home, but on the other side of the state it was beautiful and sunny. Good thing – because it was an outdoor wedding!
This is the bride and groom with Grandma (my mother-in-law).
The bride was beautiful, the groom cried – as did the ring bearer (their son). There was plenty to eat. I know our family had a great time!
Since the wedding was on Friday, we had our whole Saturday without any plans. That's highly unusual when staying at Grandma's house. Usually there's something – visiting with one or more families, special dinners. If nothing else, there's usually a long list of "honey-dos" for my husband as his mother lives alone and is 82 years old.
As a result, I got to fulfill a life-long dream. Well, life-long might be exaggerating. A 3-year dream? It just so happened that this weekend was the Wisconsin Sheep and Wool Festival. Papa and I had talked about going one other year, even camping there overnight, but we just weren't able to make it happen. Jefferson, WI is less than an hour away from where we were staying, so it didn't take much convincing to include the family on this little adventure!
The first buildings we came to were the "shops" – which of course, is what I wanted to see anyway :-). Two whole buildings filled with fiber-related products. Drool-city! Not all the vendors were Wisconsin-based, but I would venture to say at least 75% were. I never knew there were so many!
One of my favorite stops was this Sun Valley Fibers (Mt Horeb) wall of color. I want them ALL!
Some other shops I recognized where KnitCircus (Madison), Mielke's Fiber Arts (Mauston), Ewetopia (Viroqua), and one I discovered recently – Brew City Yarns (Milwaukee). The latter had some beautiful sparkly yarns that Little Chick and I both fell in love with.
One of the fun shops that was new to me was Snyder Spindles (Fond du Lac) "Guinea pig tested fiber tools". He has the cutest little palm-sized drop spindles – and I watched him do his magic on some fiber. He definitely has experience!
There are many more I just can't remember – although I did come home with a boatload of business cards and fliers so I can check some out again.
I was oh-so tempted by some yarns at Bumblee Acres Farms. They're in Harvard IL, just over the southern border of Wisconsin, so in my eyes they still count as "local" :-). They had some wonderful geeky fiber colorways – Outlander, Game of Thrones, and my favorite Harry Potter. I almost came home with some, but in the end I behaved myself (probably because my family was there). I bought one skein of yarn from KnitCircus to finish out a shawl I'm working on, and we bought one jar of acid dye to play with. Little Chick chose the color – Lemon Drop. I'm hoping the acid dyes work better on that mystery breed wool we ended up with than the natural dyes we've tried.
Considering we saw some people walk out of there with bags and bags of purchased supplies and/or whole spinning wheels, I believe we were at the low end of the spending spectrum that day.
It wouldn't be a SHEEP and wool festival if you didn't have some sheep. We didn't wander through all the buildings, but our next favorite stop was the building right next door where they had several varieties of sheep breeds to showcase some differences between the breeds … and a lambing pen. Sigh.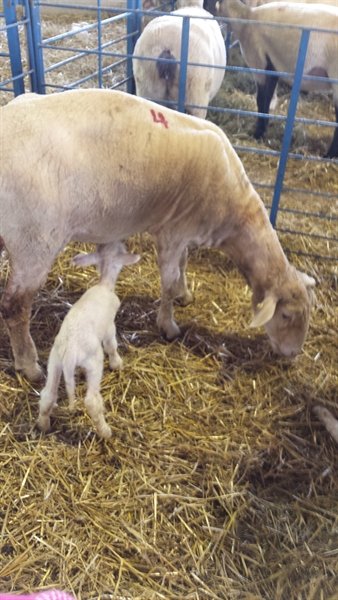 This little cutie was less than an hour old! There were close to a dozen ewes in the lambing area. Only two had given birth already and both had a set of twins (is that common? I know next to nothing about sheep).
In that same building they also had an area set up with antique farm tools that you could look at and touch. Little Chick got to wash clothes by hand – she liked the wringer part the best. She also came home with some twine rope she made. That was a great activity because while she was doing that, Papa was busy looking through the tools and helping others figure out what they were (some were a guessing game). They also had a bean bag game set up – tossing yellow and brown (!!) bean bags into a "two seater" (wooden bench from an outhouse)! LOL.
Outdoors, we sat for a short while to watch the sheep dog trials. The herders were really having a tough time because there was a strong wind that day and the dogs couldn't hear the whistles on the far side of the field.
I'm really glad we went. Next time, maybe I can leave the family (but not the credit card) at home 🙂