It's going to turn colder this weekend with stronger breezes and some rain, but I don't care. My garden is 90% planted and the rain will do it some good! I only have tomatoes and peppers left to plant this year, and since I never got around to starting seeds, I'll purchase those next week. I'm really hoping to find the heirloom grower at Farmer's market that sells an awesome yellow grape tomato plant every year. He always sells out of that plant early.
A few weeks ago I shared with you our garden plan all mapped out on an Excel spreadsheet. Then we went and added two more raised beds, so I had to start over. This is the layout I had for this year's planting:
One raised bed for each type of plants: greens, fruit, root, and legumes. In other words, from left to right, the beds have:
greens: lettuce, spinach, cabbage, herbs and corn
fruit: tomatoes and peppers (with some cucumber and summer squash snuck in without Papa's knowledge. He doesn't care for the viney plants! 😀 )
root: beets, carrots, onions, and other root vegetables
legumes: peas and beans
These were all specifically planned so next year I can just move each type of plant one bed to the "left" (East) for good crop rotation! I like to stick to the KISS method (keep it simple, stupid).
(p.s. I didn't deliberately make the picture tiny so you can't read it; I just wanted to make the picture so this article would load faster. If anyone wants to see the full sheet, just drop a note and I'll happily send it!)
What you see in the spreadsheet was the plan. For the most part, I stuck to it, but I usually end up switching things around as I plant. I also wanted to mark the specific varieties we planted this year so we know what we like/don't, what worked/didn't for the following years. When I was finished planting, this is what my sheet looked like:
My peas/beans got flipped around, because Papa put the supports on the opposite end than I had planned. He had also picked up an extra root vegetable seed packet, so I had to maneuver to fit that in. And a couple other changes as needed.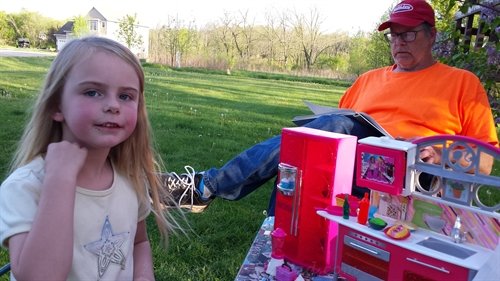 We already have some tiny cabbage leaves and pea sprouts – but those were planted earlier. Meanwhile, now that the garden is primarily done, we can kick back and relax on those days when it's warm and sunny. Papa grabs a book, Little Chick has her "new" (to her) Barbie kitchen, and I grab some knitting. Fresh air and sunshine is the best medicine.
The lilac bushes are in full bloom as are my tulips.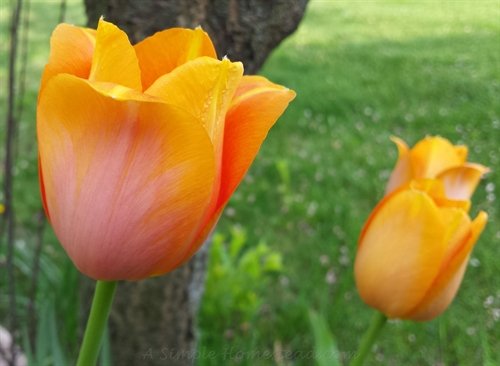 We have only had one rare purple and white one come up this year, but lots of yellow and red ones. I keep saying they are Sunset Shimmer tulips – for those My Little Pony fans :-). (In all reality, I have no idea what types of tulips they are)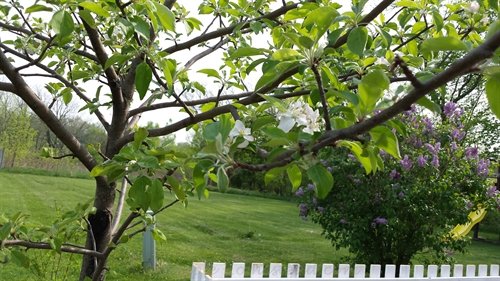 Probably the most exciting event on our little homestead is that blossoms have appeared on our little Honeycrisp tree! We moved it two years ago because it had only blossomed the first year we planted (2008? 2009?), never blossomed again and never produced any fruit. We were hopeful that moving it farther from the black walnut trees might be beneficial (after I convinced Papa the work would be worth it, because when I say "we" moved it … I really mean he did). So to reiterate … we have blossoms! We'll see if it actually produces fruit or not, but this is a very good sign.
Any spring happenings at your place?