I originally had other projects to show off today, but I am super-excited about these pillow covers just finished this week! They are my favorite finished object and design. Yep, I said design. These are my babies!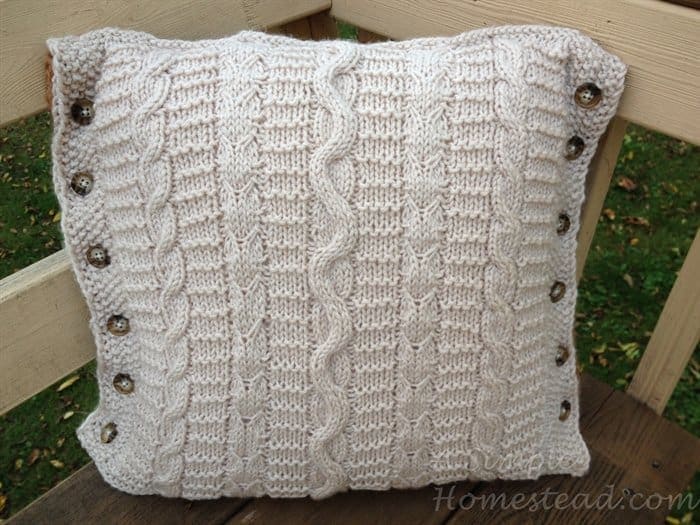 The Designers Challenge for August/September was:
Object: pillow
Theme: texture
Technique: cables
I already had one 16″ pillow form at home so that determined the size I wanted to make. Then I set to work on figuring out how I wanted the pillows to look. I quickly decided on using three different types of cables – hence then "trinity" name. Trying to decided on texture was a bit more difficult. I had one idea but when I implemented it, the design looked too busy. I started over and just had a garter stitch (ridge) every fourth row.
It hasn't been that many months since I stopped saying I hate cables and moved to an "ok" status, so it's rather surprising I'd want to even do this. Part of the change in attitude came about because I lost my cable needles … all of them! I couldn't find them anywhere. In fact, I still can't find them even though I swear I've looked through every project bag (perhaps a sign I have too many bags? Nah.) So finally in desperation I went to my LYS to purchase some more. I decided to give this style a try instead of the J-hook kind.
These make it a lot easier for me to slide the stitches on and off! I can't claim to love cables yet but at least I don't look at them in horror. Which is good – because I love the look of cables!
The back of the first pillow didn't end up like I planned. I originally was going to make a k3, p rib combination but you could barely see the purl stitch. And then I realized I liked the back of the panel better! The stitches are a bit uneven and then didn't straighten themselves out in the wash, but I think that's more the yarn used than anything else (Herrschners Worsted 8 – I didn't care for it).
I had so much fun charting out and planning the first pillow and was full of additional ideas so I went ahead and started planning a second! (and had to run to the store for a second pillow form).
I thought the texture on the first pillow design was still a bit distracting to the cables so I went with vertical textured "stripes" for the accent.
For the first pillow I actually wrote down the "wrong" 6-cable stitch pattern for the center. The snake-like rope looks ok but I actually prefer the alternating cable used for the center of the second pillow. I used the same left and right-leaning cables on both pillows.
I may have to change the name of this second pillow since I'm not sure that twisted stitches qualify as cables and that's what I used towards the edges of the panel. However, there are still three cables on this cover so maybe it's ok.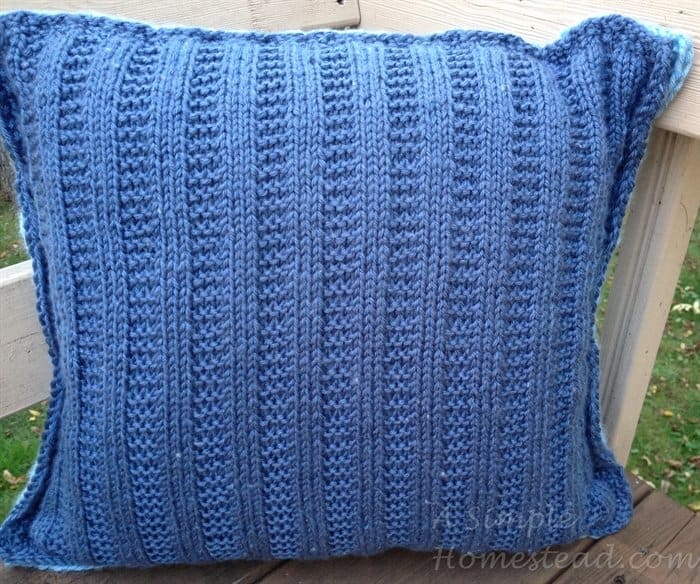 For the back of the second pillow I did the same type of vertical ribbing that was on the front between the cables. I like this one much better.
Both pillows have an edging that was meant to overhang the edges of the pillow form and I placed button holes throughout. The front and back panels are sewn together at top and bottom but the buttons will allow for easy access to clean the covers! I opted for a lot of buttons on the second pillow … totaling 24 in all! Mom and I scraped through our button stashes trying to find that many that would match, or even just coordinate but I was out of luck and ended up buying some.
Little Chick sure seems to enjoy "her" new pillows … they've been all over the house in the last couple days 🙂