A couple of months ago, I reminded you of the insanity I began back in January 2014 to start three afghans at the same time. At the end of July, I managed to finish the Checkerboard Textures Throw. Now I have the 2nd of the three done.
This was a mystery sampler knit-a-long I purchase from Marie Segares (aka Underground Crafter). I usually don't like mystery KALs and certainly not if I am purchasing it, but this was well worth the price. If nothing else, I learned how to make neat edges on the squares!
The KAL started off with just simple knit and purl stitches to create patterns. Next we learned slip stitches which I had tried but not to that extent. Then we got to combine slipped stitches with yarn over and passing over (PSSO) to create more complex patterns, including drop stitches and a bit of lace … although not too much to create gaps in the afghan. Finally we got to cables.
You know how I said last week that I don't really mind cables anymore? I'd have to say it was thanks to this KAL. Working on small items (squares) in a couple different techniques gave me more confidence to keep going.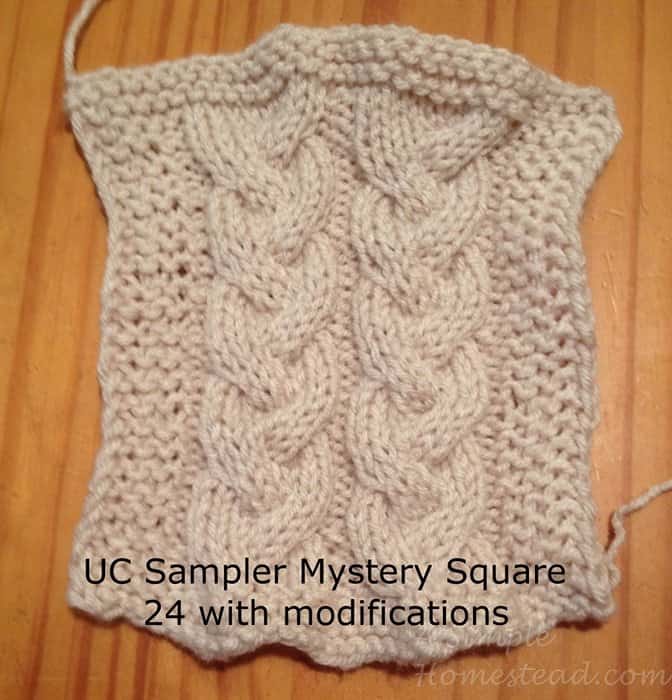 I'm not sure why this project sat lingering for so long. Once I made up my mind to finish the last 6 squares, it went quick. I was able to finish one square approximately every 1 1/2 days … on work days (meaning I only knit over lunch hour and/or at night).
Even seaming didn't take as long as I had expected and I learned a "proper" way to seam (unlike my fly-by-the-seat-of-my-pants attempts prior).
I was left with one skeins and just a tiny bit of yarn left over from my stash of this neutral color. I'm happy for the stash usage but even more so of the finished afghan. It is so soft and cozy … Little Chick is constantly using it along with "her" new pillows. It's a wonder she doesn't ask to sleep in the living room!
Pattern: Sampler Mystery Knit-a-Long
Designer: Marie Segares (Underground Crafter)
Yarn: Hobby Lobby I Love This Yarn!
Colorway: 240 Linen
My Ravelry page