It's funny how it seems like it's only been a week since I blogged, and then I check only to find out it's been almost a month! If you don't count my rant post from Monday.
What have I been up to? Lots and lots of crafting. So much, I felt I should break this up. Today I'll cover what I finished back in June.
There were the usual afghan squares including these three from the 2014 Mystery KAL from Underground Crafter.
I think they are squares 10, 9, and 11 respectively, but I'm not sure.  Somewhere along the line I got mixed up and skipped on – messing up the numbering I had on them.  I need to go back and compare the pictures with the patterns to be sure.
I also finished my May square for my weather afghan.
Such pretty soft colors. The weather was finally starting to warm up! (Ahem. I won't mention that I haven't even started June's square … let alone July).
I tried designing a shawlette. It was for a Designer's Challenge group on Ravelry. The idea was to make a shawl/shawlette, using a flower theme and it had to include short rows.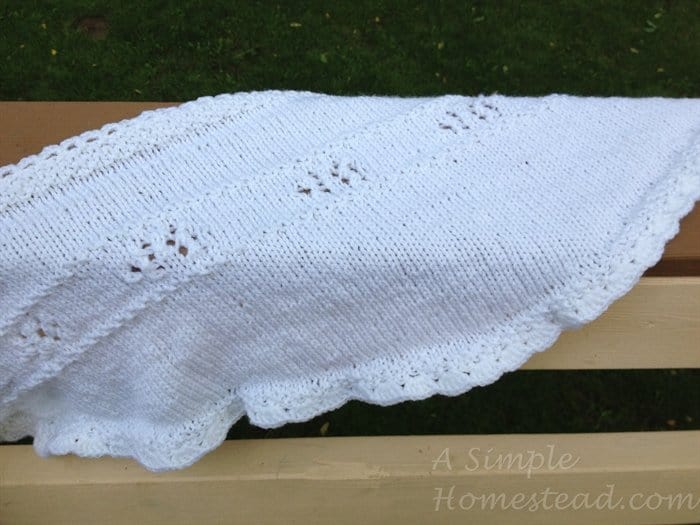 I don't like how it turned out. My first mistake was to wait until the last minute so I was frantically knitting to finish by the end of June. That resulted in forgetting some key design elements I wanted to incorporate – so my "flower" theme ended up almost non-evident. The judges also agreed, so it ended up not qualifying.
I also didn't like the yarn.  It was a baby yarn, but it had quite a bit of variation in the thickness and it was also rough.  I'm turning this and all my other yarn over to my mother.  She can either frog and reuse or donate the shawlette if she so wishes.
Attempting to design this wasn't a complete waste of time.  I did learn quite a bit, and I've saved my notes so I may revisit them after my feelings about it have subsided.
Before I go onto my pièce de résistance, I want to show off this lovely fabric basket that was shipped to me as a prize winner.
Isn't it wonderful? I have it sitting next to my chair with a knitting project I need to finish.
And now for the grand finale…
The dress, that is. The girl was "finished" 3 1/2 years ago :D.
I wanted to make her a cotton dress for the summer. Sadly, she's only worn it once, but I guess it hasn't been that long since it was completed and we wanted to reserve it for church and/or special occasions.
Very important given the fact that Little Chick has spent more time dirty this summer than her previous three years combined!  It hasn't stopped raining for very long so there are always puddles to play in, grass to roll around in, popsicles to eat … in other words, she's having a Grand Summer.
Pattern: Elenka
Designer: Inna Aleksandrova
Yarn: Hobby Lobby's Baby Bee Hushabye
Colorway: 26 Mint Charm and 10 Angel
My Rav project page
Modeled by: Little Chick, of course!
This is her version in response to my command "Strike a pose!"   Gotta love the tongue action!