I'm trying to stay away from Craftster swaps this month. I have too many other things to do with my design work, family time, a mini-vacation, etc. Of course I said I was too busy in June too but do you think that stopped me? No…
The same thing I love about the Designers' Challenges on Ravelry are what I like about swaps. They often push you to step outside your crafting comfort zone. The June swap I participated in was called a "felt badge" swap. You needed to create a 2″ – 3″ square(ish) felt "badge" to send to your partner. You fill out a survey that indicates many of your likes and dislikes to guide your partner along. My partner indicated she loved vintage circus – nothing creepy, just odd. I found an image on the internet that then inspired this: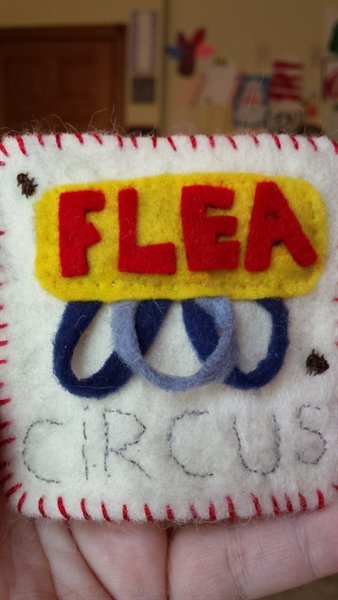 Turns out, it was the perfect idea. I learned later her parents used to refer to their family as a flea circus when they were growing up! I'm not great at hand-stitching, but I'm still happy how it turned out. Check out the little fleas!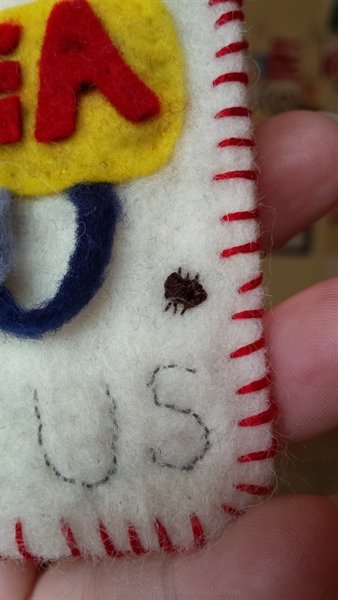 And now … look at what my partner sent me! It's P.E.R.F.E.C.T.!!!
For those that don't know, my family used to refer to me as "mouse" growing up. Partially because I loved collecting mice and also because I was so quiet and shy. Some family members like my sister and aunt still call me that :-). She is so adorable. Little Chick tried to steal her, but she is MINE! She even has glittery beads on her tushie!
Normally I don't show you the projects Little Chick works on, but I think these two are a lot of fun and deserve mentioning.
You may have heard that Hancock Fabrics are closing all their chain stores and everything is on clearance. A couple of weeks ago Papa and I had our first date night since Little Chick was born, and we took the opportunity to take a peek to what our local Hancock had left (there was a lot). While perusing the store, Papa spotted some tie-dye kits and thought it might be fun to make some. Last week, he and Little Chick got a little messy and made two shirts for her and one for Mama. They didn't turn out exactly like he had hoped (the one has colors that look more "muddy") but I think they look great.
We wore our shirts to the 4th of July celebration :-). (Papa doesn't have a shirt, but he's not quite a tie-dye kind of person).
On Saturday, I spent a little time in the craft room working on some stitch markers. Of course I had a helper. She played for a while with some toys we keep downstairs but eventually she wanted to make something with me. She decided to make me a pair of earrings. She choose the colors, threaded them on the wire and bent them over. I helped just a little bit, getting the wire tucked in so it wouldn't poke me – but otherwise she did all the work. It wasn't planned, but they matched my new shirt, so I had to wear those on Monday too!
I have another, even more impressive project she did this week – but she hid it on me, so I'll have to get pictures later.