On Thursday this week, we left for an extended-weekend camping at Buckhorn State Park. The last few years, we've only taken one camping trip, but each year Little Chick asks when we can go again, so this year we planned an extra one. We originally thought about heading to Door County, but we planned a bit late and couldn't find a spot. Buckhorn looked like a nice place to go.
We have an 8-foot pop-up camper which makes it convenient and offers good protection from rain (better than a tent). The beds are also nicer than sleeping on the ground. We set up camp Thursday afternoon, fully prepared to do "battle" with the mosquitoes if necessary. The park website warns that mosquito hatches can occur and produce blooms of mosquitoes. We found that during the day they weren't as bad as our "crop" at home.
Thursday was a warm day. Our campsite had good privacy with lots of trees on 3 sides … but we also didn't have a nice breeze unless the wind was strong.
Poor Finley. He's an outdoor dog at home, but I think the horse flies and other bugs bothered him just enough – so he spent more time inside the camper sleeping than out!
As I said, the mosquitoes during the day weren't bad. At night? Whole 'nother story. Right about dusk you could hear the whine heading our way. No sitting around the campfire for us. We headed inside early, read books and tried to get to sleep. Unfortunately, the mosquitoes kept finding their way into the camper! We'd kill 10-12, go to sleep, wake up a couple hours later and start over again! But this time, the walls of the camper would turn bloody so we knew they'd gotten someone already :-(.
Two short nights later, Papa decided we'd had enough camping to satisfy us during this trip, so we talked about packing up and head home a day early. Little Chick didn't care for that plan – she'd found a new friend in a little girl across the road and they played together quite a bit. Nevertheless, we set our mind.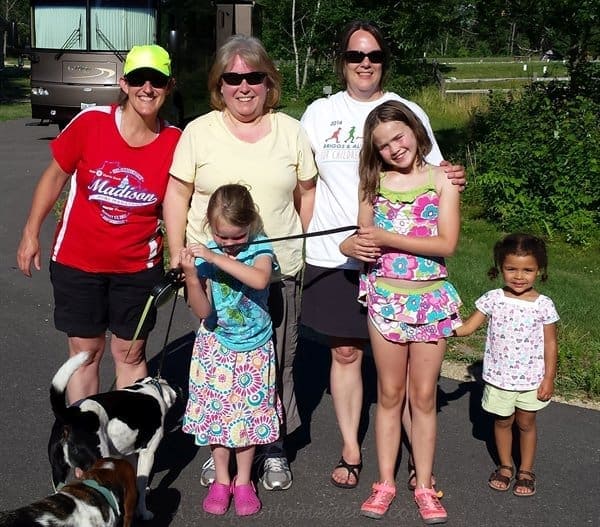 A few minutes later, we met the neighbor girl "Creedy" and her mom as we headed up towards the bathroom. On the way, I spotted a little girl that reminded me of a college friend's 3-year-old daughter but didn't think much of it. Just then I heard someone say "I recognize that voice!" It was my friend – and it was her daughter we had spotted! They live up by the Twin Cities and were camping just a few sites down from us! Not only that … my college roommate was there too! She and her family live down by Milwaukee, so these two friends had organized to meet approximately half-way between. Neither of them had ever been to Buckhorn either – so it was sheer coincidence that we happened to pick the same state park, on the same weekend! (I'm still trippin' about that 🙂 )
Knowing us, we probably would have packed up early afternoon, but this delayed our return a bit, which was perfectly fine.
Little Chick didn't want to leave the campsite the day before, but when she learned our friends were headed to the beach she said we should go "but only for 2 minutes". Two hours later … I finally had to drag her away 🙂
The kids had a lot of fun playing the water. It was nice and warm (I only waded though) and the beach is quite shallow for about 20 feet out! Great for those not-so-great-swimmers-that-think-they-know-how-to-swim!
We even had some time to read to friends and visit with them before we packed up and left.
It was great to get home though. We all had nice long, uninterrupted sleeps last night. Not only that, but it rained this morning – so we would have had to pack up in the rain. It was good the have a relaxing day at home. I now have to work a 5-day week after having just a 2-day work week and it's going to be a hot one. I'm ready for an at-home vacation 🙂