My sister received her birthday gift this week so now I can talk about it 🙂 At Thanksgiving, she requested that I make her a new hat and mittens to replace this set: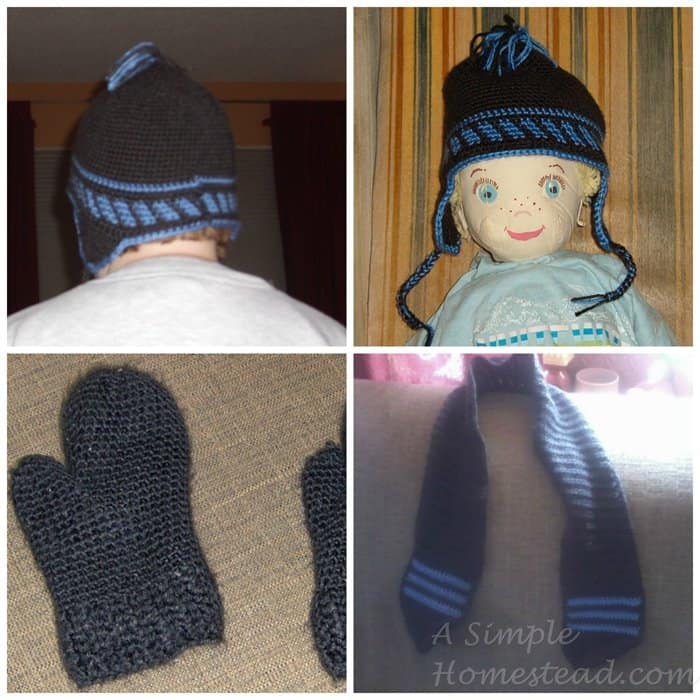 The mittens I made in 2007 – one of the first few projects after I learned to crochet. I lined them with felt because I didn't think the holes made by the crochet stitches would be very warm.
My records show I first made a hat in late 2009 (the one worn by Cindy) but it was too small. The larger hat was finished a year later?? The scarf was made in 2011. Slowly but surely she received a full set LOL.
Sis mentioned that her mittens were started to fall apart – no surprise since she's used them for over 7 years. I managed to finish her hat as a Christmas present.
I wasn't able to finish the mittens at the same time. A week after Christmas she sent me this sad picture:
Definitely time to kick my butt in gear and make her some new mittens!
Since the hat was one piece of a whole hat / mitten / cowl set, I did try that mitten pattern. I was almost done with one mitt and decided I didn't like it. I had made the mitten part a bit too short for my liking – and I think her fingers are longer than mine. I also wasn't sure I wanted to bother making lined mittens again but the single-thickness of yarn just wouldn't be enough while she was out shoveling snow! I started over.
I took a basic mitten design and started the cuff off with alternating charcoal grey and light blue. I liked the effect but wasn't sure I wanted to make the whole mitten in that color. I never make things easy on myself – so why not try my hand at double-knitting? On double-point needles (which I don't really care for). With a "deadline". Yeah – no pressure.
It actually worked rather well. Double-knitting means you are working two different sets of stitches at the same time. You can see the alternating stitch colors on the needles. It almost looks like those colors would alternate on the front, but it works like magic: grey becomes the outer stitches and the light blue the inner ones. Automatic double-thickness and plenty of warmth!
I did try making the chevrons on the upper part but it drove me batty trying to figure out which stitch to knit next and in which color, so I just went with stripes.
It gets a bit trickier when you need to decrease stitches at the top of the mittens. I ended up slipping stitches so if I had to k2tog, they were both the same color. When it came time to finish the top, I moved all stitches of one color to two needles and then all stitches of the other like this: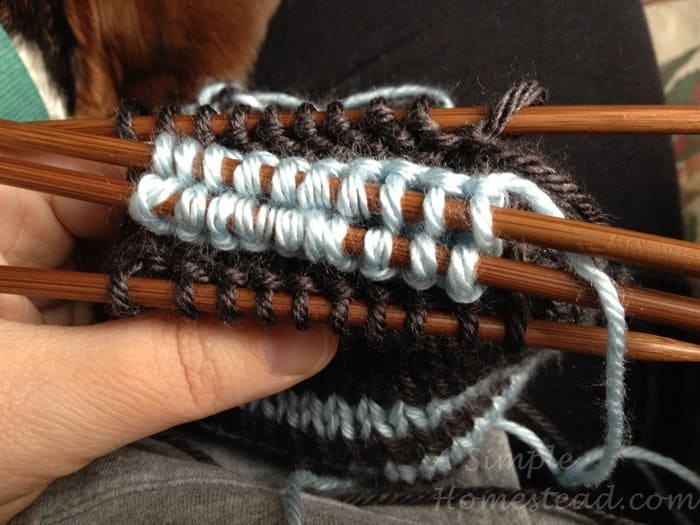 Then I used the Kitchener stitch to seal off the ends of the light blue stitches completely before worrying about the grey.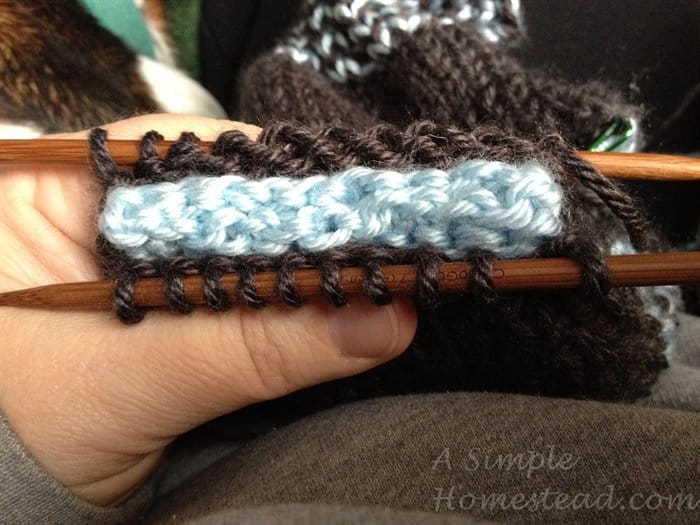 The thumbs on mittens are worked last of all.  I knew trying to knit that double-knit would be troublesome in such a small area so I worked the inner blue thumb and the outer grey separately.  To me, finishing the second mitten is always the hardest.  Kind of like the "second sock syndrome" where you finish one and it feels great – until you realize you're only halfway there.
Technically, these mittens are reversible. However, I wouldn't recommend using the blue side, sis … unless you don't tell anyone who made them. You see my purl stitches are always much looser than my knit and the inside stitches aren't as tight and pretty as the grey (plus, the grey helps hide minor flaws).
Still, I'm happy with how they turned out – and apparently so is she. I just hope she doesn't turn around and move to Florida right away now that they're finished!
Pattern: basic mitten pattern
Designer: the pattern my mother-in-law uses (photocopy YEARS old) with my double-knitting and stripe modifications
Yarn: Caron Simply Soft
Colorways: Charcoal Heather 9508 and 9712 Soft Blue
Ravelry project page