Is it too late to tell you about events that happened in December because I was too busy before now? Nah, I don't think so. It's only the next month!
December of course is a wonderful family time for us. My parents are in Florida this time of year, but it's still a great time to see Grandma N, aunties, uncles, cousins of various levels of association.
Little Chick has her birthday in December and is an amazing 4 years old already! She's becoming more independent each and every day. She can pretty much dress herself – as long as what we suggest is her "flavorite" color – pink!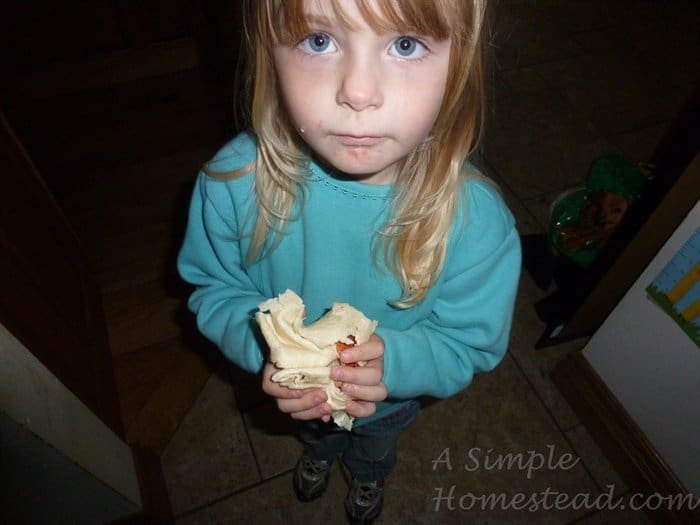 She's even been known to go fix herself something to eat; this is her sneaking a tortilla with pepperoni. Somewhere along the line, she stopped taking her almost-nightly bath; now we're lucky if it's a couple of times a week. Sometimes she prefers the shower, although I'm not sure how much time is spent getting clean versus just playing!
She's a little social butterfly. Everywhere we go she has to tell everyone about … princesses, dreams, movies … or anything else she can think of. You should have seen her show off in the church foyer last weekend – twirling for anyone that would watch LOL.
Uncle Eric and Auntie "Tee" came for her birthday party. After all, Mama needed help from Uncle Eric with the cake again this year! I decided we needed a Barbie / princess cake this year. My aunt used to decorate cakes and was getting rid of her supplies this year so she gave me her cake mold. I had planned for a blue (Elsa from Frozen) cake but at the last minute, I was told I needed to make a green one.

I made a double-batch of homemade angel food cake – it turned out much more dense than regular angel food, perhaps because of the extra weight? Rather than bother with fondant this year we just used buttercream frosting. Uncle Eric made white chocolate snowflakes with candy "beads".
The "new" (to Little Chick) Barbie I had hoped to place in the cake turned out much too tall, so I ended up using her little Barbie doll. Papa said it looked like Barbie swallowed too much cake! And then we just about had a melt-down. "You need to get her out of there NOW!" and a little later "We can't eat Barbie!" I had to assure her that her doll was just in the cake temporarily.

She had lots of fun gifts – an Elsa hat with hair (looks great with her naturally blond), a matching set, a crown from Nana and Da, and a Doc McStuffins game from mom and dad which is still a bit too scary yet – even though they toned down this younger version.
Each year on her birthday we've taken her to the local mall to visit Santa. It was perfect timing this year as we went in the middle of the week before lunchtime and she had the opportunity for lots of one-on-one time with him. The mall also sets up an exercise area behind Santa with large fruits and vegetables the kids can climb on. But we learned when we measured her that night that she's right at the limit for height to visit the area (47")!

Christmas was a fun time as well. Grandma's house was full of people, presents, too much food, and too-soon crumpled wrapping paper.
If it was Frozen-related this year, I think Little Chick received it. She ended up with a dress and doll from us, a scepter, and some little toys. She had fun playing with her little "cousin" – he's the youngest in the family but is actually Little Chick's cousin's child. She's stuck at the bottom of the child age group when all her cousins are 19 – 34 years old! The oldest of my great-nieces even turned 16 this month!
Papa and I received some wonderful gifts also. Finley just felt he should take a nap during all the hub-bub (he's somewhere under all that wrapping paper).
I know I'm really late, but does anyone want to share how their holiday went?