Apparently it's been a while since I've shared any of the crafting projects I have been working on. I found oodles of pictures – some back to Christmas time! In an earlier post, I talked about the socks my sister received before Christmas.

I love making hats and I find they're an easy gift to make – especially for the men in my life. Men. Ha! The one on the left is for my "baby" nephew … who's now 22 years old! How did he ever get to the man qualification? That pattern is called Grey Me In by Natalie Volyanyuk. The brown Collingwood hat by Carolyn Macpherson went to a brother-in-law.
By far my favorite project for the season was this lace and cable shawl I gave to my mother using gradient skeins. It was a bit scary at the end because I've never done dropped stitches (on purpose, that is). I thought it was funny how long it took to force those stitches to drop. When they drop accidentally, suddenly you have a huge unraveling!
Not only was the Lucienne Stole a joy to make (I want to make one for myself now!) but I have two new favorites I'm following. The pattern is by Katy H. Carroll (Katinka Designs). If you love cables, you need to check out her work! The gradient yarn set from from Marianated Yarns. I had purchased the Smooth Sailing quarter skein sets from The Yarn Attic months prior. When a KAL came up to make the stole, the pattern called for a half-skein set. I wasn't sure my mother would want a stole quite as long as the one shown in the pictures, but I was still worried about running out. Marian kindly mentioned she had a single skein that was slightly lighter than Polar Frost (the lightest color). That was just enough for me to finish out the stole! (I think she may be discontinuing the quarter skein sets 🙁 )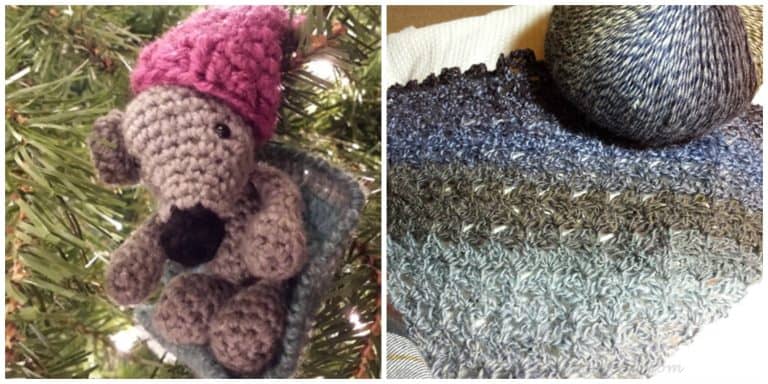 I didn't just make Christmas gifts in December. I tried to reduce the urge to craft something for every family member. Otherwise I get too stressed.
I made a cute little mouse that sat in our tree for a while. He's "Cookie the Mouse goes to sleep" by Justyna Kacprzak. I made him because I have collected mice since I was a child – and to help out a fellow Indie Designer during the Gift-A-Long.
I also started a shawl for myself.  It's called the Fortune's Shawlette by Tamara Kelly.  It had been on my wish list to make for quite a while.  Sadly, I haven't finished it.  Maybe next month…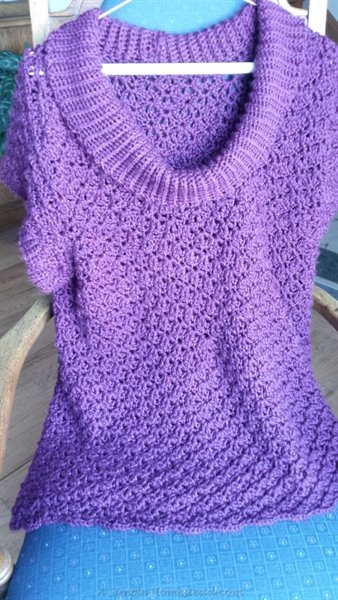 What I spent January doing instead of everything else, was crocheting myself a sweater!! This is Eve's Rib Tunic by Doris Chan. It's only the second time I've ever made a sweater for myself. The first one was years ago – the One-Stitch Adult Cardigan by Lion Brand Yarn. I liked it at first and then, not so much. My sister ended up taking it.
I wanted to participate in yarnology's annual Sweater Challenge from Jan 1 – Feb 14.  I was the first one done, only 3 weeks after it started, because I wouldn't let myself work on anything else!  I knew if I put it down it would probably end up being another UFO (unfinished object).
I liked the pattern and it obviously went quickly with the lacy stitches. The ribbed neckline seemed to take forever. If I had one complaint about the whole process it was this: the pattern came from the book Everyday Crochet: Wearable Designs Just for You. It has a lot of cute, similar patterns. So similar in fact, that half of this pattern was based on another. So I had to keep flipping back and forth between pages to make sure I wasn't missing anything.
Now that it's finished I've got the itch to start another to use up some of my sweater stash!
Have you ever made a sweater for yourself?