Last fall, I mentioned how we had received a fleece from a neighbor and Kurth Valley Fiber Mill cleaned it and spun it into yarn. Unfortunately, Papa didn't give them very good directions as to how thin to process it. Holding your fingers out and saying "this thick" isn't very accurate. As a result, the yarn ended up to be an Aran weight – maybe even a bulky. Because I wasn't sure, I knew I had to make a gauge swatch.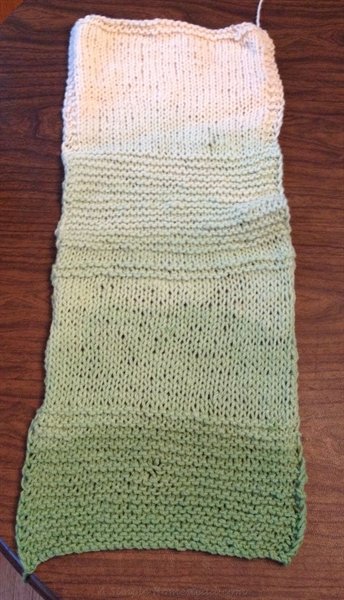 I hate making gauge swatches. I don't know many knitters that like them. They're boring and we just want to get on with the real project! Still, once I had made a section of the swatch, I decided to continue on, knitting up the entire skein and then try dyeing it, making a gradient yarn.
Pardon the ugly knitting. I wasn't worried about how it looked at this point – I just needed it in a long strip.
I was also impatient. As much as I'd love to learn to dye with natural dyes, I didn't want to research a lot of techniques or invest in tools at this point. I just wanted to DYE! So for this experiment, I used standard over-the-counter food coloring.
I knew I had to soak my wool first. Then I placed water, vinegar and green food coloring in a large pot and brought it just under the simmer point. The swatch was wrapped around a wooden spoon so I could slowly unroll it into the colored water.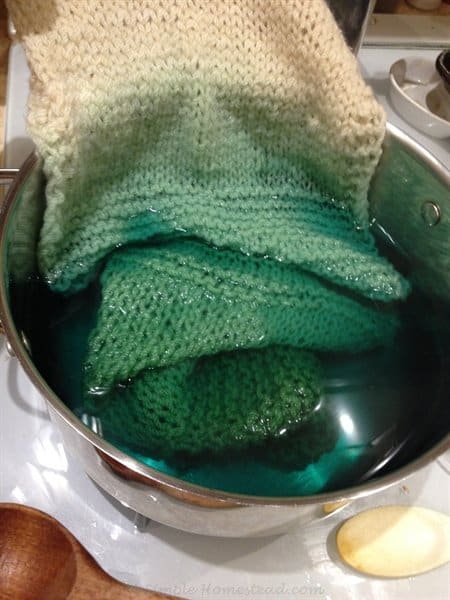 After a while, the green that was appearing seemed a little too bright, so I added a few drops of blue (taking the yarn out first). I know they say to leave the yarn in until all the colorant is gone, but I stopped when I was satisfied with the color. Interestingly enough, the water that was left was more blue than green – blue must absorb at a different rate. However, the color I ended up with was exactly what I was aiming for!
When the yarn had been rinsed and a new skein of the dyed yarn created, I decided to make a hat for our neighbor as a thank-you gift. It was hard to get a picture of it, even in natural light because of the light/dark contrasts, but this comes very close.
As for the other 15 skeins of this wool? Well, I decided it's much too think – and too uneven to attempt to make my husband a Norwegian-style sweater. The yarn varies quite wildly in thickness and I'm not sure if it's because the wool was in poor condition, or if having a small processor means it won't be as consistent. When we were Kurth Valley, I saw some yarn they had processed onto cones that looked more like fingering weight and it looked smoother, so maybe it was just our bad luck this time. The yarn itself has a coarse texture – not nice on the hands at all. Again, it may be because the fleece was not the greatest.
Anyway, the plan is to make hubby several pairs of wool socks. They'll be nice and thick and will replace the ancient all-stretched-out hunting socks he currently has in his drawer. Not sure that I'll make 15 of them. I'm thinking it might be fun to play around with some more dyeing. We have plenty of walnut hulls that I could use! LOL