Anyone else finding this month lacking in motivation? I sure am. Maybe it's because the beginning of the month started out with trip planning and organizing and everything else had to get pushed aside until we returned from vacation.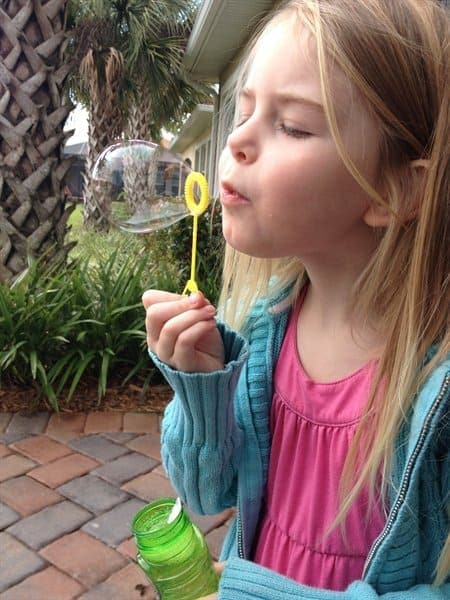 I'd blame the warm weather from our vacation slowing down my brain cells, but we didn't have any. Little Chick and I experienced "comfortable" lower 60's every day we were in Florida … except the final day. It finally made it to 75°F. But by then, Mama just wanted to pack up the swimming clothes instead of getting them wet. So, Little Chick missed out on swimming this year.
We flew out on Super Bowl Sunday (Feb 7th). I half expected a light crowd due to the game, but the plane was stuffed full as usual. The only plans we had this year were to spend time with Nana and Da, go to the beach, go swimming and perhaps visit the Children's Museum. Two out of four … is that a successful vacation? Little Chick seemed just as happy staying put, playing with bubbles, cuddling with Mama since she had 24/7 access, and watching a couple of shows on cable tv we don't get anymore.
We enjoyed some of the local wildlife during our visit. My parent's back yard overlooks a small pond. The first year they moved in, there were a couple of alligators in the pond. After they grew to full size and started showing up in the yards where children were playing, they were relocated. Now, there are snowy egrets, pelicans and other birds that spend their time on the water, and we even spotted an otter in the grass one morning! I'm assuming that means there have to be fish in the pond, but how they got there, no one knows.
We knew from last years' experience that we'd better watch the weather and wind speed before heading to the beach. Wednesday turned out to be a good day weather-wise. It wasn't until we got to the beach that we discovered they had red tide warnings. Red tide refers to an algae bloom that when it becomes over-abundant, the toxin can kill fish (resulting in dead fish washing up on beaches) and it can cause respiratory problems in humans. Not so good for Mama who had been fighting a cough and Nana who has allergies/asthma. We stayed for only 1/2 hour, and then Little Chick was prompting us to go home anyway. We did get some good shelling that day as it just so happened we turned up at high tide. They don't rake the sand at Barefoot Beach Preserve in Bonita Springs, so it's easier to find shells there than some other places we've tried.
I always think it's fun to go looking for shells, but I planned in advance not to pick up too many. We still have shells from the last 4 years that I don't know what I'm going to do with. Instead, I wanted to make sure Little Chick had fun, so we tried building a castle … and then stomped it down after just two towers were built. Then, we made a Sandman :-).
Nana has a bunch of plain shells she's accumulated the last few years. Shortly before our trip, we spotted an idea of how to decorate them using blue markers to look like Delft pottery. Little Chick even got in on the fun, although I think her fingers were just as blue as the shells were when she finished. I'm not sure if this counts as a Pinterest fail or not … but using markers to decorate shells? A LOT harder than you would think. It helped when I switched to a fine-point marker instead, but I still like the brighter color of the thick marker.
On our last full day in Florida, we did something that apparently made quite an impression on Little Chick.  The four of us went with a neighbor and her grandson to Mel's Diner.  It's an American diner with a 1960's feel to it.  I ordered a club sandwich which came with thick slices of real (not deli) turkey – so much that I was only able to finish half of it!  The place was very busy.  What made it special was "George".  George is great-looking puppet, managed by ventriloquist Brenda Stelzer.  He's quite a humorous guy and loves to talk.  Just last night, while going to sleep, Little Chick was having this conversation with me: "Mama? George is really handsome.  He called me a princess.  I can't wait to meet George again. sigh"  🙂  I'm sure our daughter has enough of a grip on reality to realize he's not real … but when you're talking with George, it's hard to remember that.  Brenda does a great job making him seem real.
The temperatures in Florida might have been cold by their standards, but when we arrived back home, it was in the single digits and even snowed a little. It won't last long though – the temperatures are rising across the nation this week, and most of our snow will probably disappear this weekend.