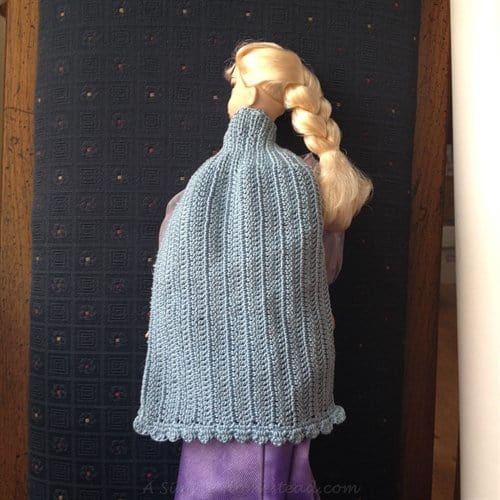 I knew I was close to getting Little Chick's doll cape done, but it wasn't quite ready to share last week. On Saturday I finished it and Elsa (Frozen) was the first to try it on.
Actually, the cape itself was done, I just needed to mull over how I was going to make some type of fastener for it. I thought about trying to make a tiny frog closure, but I've never made one and it didn't seem like it would be the easiest to do in thread. In the end, I just crocheted a loop and added a pearl bead for the front.
We've had a lot of new clothes in the house lately. This week, the dress we received in the Barbie exchange arrived. I knew what the envelope contained so I handed it to Little Chick; she spent the next several minutes (before she opened it) running around exclaiming "I can't believe it's here!" 🙂
Little Chick and I had a girls' day out last Saturday and went to a spring craft fair at a local high school. She took along a bit of money she has so she could purchase a couple of dresses. The woman we usually have purchased from wasn't there, but there was another vendor … who had nicely sewn dresses for only $2!! I have no idea how she could make money with so little, but we just had to snag up two sparkly ones. Three new dresses and a cape in just under a week. Our dolls are getting spoiled!
I don't think any of my in-laws read this blog, so I'm assuming it's safe to talk about these a bit early. I wanted to make a little something special for one sister-in-law. Knowing how much she likes sewing, I decided to make her a pincushion similar to the ones I made my friends last year. While I was at it, I decided to make another for the other SIL who also sews and Papa's mother who does a lot of quilting. Plus, Grandma's birthday is next week. These will be hand-delivered on Easter Sunday (this weekend).
Never satisfied to follow my own directions, I did these a little different than last year's batch. Hopefully I'll be able to update the tutorial instructions soon with some tricks I learned this time around. Each jar contains a stash of Clover Wonder clips for them to play with.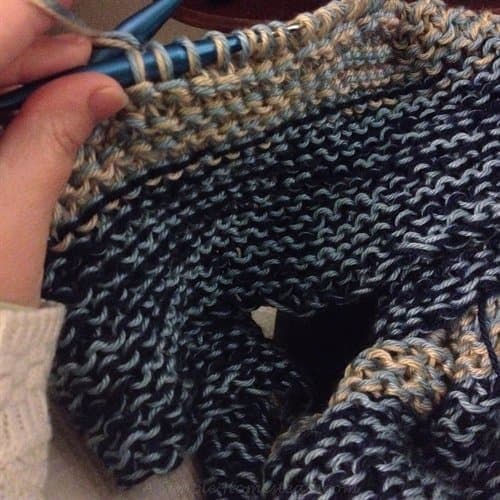 I have one other project that has me really excited, but it's going to take a while to finish. I recently started a Garter Squish blanket. It's a free pattern from Stephen West and it's very simple: use two strands of worsted weight held together and randomly exchange one or more colors as you work in garter stitch (all knit).
My mother and a friend were surprised when I said I wanted to make this blanket because of the repetitiveness. So far I'm loving it. I've worked on several complex patterns recently and this is completely mindless. The only danger I've encountered is that I want to work on it All. The. Time. … but I have other commitments I need to finish in the next few weeks, so I'm limiting this to just-before-bedtime knitting.
What exciting projects are in your life right now?