Guess what?  No hats this week!  🙂   Why? Well, because Little Chick and I are off visiting sunny and WARM Florida … and who needs hats there?  Instead, I have some self-designed cowls and a couple of birthday presents to show off.  I couldn't share them before because my sister's birthday was this week and I had to wait until I gave them to her (Happy birthday SMHH!)
First on her birthday list is this minion phone case. I hope it fits her phone as I didn't have exact measurements.
She is OBSESSED with minions. She has even requested my parents pick up a bucket so we could take it to the beach and make a series of minions along the coast. If we do that, I'll be sure to post pictures!
Pattern: Minion Phone Case
Designer: Loopsan by San
Yarn: all I needed were a few scraps of worsted weight yarn
My Rav project page
The other present I'm giving her is a bit more grown-up.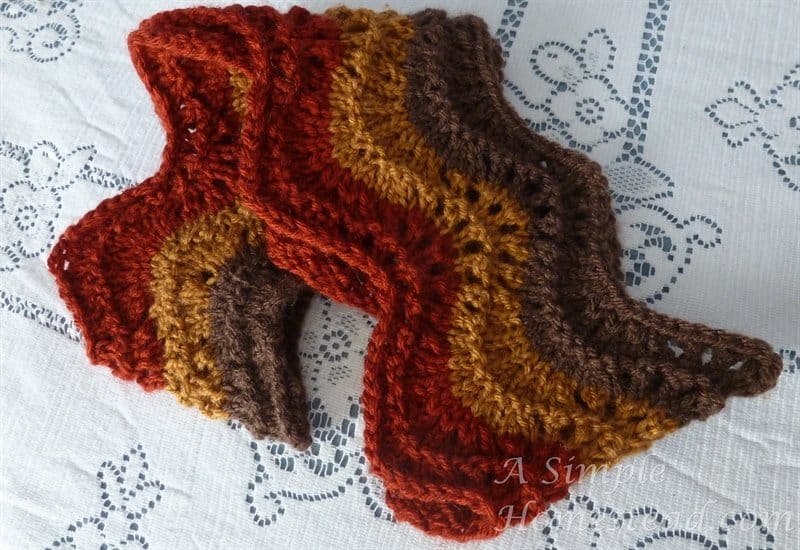 It's a cowl made in colors I hope she likes. I designed this one myself as part of a contest … and then realized the contest called for chunky or bigger weight yarn. Oh well.
Pattern: Rolling Waves Cowl I
Designer: me
Yarn: Vanna's Choice
Colorways: 126 Chocolate, 130 Honey and 133 Brick
My Rav project page
Modeled by: me
(yucky picture. I needed a hair cut desperately!)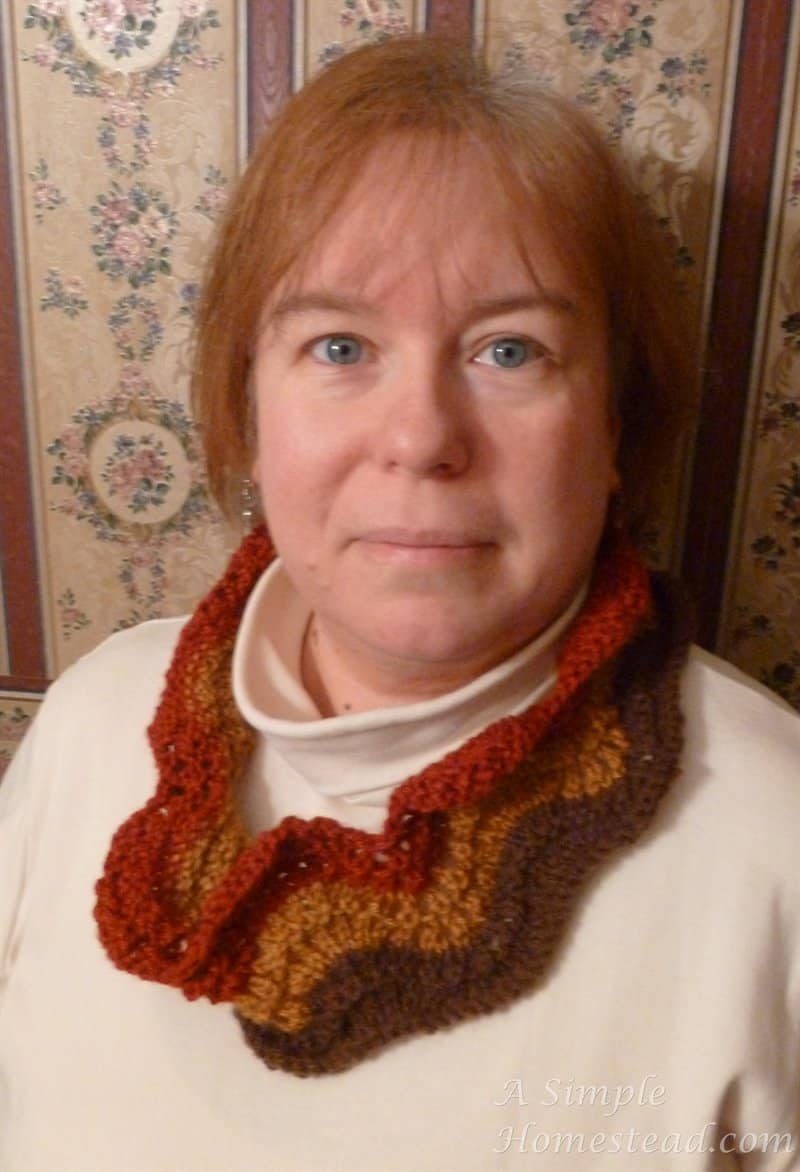 On my Ravelry page, it's called NSL cowl, because the challenge was to design some type of neckwear with the theme of "No Straight Lines". I like the Rolling Waves name better. After I finished her cowl, I went on to design one similar but not quite the same in the weight the contest required.
As you can probably tell, this one is not as long but it's also taller. The pattern really doesn't depend on the length as I have the repeats listed to make as long as needed. Hopefully I can get it formally written up, tested and published soon. All that was required of the contest was to design an entry.
Pattern: Rolling Waves Cowl II
Designer: me
Yarn: Berroco Comfort Chunky
Colorway: 5734 Black, 5725 Teal and 5740 Lime
My Rav project page
I used up some of the chunky yarn I purchased to make my Christmas hats. Hmm … maybe I should make another one so it matches my new cowl!
I've also been plugging away at my weather afghan square.
I didn't bother with a gauge swatch because frankly, it's suppose to be a scrappy blanket. But I realized this week my squares were going to be um … not even close to square. In fact, it's even worse than it appears in the picture because I have the unwoven ends tucked in underneath. However I came up with a plan. I'm going to add several rows to the top of each monthly section and somehow incorporate the month name – either intarsia knit (which I've never done) or cross-stitched. I'm not sure yet. Then I could make a final section that covers the whole the top of the afghan and add in the year.
I had to postpone working on the afghan while we are on our vacation trip – too many potential skeins of yarn I'd have to bring with me. I'm recording the daily temperatures here in Florida, so the end of January and beginning of February will have quite the color shift. I think it will be fun to look back and be able to see just when we took this trip!