Papa's sister is currently going through a round of chemotherapy for breast cancer. Her prognosis is good but with the radiation and drugs she has to take, her hair is falling out. Last week, she posted a picture on Facebook of some super-cute crocheted hats.
She mentioned how cute Little Chick would look in them and then every so sneakily hinted that she'd like one too … by telling me what her head circumference was :-D.
The picture of the hats actually came from a Russian site and it didn't have a pattern. There are some people that have attempted to duplicate it, but for my first trial, I wanted to do something a bit simpler. I'm guessing what she really liked was the flowers anyway as she didn't specify which design(s) she preferred – just the colors.
I knew the hat would have to be super-soft, so I opted to go with some cotton yarn I had originally picked up for my sister's bathmat. Cotton yarn is known for being firm / non-stretchy, but this yarn does have a little bit of give to it.
I was a bit concerned about how it would fit as I find it hard to measure circumference – especially on something that does stretch. It was rather tight on me, but I have a lot of hair and that makes a difference. I decided to make just the one hat, have her try it on for size, and then proceed with others. I was in luck – it fit perfectly. Bonus: she loved it! and said it didn't feel like a chemo hat. I now have requests for additional hats in white, pale yellow, and pale lavender.
Pattern: Spring Blossom Cloche
Designer: Lorene Haythorn Eppolite- Cre8tion Crochet
Yarn: Hobby Lobby I Love This Cotton! Solids
Colorway: 2 Black
My Ravelry Page
I made two of these flowers for the hat – one a bit smaller but didn't get a picture of the final hat.
Pattern: Gratitude Flower
Designer: Bonita patterns
Yarn: Red Heart Lustersheen
Colorway: 0243 – Flamingo
My Ravelry Page
One problem I was having with making the hat was the fact that Little Chick kept walking off with the flowers! She liked them so well, I decided to make her a special one … in pink, of course.
The flowers are a lot simpler than I thought they would be. You basically make a dc / ch grid for a couple of rows and then have one row with varying height stitches to make the tops of the petals. When finished you have a nice curlicue.
Starting at one end, the length is wound into a circle shape, pulling each round a little further out, and sewing together as you go. Placing a pearl, button or another bead in the center helps hide the inner section of the first round.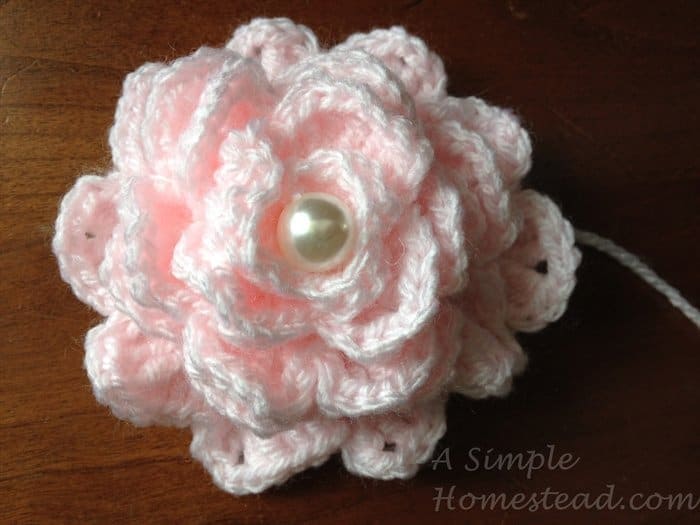 As you can see, you can use a variety of yarns and threads in different sizes and colors to make the flowers. It would be a great way to use up some scraps!
Pattern: Gratitude Flower
Designer: Bonita patterns
Yarn: Bernat Softee Baby
Colorway: 02001 Pink
My Ravelry Page
Now I just need to make three more hats and a bunch of flowers. The first flowers I sewed onto the hat, but I have a plan in mind that might allow her to easily interchange the flowers to help coordinate with her attire. I really hope it works!