I was afraid I wouldn't have anything to show this week. I feel like all I've done is "play" – start projects, dislike them, rip them out again. Case in point – I'm trying to design a shopping bag with a harvest theme. Naturally I don't make it easy on myself and the concept I came up with required intarsia knitting. Except I've never tried intarsia before. I've done stranded knitting twice – making a snowflake bag that needed serious help and then a snowflake ornament that was a little better. But my skills in stranded knitting are still beginner at best.
I made a trip to my favorite LYS (local yarn store) – yarnology and spent quite a bit of time trying to decide on yarns. I found a wonderful multi-colored Malabrigo yarn with the fun colorway name of "Archangel". I thought it would make a great leaf decoration with the varying colors. The problem was when I combined it with the background color it looked lost – it didn't stand out as much as I wanted. (Pardon the poor knitting … like I said, this was my first attempt at intarsia and I kept making the stitches tighter as I went!)
The picture actually makes it look brighter (and more red) than it appears in real-life. Another problem resulted from choosing a Cascade 220 Superwash for the main part of the tote. It's a wonderful yarn, but didn't have enough body to it that I wanted to make a sturdy bag. So off I went back to the yarn store (ahem … don't tell my hubby!) The original yarns I bought won't go to waste. The Cascade will look great in hats – and so will the Malabrigo. Just look how wonderful it's working up as a simple ribbed hat! Love those colors – yellow, orange, green, blue, purple!
I guess I should have gone with my gut instinct from the beginning. I kept envisioning a felted bag and fell in love with a Sunset colorway in Malabrigo Merino Worsted when I was there originally. I didn't buy it the first time around because I wasn't sure if I really wanted to felt a bag – or if I'd have to change my leaf motif to reflect how felting would make it shrink. I still don't know the answer to the question if the motif will have to change, but look at how much better this worked up!
My intarsia skills could still use some work, but some of the unevenness you see is due to the varying widths of the yarn; it's not all me. I'm not entirely happy with the leaf design; I've tweaked it a bit to see if it will come out better. Right now I think it looks like a flying bird instead of a leaf. I'm hoping to felt it sometime this weekend to see how that works (I can't wait – felting is FUN!)
The night after I decided the Cascade/Malabrigo Archangel yarns wouldn't work and before I could pick up new yarn, I spent Monday Night Football time playing around some more. I was going to try the intarsia design in some scrap worsted weight yarn I had. That only lasted a couple hours – I hate working with the scratchy stuff. I've become a yarn snob. It kept me out of trouble for an evening – having a Basset warm your lap helps too.
This weekend I was able to snap a couple more pictures of Little Chick in her new Snowdrop Dress. Still need to get some nice outdoor pictures, but I ran out of time that morning.
On Saturday, just before we had a group of people come to the house, I was able to finish my one and only project this week. I don't have a great name for it yet – so far it's just been going by "bobble bag". It originally started off where I was going to make a baby hat.
The yarn and stitch pattern didn't agree. They wanted to become a bag.
Papa had the great idea to stick a metal bucket inside to help show how it would look filled up.
Here's what the bottom looks like when it's finished.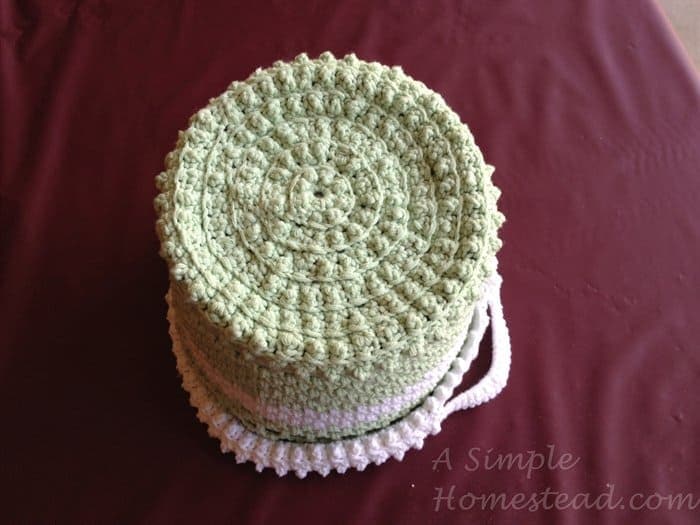 It's not a large bag but should be a great size to stick in my car and take to Farmer's Market on the weekends. Anyone have a better name for my shopping bag?
Pattern: bobble bag
Designer: me!
Yarn: Baby Bee Hushabye (left over from Elenka dress)
Colorway: Mint Charm and Angel
My Ravelry page