Fall is my favorite time of year.  I love the cooler weather, being able to wear sweaters again, the changing colors of the trees, pumpkin and apple picking, apple cider, and hot cocoa … I could go on and on.  One of my favorite events of fall took place this past weekend.  It was the Threshing Bee festival at Norskedalen.  It's one of those events that not much changes from year to year, but if we don't attend then for some reason fall "disappears" and winter appears too quickly.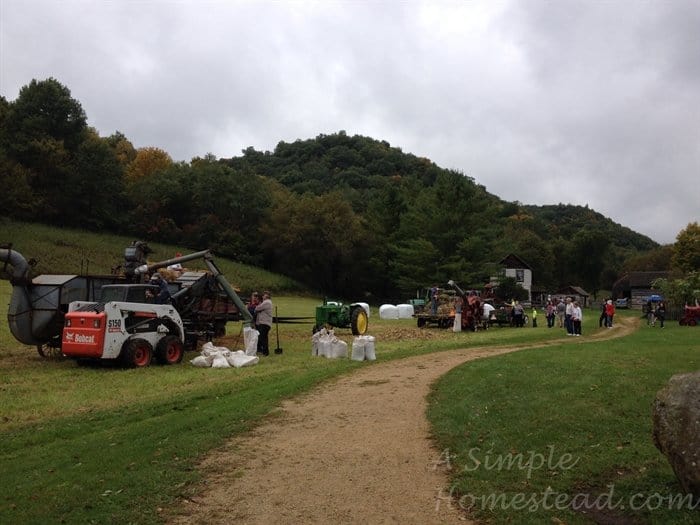 Our day started off cool and cloudy.   I took the opportunity to escape early in the morning to visit some rummage sales in a nearby town as Little Chick refuses to stop growing.  I found about a dozen pieces, a couple of cool-weather items for myself, and even a free wood chipper!  Then we headed out for the hour-long drive.  I know these pictures will probably look similar to last year's event, but I can't help it – I love taking pictures there.
For those that don't know the process, after the oats are picked they need to go through a threshing process – where the stalks and chaff are separated from the oat grain.  The machine shown here is old, but it still does the job.  They feed in the stalks where they are beaten by bars to help break the grain from the stalks.  A fan moves over the beaten mixture and the lighter stalks and husks get blown out and the grain (oats) fall down through a chute into waiting bags.
This festival isn't just about threshing though – it also gives Mama an opportunity to drool over her favorite tractor – a Ford 8N (I want one). Wouldn't Little Chick look cute riding one of these?
Sadly, I have to wait until we purchase a farm as I really can't justify getting one until then.
There are some lovely old buildings on the property to visit. The smoke coming out of the chimney just makes you want to go inside and warm up!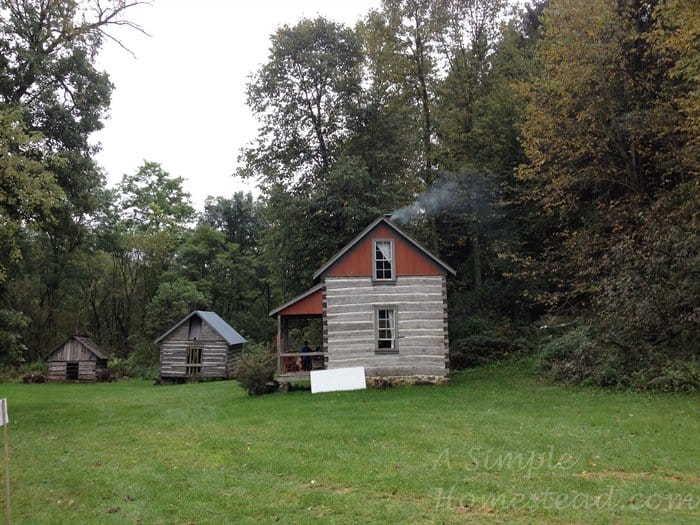 I tried to get a good picture of this woman making lefse, but she wouldn't stop moving!
In addition to cooking lefse on a cast-iron woodstove that you could sample, she also had her dinner in the "oven" – a ham and bean stew with fresh herbs from the garden.  There was a mortle and pestle where you could try grinding your own herbs.  And in the foreground, you can see an inverted baking sheet that she had to allow children to try rolling lefse dough themselves.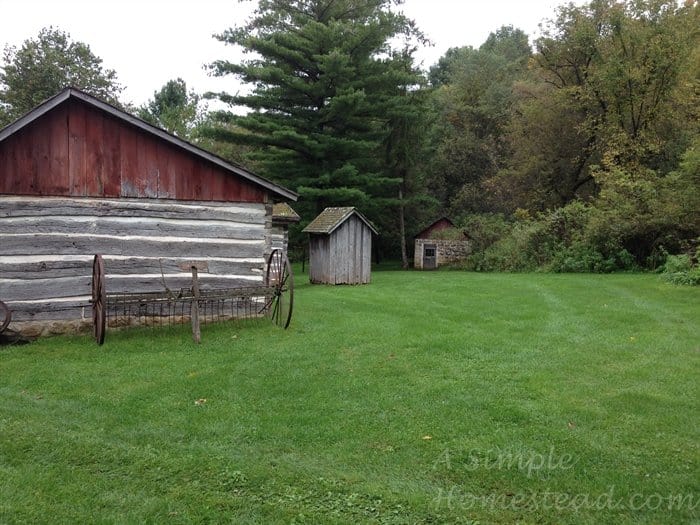 In the main farmhouse, they had a woman making super-thin flatbread and the summer kitchen was where you could sample homemade butter – I nice thick glob of it on a cracker.
Not much was happening in the garden – it looked as though it was neglected this year. The herb garden had these lovely flowers and very tall sunflowers.
Time to do some climbing!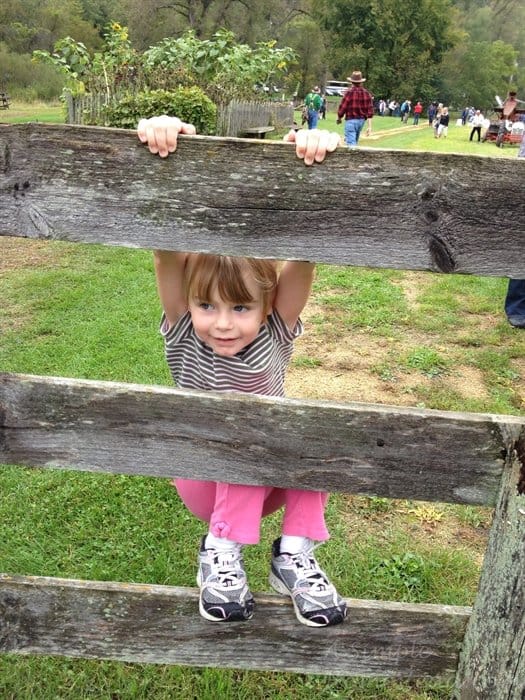 Papa lamented how so many of these wonderful old cast-iron pots are either left to crack and fall apart (like this one) or they're turned into planters. I think he'd like to find one for use in soap-making!
Little Chick had hoped there'd be lots of animals there this year. They usually have Fjord horses but they were missing, so we were left with only the alpacas. This little one was quite friendly – she must visit people and get petted quite often.
We had a chance to talk with the beekeeper and view his hive.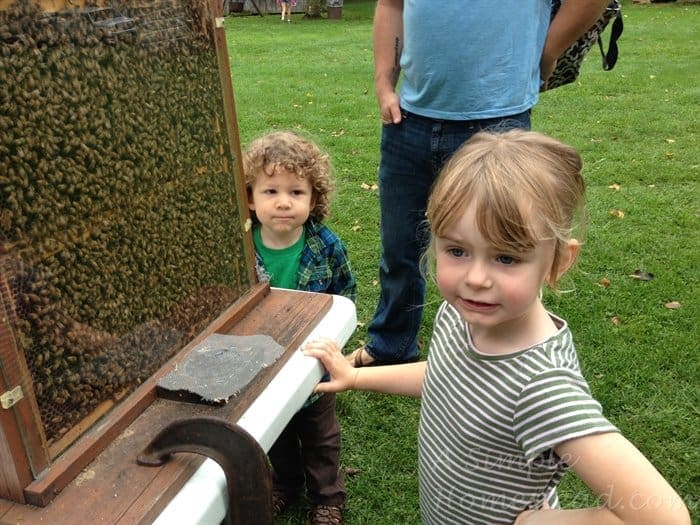 And play a little hide-and-seek when Papa was busy talking with people.
I personally think he should volunteer to sit in the tobacco shed and explain how that process works – the initial planting, planting the plugs, topping off, harvesting and drying. Quite often I'll find him in the tobacco shed talking with people about that very topic – and they're enthralled as most people don't know anymore.
There were some little ones the dressed the part for the day. We spotted this family (there were two other girls I missed) when we went to check out the spring house.
There was a spinner participating this year. I didn't get a chance to talk much with her, but our daughter loved working the spinning wheel!
Some of the buildings are opened up enough that you can climb to the second floor (such steep stairs) or wander in various rooms to look at the artifacts. I hadn't seen this one before. It was sitting on top of the stove (obviously the stove wasn't lit!) in the little house where the spinner was. Such beautiful rosemaling!
That house had a larger room where the stove was located, a small bedroom – there might have been more upstairs (that wasn't accessible), and a tiny pantry off the main room.  I just love the lace.
Time for a photo-op with Mama!
This is the building where we ate our Threshing Bee dinner. It has open sides to let in the cool breeze but a big rock fireplace on one end in case it gets chilly.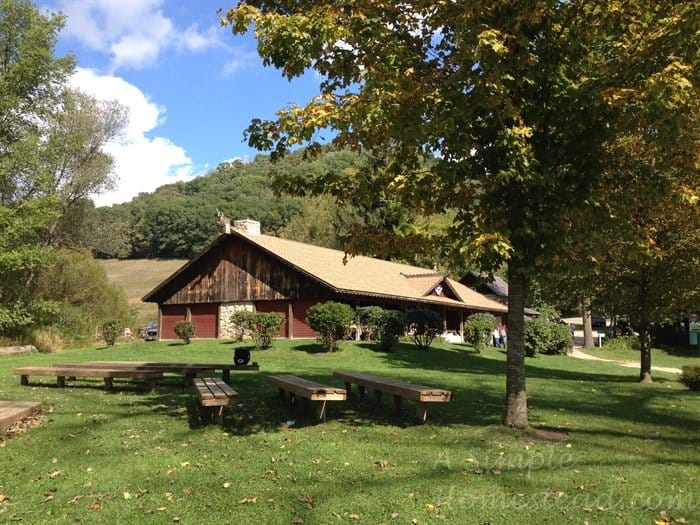 We purchased only one adult meal and one child meal – and it was more than enough for all three of us (we would have gone with just one adult, but a piece of pie comes with the meal and you can't buy extras). Roast beef and gravy, red potatoes, squash, rutabagas, corn, bread, fresh sliced tomatoes, a drink … and wonderful homemade pies. Papa got a blueberry walnut cobber-type pie and Little Chick got a delicious raspberry one (don't worry – Mama had a few tastes of both of them).
After dinner, it was time to take a short rest…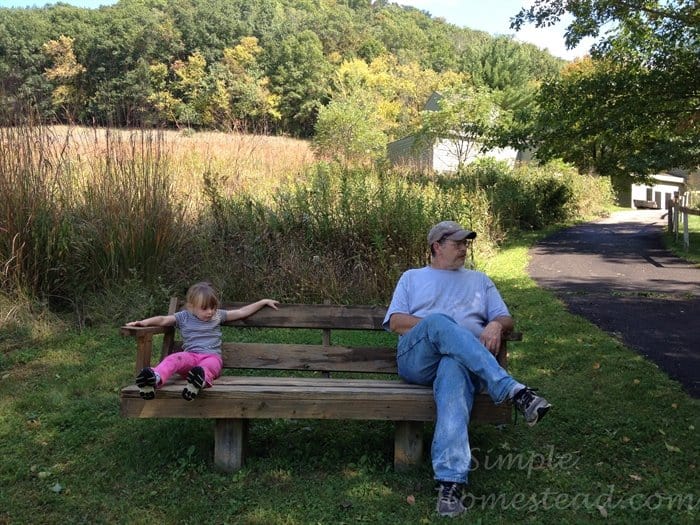 … before we headed off on our annual hike. Norskedalen has some wonderful trails. Someday we'll get more adventurous and wander off on different ones, but we have usually only stuck to two. There's a short one that doesn't go far from the homestead area. We walked that one just before dinner while waiting for the line to get in to shorten.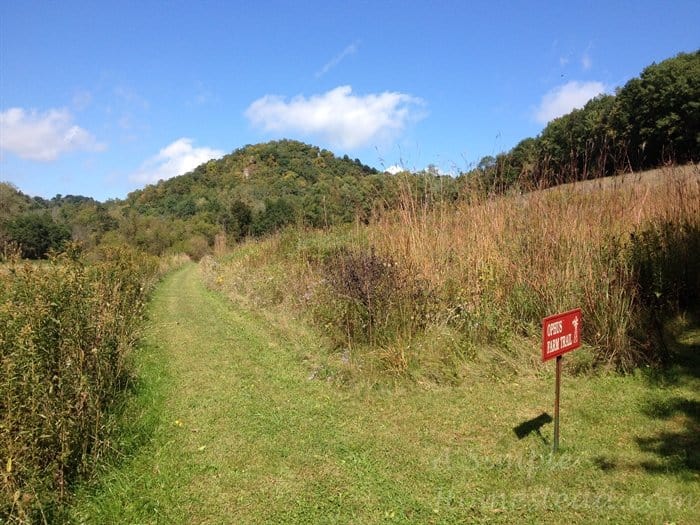 After dinner was time to work off some of that large dinner. This is the Ophus Farm Trail. What a wonderful view! It's a gentle-sloping trail. You start off partway up the bluff, walk down to the bottoms, cross a creek, go back up the bluff and end up back at the other end of the homestead.