Miss me? I have to say the last two and a half weeks have been downright CRAZY! The end of January to the beginning of February, Little Chick and I went to Florida to visit my parents. I'll tell you more about that later. Then I came back to one of the craziest times of the year at work. Seriously, does anyone else have to deal with Royalties in their companies? Or a manager who likes to tell us the day something is due that she needs 3 days work of programming work done? It's nuts.
Anyway, I wanted to show you some of the crafting I managed to complete. It's not much … I didn't do as much knitting and crocheting as I thought I would on vacation, but time spent with family is more important.
Spoiler alert (if you are working this KAL!)
I managed to get caught up on the Mystery KAL. There was a pattern released on January 15 and another on the 29th that I hadn't done.
Stitch pattern #2
Stitch pattern #3. Technically I think this is considered the back side to the afghan block, but I thought it looked nicer.
2014 apparently is going to be the year of the afghans. I haven't made any for a couple of years and now I have three going at once! The Underground Crafter afghan, my weather afghan, and a new one that started on January 22. Red Heart is hosting a Checkerboard Textures Throw Crochet Along. Just like the UC KAL, there is a new pattern that appears on the blog every second Wednesday until the beginning of July. The differences with this one are that it is crochet (not knit) and it's not a mystery – you see what the pattern will be before you crochet it. Oh, and the patterns are free.
They also have a Facebook giveaway going on (click on the Checkerboard app at the top) which I thought was tied to CAL, but apparently you don't have to make the squares to enter. Oh well. This should use up some of the last of the Red Heart Super Saver I have in the house.
The first square is called Cross-Stitched Square. Since there will only be twenty patterns released, I'm actually making three of each pattern, each in a different yarn. I thought I had pictures of the others I had completed, but I guess I'll have something to share next week :-).
I also finished my January block for my weather afghan – including weaving in somewhere around 40-50 different ends.
I think it looks great! I still need to figure out the top border with the month name, but I have time for that.
See those lighter colors at the very top? Ah … warm(er) weather in Florida. It wasn't too much warmer – we didn't see that until Feb 1.
Things have been so busy lately I finally got to look at the list of craft-a-longs I wanted to enter for February and realized a bunch of them ended today! Needless to say, I had to give up on trying to enter most of them. However, there was one – the FreshStitches Valentines CAL that I thought I could pull off. This challenge was to download the free heart pattern, and turn it into a Valentine animal. This is what I came up with.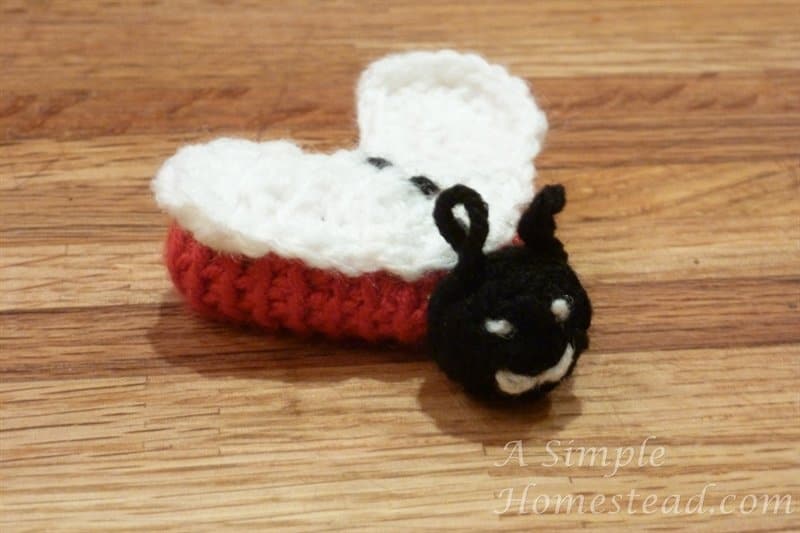 It's a Love Bug :-). I am still debating about redoing the face, because the way the eyes and mouth came out it's a little creepy-looking.
A better view of the top (because it's so terribly hard to take decent pictures during the week in the winter time!)
He's only 2 1/2″ across – wing span and front-to-back. I didn't want him to be big … he is a bug after all.
You can clearly see the heart if you look underneath. The picture makes it seem like one "hump" of the heart is longer than the other, but they have the same number of rounds (I counted). Maybe I just stuffed that side more or something.
I had hoped to participate in the Ravellenics Winter Games this year, but do you realize there are only 9 more days until the Olympics are over?! I think I've watched a total of one full hour, combined this year. Sad really, because I love watching the Olympics. I may still manage to get a couple of entries into the Ravelry version of the games, but not as many as I'd hoped.
I actually had my Works in Progress (WIPs) down to just two or three, but now I have a whopping seven … no, make that eight (I haven't entered one on Ravelry yet). If I think about that number it seems almost overwhelming, but actually three are my long-running afghan patterns, and two are items that just need to be blocked before they can be counted as finished. So in reality? Not so stressful after all. In the past I didn't mind having lots of projects lingering around, but now I'd rather have just a few to switch back and forth and get them done.
What's on your hooks/needles? Are you a one-WIP person only or do you like multiple projects going at once?