I know I promised to show pictures of our Florida trip. This year, Papa decided not to go with us. He said it would be more of a vacation for him to stay home and get things done around the house. So we all drove to Grandma's house on January 28th to spend the night. Papa drove Little Chick and I, along with Auntie "Tee" and Uncle Eric to the airport the next day and the four of us spent 8 days in Florida at my parent's house.
My sister's birthday is at the end of January, so her husband and I wanted to make her a special cake. We had so much fun making the Veggie Tales cake for Little Chick's 2nd birthday, we figured we could pull this off. We didn't come up with a solid plan until we got to Florida and then we had to make do with a few things (like we forgot to request black food coloring).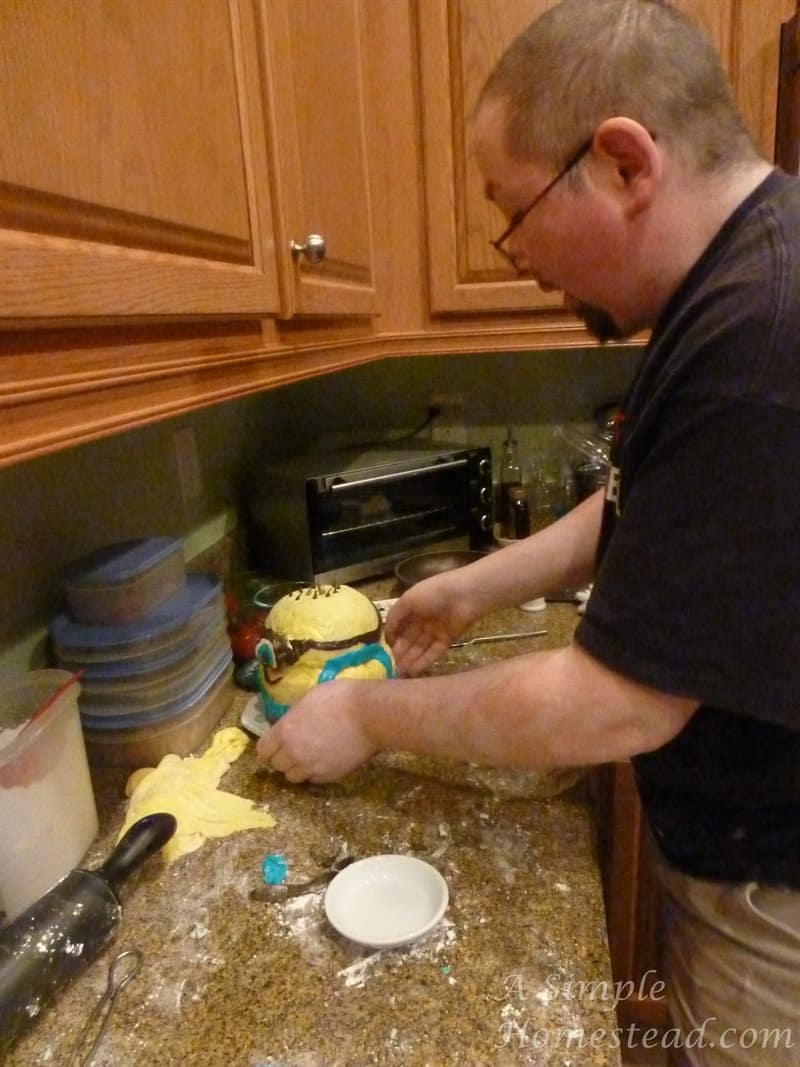 We still had a lot of fun, but I'm not going to show a close-up of the cake. No doubt it would end up on Cake Wrecks or something. You see, when we did Little Chick's cake, we frosted the cake and just made fondant figurines. In a house that is normally kept between 63° and 65°F, I might add. This was our first attempt to cover a cake with fondant. In a house that was easily 80°F by the time we finished with our baking. The fondant sagged almost immediately. But that's ok. My sister loves minions and we still had fun making it.
Poor Nana. It seemed she spent a lot of time in the kitchen while we were there. If it wasn't cooking (we tried to do some), it was taking care of the mounds of dishes that we created.
I even learned to make popcorn on the stove!  Goodbye microwave popcorn!!
We had some fun in the pool one afternoon.
We made a trip to the Naples zoo again.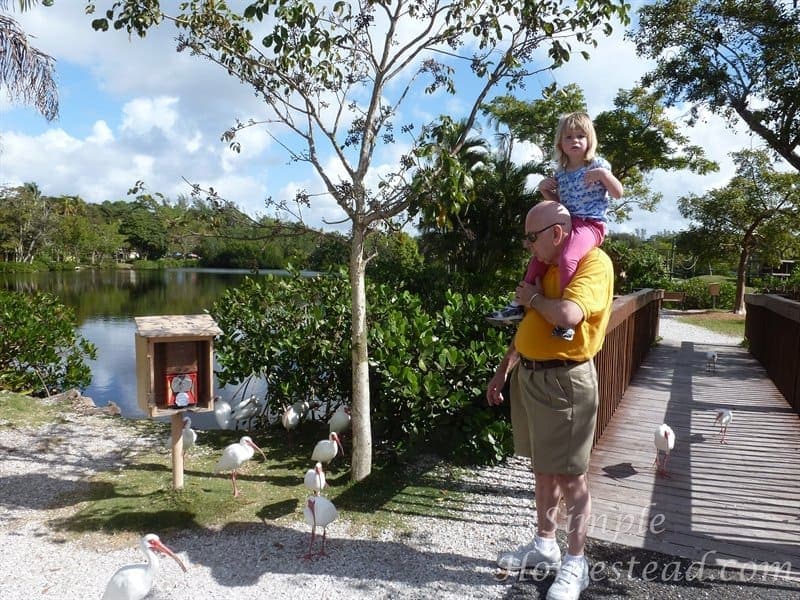 Someone wasn't being cooperative and wanted Mama to carry her all through the zoo. That is until, we made it to the little park section they have in the back, and then she had all sorts of energy!
We took a trip to Fort Myers to a place called the Imaginarium, where Little Chick (attempted) to pet manta rays and she got to hold a starfish (we learned later you weren't supposed to pull them out of the water! Oops).
The place also had several enclosed tanks with fish, small sharks, lizards, poison dart frogs, etc. They had an excavation area where kids could dig through the sand for fossils. They had a play area which had these giant foam things you could build with … my mother said they were basically Tinker Toys.
Auntie Tee made a request to visit a Dunkin' Donuts one day because she'd never been.
We went out to eat a couple of times – including one lunch hosted by some cousins at the Port Royal Beach Club.
What a wonderful view that was. I could handle that view for lunch every day!
We spent time outdoors (sometimes without pants) … blowing bubbles.
ALL the kids got involved in that activity!
We took time to relax, read books, and watch movies together.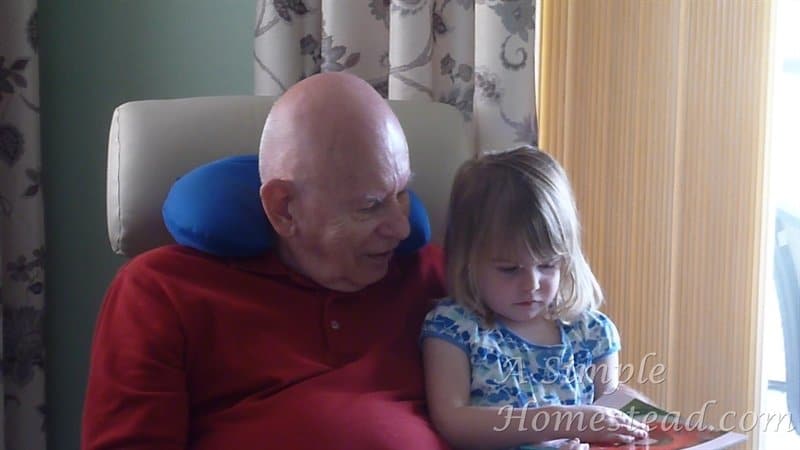 And there was a lot of cribbage competition going on in the house!
We took time to go to the beach.  To build sandcastles … and to crush them.  My sister was the queen of finding good shells this year.
The last morning we were in Florida we found a really nice park with lots of slides and things to climb on. Uncle Eric and I were sweating just sitting there. I don't know how people survive the summers.
The park idea was to wear out Little Chick before she had to sit on an airplane for 3 hours. I guess it worked.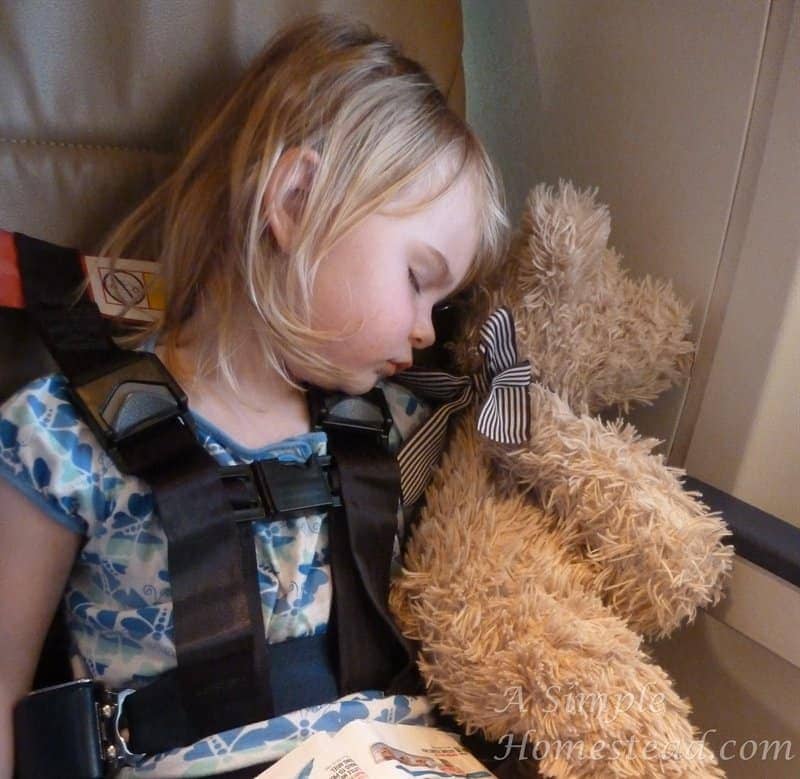 Papa sure was happy to see us again.  We used Skype every night to communicate, but still, it's not the same as being in person.  He didn't get everything done he had on his possible-do list, but then he did take time to relax too.  He managed to clean our carpets (hurray) and to build Little Chick this wonderful castle "dollhouse" which was waiting for her when we arrived home.
The weather in Florida was a good 70-90 degrees warmer than back home. It was nice to be able to run around for a while not wearing dozens of layers … or shoes! But it's good to be back home with our family all safe and sound.