Can you believe it's already the middle of March and I just recently finished off my February weather square?!   While I really enjoyed working on this each and every day, in the beginning, now I'm finding it works out better to haul out that bag and my temperature list only every few days (weeks?) and just crochet like mad until I'm caught up.  I can't give up though.  At this point, it would be a bear of a project to take all those short rows out and scrap my project! (not that I'm thinking of it).
February's square looks strange.  But keep in mind, we were in Florida the first 7 days of the month and it was 80°F that whole time.  I counted day #7 as being in Florida because our flight didn't leave until 5:45 pm EST.  It is rather fun to take a look back at the two completed squares and see the color variations.  I was able to prove to Papa that we did have a few 40°F days in Jan (1) and Feb (2)!
I hadn't quite decided back in January if I was going to use two tan colors in my color chart. I was able to find a beautiful mint green and so now my colors are set.
It still might be a while before we hit that 60° range, but we made it into the 50° range this last week!  I thought maybe I would have used the mint green the last few days of January when we started our trip, but the first day it only managed to reach 59°, and then it was 70°+ the rest of the trip.
It seems all I get done lately are blocks… but then it was my bright idea to work on three afghans this year! I finished the 5th sampler block from the Mystery KAL and I'm behind again already as the 6th block was released this week.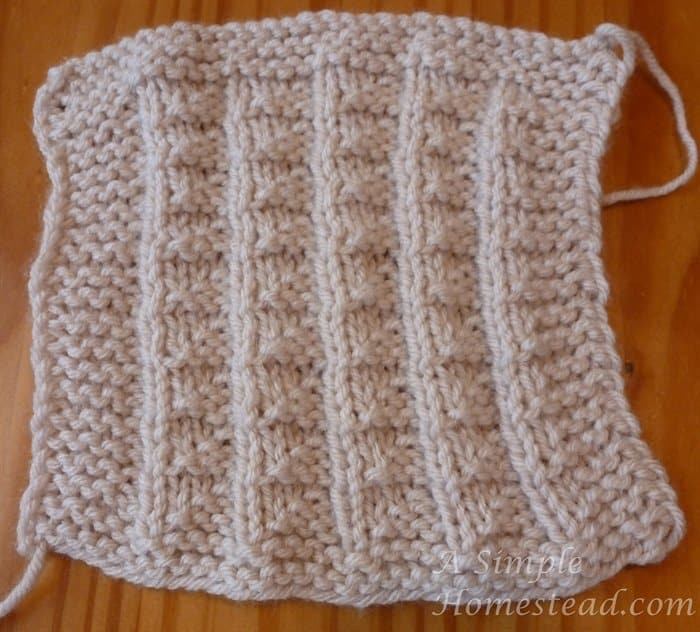 And now for something completely different…
Last month I offered to host / lead a KAL/CAL (knit or crochet-a-long) in one of my favorite Ravelry groups. Since I had just come off a couple of months having a great time making hats, I chose Headgear as the theme. The challenge was to make something you could wear on your head – hats, beanies, caps, ear warmers, headbands, snoods, kerchiefs, etc. As long as it was something you could wear on your head, it counted. And to make it even more interesting, I offered to do a drawing at the end for a set of stitch markers.
We had three people enter. One person made one hat, another made two, and one person (Ruth) made 8 hats in February! Given the odds, who do you think won?! Yep, the person that made the most hats. But Ruth did such a great job, she deserved it. I chose her name just after the beginning of the month … and then realized I didn't have any stitch markers made up!
I knew it would be ideal if I could have a few choices made up and have her pick one before Saturday, as it's easier to get to the post office then.  However, I wasn't so sure how it would work to make them while Little Chick was awake.  Turns out, giving her a few beads and a tray where she could play with them, was a fun idea!
In fact, when she came down Saturday morning, the first thing she said is we needed to make "markers". It took me a while to realize she meant stitch markers!
These were the markers Ruth chose … they were my favorite too.
I'm not sure why I chose the colors for the second set. I'm personally not a big fan of mixing red and turquoise, but different people have different tastes.

Turns out, they make great tiger earrings!
Speaking of earrings, I decided to make myself a pair. The color doesn't show nicely in the picture, but they're a deep navy blue.
As long as I had all my beading materials out, I decided to redo a bracelet I had made for Little Chick months ago. It seemed a little tight back then so I wanted to make it bigger. The original just had a knot to bring the two ends together. This time, I added a toggle clasp (has a loop and a bar) to make it a little easier to put on but I still used elastic cording for the bracelet so it stays on.
It has a bead for Papa, Mama, Little Chick, one for each of her grandparents, and one for each aunt and uncle – including the ones that are no longer with us.
There are two problems though.  We don't have a bead for Grandpa N.  I somehow missed him.  And the males from my family are backward!  "Da" and Uncle Eric's beads face the opposite direction.  Papa said maybe all of his family were the ones backward 🙂  Well, I'm sure this bracelet won't last long – either it will come apart, she'll outgrow it, or we'll have enough family changes that I'll be bothered enough to change it.  Next time, I'll have to pay more attention to which direction the letters face.
Ok, three problems. I just realized that I used plain, non-lettered beads for those that have departed. Hmm … that could be a problem since the three from our family are also non-lettered! Ack! I hope we're around for a while.
Maybe I should just ask Little Chick to wave her (new) magic wand and fix it.