Are you sick of my "blocks" posts yet? Well, I have a treat this week. A different kind of block. You see, I have actually spent some quality time with my sewing machine! Why? Because a contest was involved of course. Don't be silly. Nothing else motivates me as much!
I know I've mentioned before that I have no fear when it comes to crafting.  And this is just another example.  You see, no one told me that you were supposed to start with simple squares for your very first quilt.  Nope, I have to try patterned squares with small shapes, half-square triangles (HSTs), and the like.
Back in January, I had planned on participating in a sew-along, but I didn't get much farther than cutting my strips and starting the insides of the log cabin blogs.  Some of them turned out to be a bit crooked.  I guess I shouldn't have started with such small pieces.  I'm still debating whether or not to continue this project or give up on it.
This month I spotted a contest that sparked my interest. It used larger pieces so it gave me hope. The first block needed to be finished by this past Monday (March 17). The quilt block is called "Friendship Star" – and it's available for free if you're interested.
It's not perfect, but it turned out better than I expected, especially after I took a couple of tips from the other people posting in the Facebook group and went back and re-sewed my final seams along with more pressing.
The fabric is Charleston Farmhouse in the Zinni color, by Felicity Miller. I won the FQ bundle in February last year. There are certain fabrics in the bundle I like more than others, but orange is not really a color I like. So my reasoning was that it would be a good fabric to practice on … just in case the results weren't what I wanted.
This block worked up quickly enough that I forged ahead and tried a second block pattern. This pattern is from Aurifil as their March block pattern and it is called "Borders". Aurifil releases a new block each month and everyone that makes it and posts a picture on their Flickr group is entered to win a full box of Aurifil thread ($120 value)! There's still time to enter for this month as it doesn't end until March 31.
Here is my block:
If you look carefully you can see some of my blocks are exactly square and even, but I don't care. I'm learning SO MUCH! Papa agreed that there should have been more contrast in the center of the block, but I'm not going back and changing it.
If I can sneak in some more sewing time this weekend, I might try and enter the Its In the Bag challenge over at Crazy Little Projects.  However, I'm guessing that sewing a bag, even a simple one would require more time than a block and this contest also ends March 31.  Little Chick doesn't allow me much time to sew unless she's sleeping … otherwise I'm warding off potential craft room disasters (glitter jars, gluing things to the table, cutting things other than paper or yarn, etc).
And finally … the moment you've all been waiting for … more afghan blocks.
The latest Checkerboard Textured Afghan block – the Front Post Treble Crochet Square.  I basically crocheted this one twice.  I was down to the last couple of rows and measured it against one of the other blocks to see how many more rows I had to do, and realized it was much too wide!  So I ripped it out, came up with a modified plan so it matched my other 12-inch squares, and started over.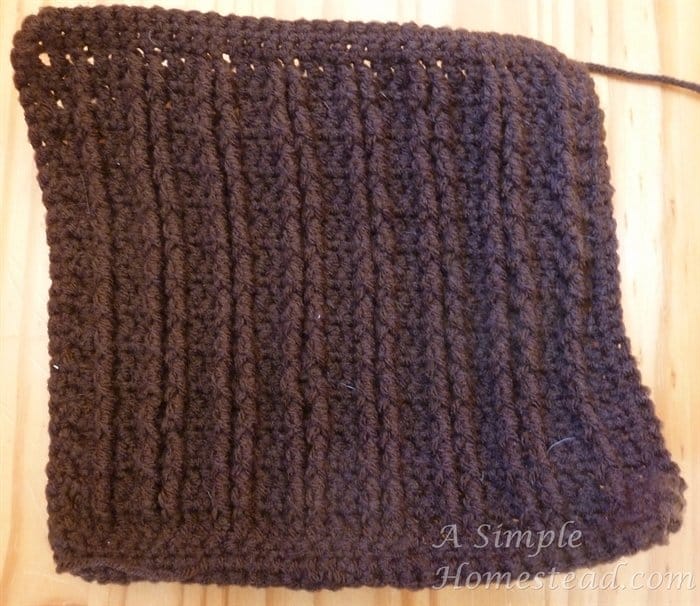 There was a new block released this week for the afghan, but I haven't started it yet.
I finished the Underground Crafter's Sampler Mystery KAL block that was released last week.  This one worked up really quickly!
And finally, I worked up the Creative Knitting Week 3: Learn a Stitch, Share the Love KAL block.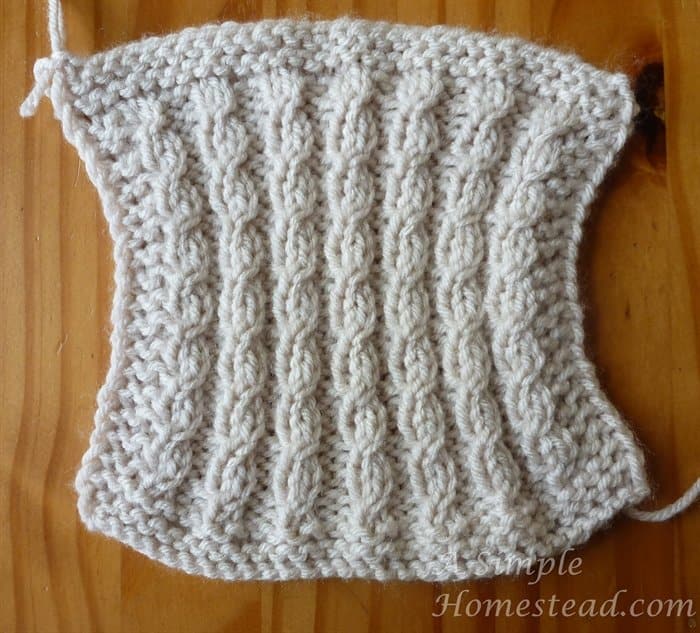 Like the others in the series, I had to modify it so it would match the size of my other blocks. It's a cute little mock-cable pattern. Even the back looks nice:
Pattern: a modified version of Mock Cable Dishcloth.
Designer: Kathy Wesley
Yarn: I Love This Yarn!
Colorway: 240 – Linen
My Rav project page
I have some other projects in the works right now that are taking longer, so I may or may not have any blocks to show next week. Only time will tell :-).